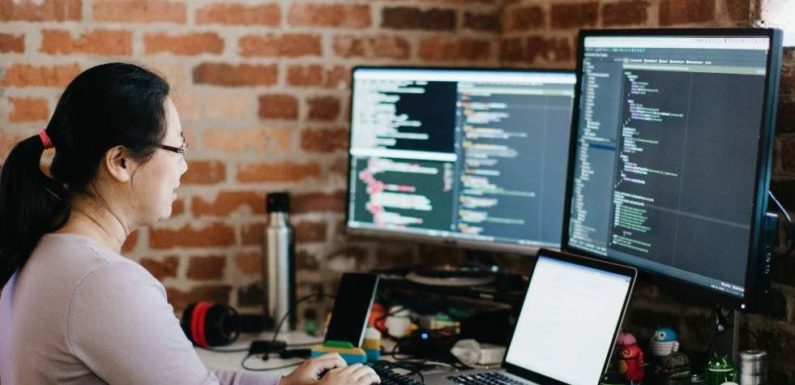 Cybersecurity is a major concern for companies today. Privacy of users' data online is important to ensure that their trust in the company and personal safety is assured. Blockchain technology is not a new name to the virtual world. It was initially introduced as a supplement to the Bitcoin cryptocurrency and eventually, it was established as a separate technology in itself.
In technical terms, blockchain can be defined as widespread networks that contain information stored in the form of cryptographic units. It is a system with three keys, each located at the private, public, and receiver systems. Addition of data occurs simultaneously as and when the system inputs new bits of information. Today, blockchain is being used to create a hacking proof and secure networks by the banking sector and defense systems.
The features of blockchain that have prompted such choice can be enumerated as follows:
Offers Decentralized, Peer to Peer Data Collection Service
Blockchain technology does not allow for the accumulation of crucial data at any one system or be placed under any specific authority. Rather, it allows users to create storage blocks on their personal system as well as the blockchain network at the same time. Each of these blocks is synced time and again to trace any changes in its data entries.
Should the system locate an aberration in the data columns (an indication of a hacking attempt) the entirety of the network is automatically sealed, scanned, and analyzed for locating the trails of a false data block creator? Such an elaborate network takes away any chances of human error, intentional manual interference, and other such stealing attempts.
More Improvised and Accessible Security Tools
Blockchain security tools are the best digital resource available at the present date for preventing cases of fraud and privacy breach. This is so because for disrupting or stealing the information stored in a blockchain hackers are required to access the storage blocks established in each of the connected systems.
Fortunately, in a blockchain system, a network can involve as less as a few hundred and as far as millions of computers. Hence, it is an impossibility for any hacking crew to breach into a blockchain, access numerous data blocks of user computers and shut down the ever running "nodes" at the same time. In other words, one can finally argue that the complexity of a blockchain system prevents it from being dissolved easily.
Has Characteristic Features that Block DDoS Attacks
Domain Name Systems are partially decentralized locations of websites which regulate its traffic and manage its operations DDoS attacks occur when hackers isolate a website for a limited amount of time and use its automated domain machinery against its principles.
While using Blockchain companies have been able to defend against DDoS lead data leaks very effectively. Since the website content and tools are distributed amongst many systems at the same time, it becomes highly difficult for hackers to isolate the website from every system and then access its machinery.
In addition, the advanced data recording and analyzing methodology of blockchain also keep a detailed record of the IP addresses, domains, and digital footprints that attempt to access a chain system, thereby easing the process of identification of hackers.
The blockchain is undoubtedly a revolutionary technology. And teaming up of banking, defense, and private company systems with blockchain technology promises to strengthen their cyber-security with much more convenience than expected.
However, for establishing an unbreachable blockchain, Software Development companies need to create a network of systems, users, and storage blocks. This is a tedious process but if accomplished, it can really alter the way digital security is imagined.