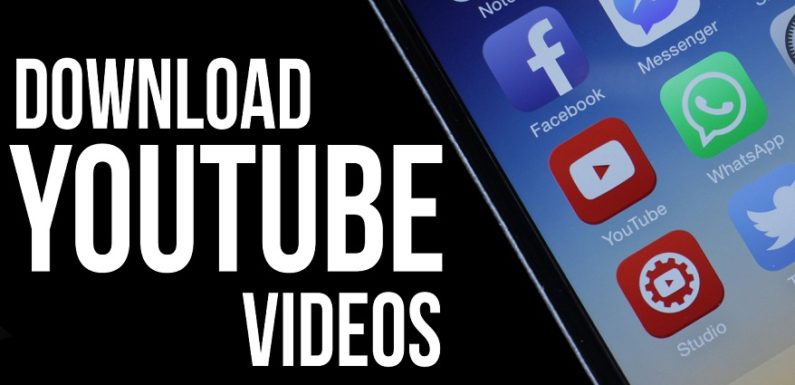 Here we are with a new trick for downloading YouTube videos. Friends, there are a number of sites and proxy sites through which we can download movies or any other kind of videos, but we have no option when it comes to YouTube. This is in no way impossible. Our technology has helped us a lot.
Here are a simple 4 tricks by which we can easily download videos from YouTube too, so here we go.
Trick number 1:
SS DOWNLOAD –
This is a very cool trick, which is used by me and my friends too. It's the best and easiest way of downloading YouTube videos. Not only on your PCs but even on your mobile phones too. The biggest advantage is that it is free of cost, and you can use it apart from YouTube anywhere on any site. Just follow these simple steps-
Open YouTube, on your mobile phone or PC. Then simply type "ss" into the URL of the video.
After typing "ss", press enter.
As soon as you enter, you will be directed to the website named www.safefrom.net.
There will be a small box which will ask you to choose the file type and format in which you want to download. Select it accordingly i.e. 360p or720p and press download.
Once you click download, a video will start downloading on your PC.
Trick number 2:
VDYoutube Safe –
Is VDYouTube safe?
Official website: https://www.vdyoutube.com/
Yes, VDYouTube safe is another secure online service that allows you to download not only YouTube videos but audio too for free. There is no requirement for any other thing, device, and third-party assurance. All that you just need is to search for the video and go on. Just follow the simple steps-
Open YouTube, on your mobile phone or PC. And find out which video you want to download.
Just as in the case of ss download, simply type "vd" before the YouTube.com, or URL of the video.
Press enter and as soon as you enter it, you will be directed to another site.
Click download in the drop-down box.
Then select the download quality you prefer.
Don't forget to save the video before downloading it.
Trick number 3:
Ontiva –
A modern and cutting-edge online YouTube video downloader that can download and convert youtube to mp4 videos. You do not have to download software; all conversions are done through our online user interface.
Trick number 4:
DVDFab Downloader – 
This is a great video downloader and converter you don't want to miss.
Go to this video downloader page to download it.
Start it and then locate your desired video.
Play and click the "Download" button.
The downloading process is finished in a blink.
Trick number 5:
KEEP DOWNLOADING –
It is an easy video downloader, from any site, any moment. Through the internet connection, you can enjoy the YouTube converter through YouTube Downloader.
Choose the video you want to download.
Then copy the URL of the video
Then open the site http://www.keepdownloading.com/ in a new browser.
Then paste the copied URL into the text field asked for in the white text field.
Then click the option download.
Again select the download quality you prefer and click download.
Trick number 6-
iTube Android
Download iTube APK by searching it on Google and Searching your favourite video in it. Now you can download your video in both MP3 and MP4 formats.
Trick number 7-
SaveVid.com –
Savevid.com is another online downloading site with which you can download audio, and videos easily.
For this just you have to copy the URL of the video you want to download and then paste it on the white text field required at the top of the page on SaveVid.com. Now click the button download. After which the java popup will appear on your screen asking you to allow it. Choose the format and download the video on your PC.
Trick number 8-
Free Online Video Downloader- 
It is another amazing YouTube video-downloading tool.
It supports not only YouTube but also many popular social video sites like Dailymotion, Vimeo and more. Here you can download YouTube videos easily by entering YouTube video URL.
Follow the below steps to download YouTube videos –
Go to YouTube.com and select which video you want to download.
Copy Video URL from the address bar
Then open http://www.FreeOnlineVideoDownloader.com and go to the YouTube section.
Now, Paste the Video link in the text field and Hit on "get download links"
That's it! Your video is ready to download in HD quality (In Video, Audio)
Check this site if you need a great YouTube downloader. This app allows you to save the video in MP4, WMV, WEBM, MP3, and M4A formats in the best HD quality — 720p and 1080p, 2K, 4K, and 8K UHD with 60 FPS. You can use it for basic or advanced downloading.