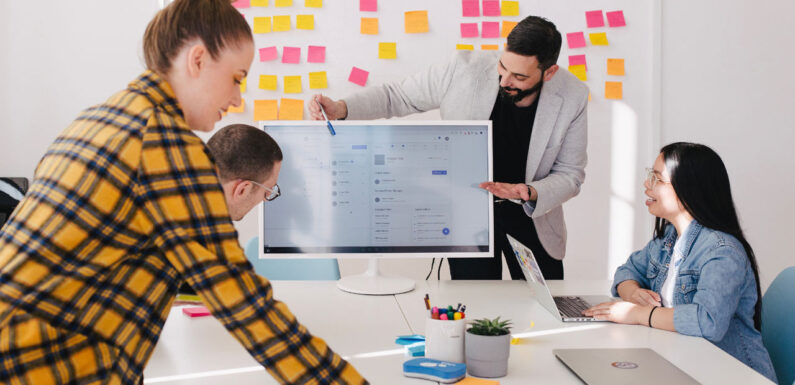 In 2022 and beyond, what marketing automation advancements should e-commerce organizations and marketers be aware of? This article would assist you with such marketing trends.  The sales and marketing automation trends play a major role in running a business.  In today's market, machine learning skills are most required for transforming your career as well as marketing needs. Machine Learning training will help you to gain machine learning skills. However, understanding Marketing Automation Trends makes it easier to market. So, let's move to automation trends. Here are the top 8 trends as follows:
1. The Future Is Personalization
Customers adore personalization, as you've probably heard. It's no surprise, then, that personalization will continue to be one of the most popular marketing automation developments in the next few years.
Brands may customize their interactions with customers, their emails, and even their adverts by using customer data.
If you use Convertedin to automate your ad production process, for example, you'll be able to tailor your advertisements so that your segmented clients get adverts for products that are relevant to their purchasing behavior. Similarly, you can address the consumer by name and send them offers, discounts, and material depending on their preferences if you use email automation software.
"Every year, businesses spend millions of dollars on gathering customer data from first, second, and third-party sources with the goal of personalization," notes Toolbox.com.
According to the report, marketers believe that customization is the way of the future for marketing campaigns. Cookies and third-party data should not be used for personalization in 2021. In a post on Total Retail, Richard Jones, CMO at Cheetah Digital, states that it shouldn't be merely "merchandising or guessing."
"Machine learning would unlock the power of first- and zero-party data in this new wave of personalization. It will enable merchants to provide a value exchange with customers at the moment, whether through their mobile app, internet, or in-store," he adds.
2. Sales And Marketing Should Be Better Aligned
Your sales and marketing teams must be on the same page in order to generate high revenue. You may achieve this alignment and increase the flow between your two departments by utilizing marketing automation solutions.
How? Sales and marketing teams could "trigger sales flows based on marketing activities and the actions a lead takes" by using automation solutions. "Both teams will be able to correctly attribute which marketing activities led to sales with automation," ToolBox.com explains.
3. Email Stands Still Huge
Email marketing, as a sort of marketing automation, will continue to assist e-commerce enterprises in increasing engagement and revenue. According to a consumer behavior survey conducted by Cheetah Digital and E-consultancy in early 2020, three out of every four people in the United States completed a purchase after receiving an email.
Furthermore, as compared to display ads, email marketing increased sales by 180%, according to the survey. There's a huge possibility for email marketing with billions of emails received every day.
According to Statista data, roughly 293.6 billion emails will be issued and received per day in 2020. By 2022, this figure is predicted to have risen to 347.3 billion emails per day, and by 2025, it will have risen to 376.4 billion.
Email marketing is one of the top marketing automation trends on this list, based on these numbers.
4. Conversational marketing powered by AI will improve customer experience
For quite some time, conversational marketing has been a popular marketing strategy. The majority of my work is in the realm of content marketing.
But it isn't the sole application for it. Especially when artificial intelligence is involved. AI will play a significant part in many marketing automation trends in the next few years. The increase of voice search among clients is one of these developments.
According to Toolbox.com, "by 2022, 91 percent of firms expect to employ voice and other AI-powered technology such as chatbots to give a simple experience to consumers," citing Gartner's research. This emphasizes the fact that conversations, aided by AI-powered conversational chatbots, are one of the numerous marketing automation tools organizations are employing to improve customer experience and increase sales.
The way chatbots work has vastly improved in recent years. People are finding it increasingly difficult to tell if they're speaking with a chatbot or a genuine person. According to Chad Ruff, CTO of the marketing automation platform Act, chatbots may now "collect client data for future marketing efforts [and] assist organizations to meet their sales goals."
Chatbots, he adds, provides clients with immediate answers to their questions and can "provide links to purchase or transfer the customer to a real representative if needed." Conversational marketing with AI-powered chatbots ranks first among our marketing automation trends.
5. AI will Assist Businesses in Saving Time and Connecting More
Businesses may save time and money by using AI-powered marketing automation technologies. They will be able to concentrate more on other aspects of their marketing and sales funnels as a result of this.
As a result, demand for marketing and other automation solutions will increase. "There is a desire for automation and the use of AI to save time and money across all generations and use cases," writes Gartner in a report. "But Generation Z (those born between 1995 and 2009) is the most vulnerable to using these technologies to make their lives easier."
Generation Z will make up the largest client base by 2030. According to Gartner, "customer-directed automation technologies will lead in the utilization of support and value from the firms they choose to connect with."
"Marketing automation not only offers valuable opportunities for client contact, but it could also preserve time. It's no secret that time is a vital resource, especially for small businesses. Saving time on marketing means capturing new business and having more time devoted to other important activities." – Chad Ruff, CTO at ACT.
6. Loyalty Marketing Gains Traction
Customer loyalty programs have been around for a while, but in 2021 and beyond, they're anticipated to gain more popularity. These programs are among our marketing automation trends and possibilities, as they coincide with changes in customer behavior and an increasing need and opportunity for personalization. It costs 5 to 25 times more to acquire a new customer than it does to keep an existing one. As a result, in 2021, businesses would place a greater emphasis on increasing revenue from existing and loyal clients. Businesses may utilize loyalty apps to develop loyalty programs, automate their operations, and then use them to increase and keep their customer base. Many industries can benefit from loyalty programs, which allow for personalization, client loyalty, and increased revenue.
7. More Automated Marketing Using Mobile Phones
Over the last few years, website traffic from mobile phones has increased. For the foreseeable future, mobile marketing and automation will be a marketing automation trend.
As per Statista data, mobile accounts account for "roughly half of all web traffic worldwide." Mobile traffic (excluding tablets) accounted for 54.8% of all online traffic in the first quarter of 2021.
Statista notes that the figure has been "Since the beginning of 2017, it has continuously hovered around the 50% threshold." This means that e-commerce businesses have a better chance of reaching out to their customers through mobile phones through push notifications, prompted pop-ups, SMS, and accelerated mobile pages (AMPs).
Since they can be easily automated either internally or through third-party applications, all of these possibilities fall under marketing automation. It's also why, in order to engage, retain, and offer more mobile-based personalized experiences, marketers must now focus on developing a mobile-first approach and strategy.
"Marketers may optimize their mobile strategy and deliver automated content by understanding user behavior," according to Toolbox.com.
8. Comprehending Customers with Machine Learning and AI
Artificial intelligence (AI) and machine learning (ML) are now included in practically every CRM application. It's vital to highlight, however, that they play a critical function in assisting businesses in better understanding their clients and their behaviors.
Brands may use AI and ML to see which digital channels (social media, emails, mobile) their customers use. They could then distribute content to these clients using the same channels. They'll also assist them in better understanding the client journey and increasing customer engagement and conversion.