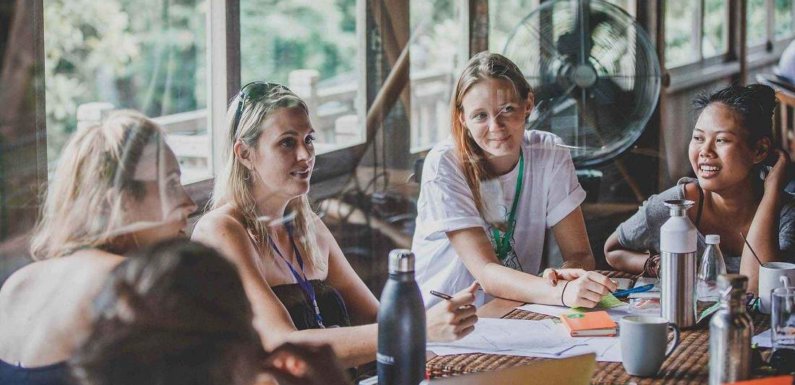 Social media marketing is a vast space and is the simplest way to overcome intricacy and pave the way for the discovery of your product or service in most popular communities.
More than 3 billion people are using this platform, and the number keeps on growing every year. It is something that every marketer use in his or her day-to-day business activities because of its broad scope. Nevertheless, there are common mistakes people come across while building brand awareness. These errors will leave the best opportunities unexplored. Hence, understanding those errors clearly and executing specific methods to overcome them is vital for a firm.
An excellent social media marketing strategy, however, requires a thoughtful and a lot of time investment. Knowing the do's and don'ts of social media marketing will help you perform your campaigns effortlessly. Below given are some of the most crucial social media marketing mistakes one has to avoid to succeed in this platform and think how much better could your social media marketing be?
1. Missing Objective
Do you have a clear objective or purpose for your social media marketing tact? Well, most of them do not have an affirmative reply. Besides, some are lucky enough to get a valuable number of leads with missing goals. However, what about others whose business is shrinking? They can bring back their business to the top by setting a chief purpose of their own.
Your social media objective should answer the below questions:
What is the intention of creating a social media page?
Do you want to gain more likes or number of followers?
Do you want to cement your brand's power using these pages?
Are you using a social media channel to create a new source of leads?
Joining the social media network by creating an impressive profile and updating the firm info is not enough. To gain the attention of your audience, you must know them well. If you know your audience well, you can easily create a selling tact that helps your business to succeed in a short span. Hence, come up with a measurable goal and stick to it.
2. Not Paying Attention to Your Audience
Social media is not just about posting the content and being quiet. It is a platform where your audience speaks, and you should be mindful about it.
You can utilize this platform as a tool:
Study your market
Gauge client's likes in new products
Track your rivals
Strengthen brand values
Improve customer satisfaction
You can do the above-said tasks by spending some time to learn what is occurring outside your social feed. Some people discuss your brand on social media and other online platforms but do not follow your page. Show them that you are actively present in the social media platform.
A report by Social Sprout reveals that 21% of people buy from brands that they can reach easily on social media. Hence, you must look beyond the shell and track the current happenings in the social media space.
3. Not Giving the Real Value
Not providing the real value for your audience in your social media page will have the following effect: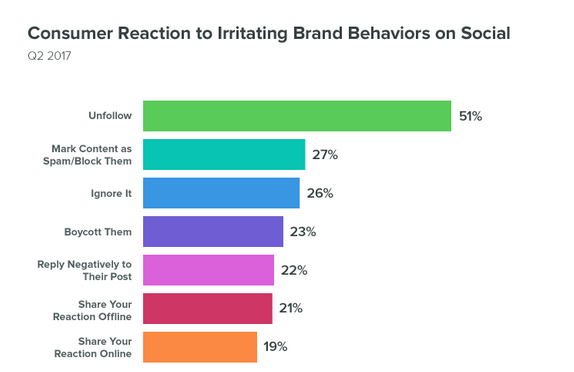 51% of the people agreed that they would unfollow the brand on social media if they post irrelevant posts. Also, 27% told they would mark the page as spam and block them. Hence, be alert while handling your social media page.
Your social media posts must answer the queries of your users or carry a message that pleases them. You can do so by creating a small Infographic, video, or blog post that you can share easily on your social media page. Your content should evoke emotion in the minds of the patrons and make them smile. It should be strong enough to drive a significant amount of sales to your firm.
4. Not Optimizing the Plan for Different Platforms
How many different social media channels do you use in your business? One? Two? Or, more than that? It is a great move to employ a range of social media apps to boost your online presence. However, how do you distinguish the strategies for each of the platforms you use? Most of the marketers update the same post in many channels and expect an incredible result out of it.
It is highly unattainable because people on diverse networks are unique, and they expect exclusive content from your brand. Hence while using multiple social media channels, you have to create a post that meets the user's wish on that distinct platform and boosts the user engagement. However, marketers find it hard to optimize their content on diverse media.

Here are the general guidelines on what to post on some common social media platform:
Facebook: Videos and curated content have a higher user engagement level than images or links on Facebook.
Twitter: It is the right stage to post news, GIFs, and blog posts.
Instagram: In this channel, you can post high-resolution photos, user-generated contents, quotes, as well as stories to grab the attention of your audience.
LinkedIn: You can post all your firm news, job information, and professional content here.
Google+: Here you can update the blog posts that you want to rank higher on Google.
Pinterest: It is a visual floor. Hence posting images, Infographic, and a step-by-step guide works well in this channel.
5. Boring Your Audience by Being Too Active or Inactive
It is one of the common blunders that marketers commit. Since social media is all about interacting and being sociable, you cannot be inactive or promote yourself a lot on these platforms. It is okay to post promotional contents on social media, but if you spend too much of time on these elements, there is no doubt in losing the followers for your page.
Also, if you stay idle for a longer time, your clients will soon lose interest in your brand and switch to your competitor. Hence, the act of balancing your social media presence is vital in marketing. Pay some thought to your actions on social media and fix the plan that best suits your trade.
If you know which channel works well for your firm, plan your time and funds according to it and strengthen the bond with customers using proper plans. If you are running low on time, you can take the help of analytical tools, social media appending services or management tools to handle your account and streamline the workflow efficiently.
This write-up will primarily serve to gain an understanding of what were you doing wrong all these days while executing social media marketing strategies. Avoiding these mistakes are required to influence your audience and hike ROI. Once you start following the right steps to defeat these problems, you are sure to profit from the opportunities that were unexplored before.
1. Image credit: istockphoto
2. Image credit: Sprout Social
3. Image credit: Software Advice