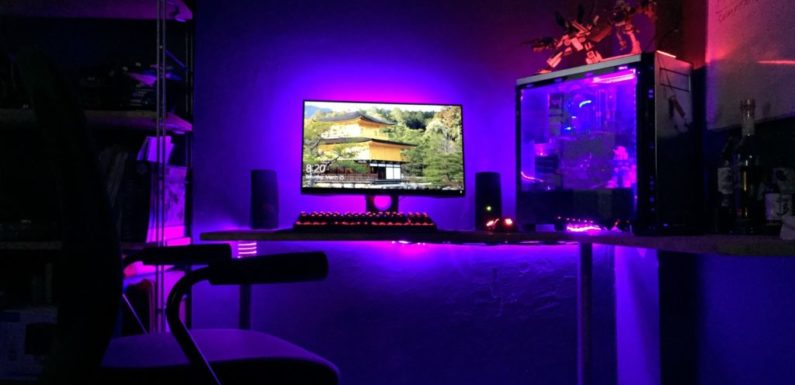 There are many choices for PC gear or hardware for gaming in the market and new ones join the slew each year.
With so many choices available in PC gaming hardware, it is difficult to choose the best gear!
Here's a list of some of the best PC gaming gear this year:
1.     Corsair Dark Core RGB SE & MM1000 Qi – Gaming Mouse
Corsair has come up with this dark core RGB SE & MM1000 Qi which has an added feature in wireless charging.
To add to the delight, this gaming mouse's wireless charging setup goes well with Qi-charging phones like iPhoneX and Samsung Galaxy Note 8.
The PixArt custom designed PMW 3367 gaming grade optical sensor is a great add-on. It also offers a range of color selection for backlighting as per your predilection.
Pair it with the new 350X260mm sized MM1000 Qi mouse-pad and you will have a terrific gaming experience.
2.   Razer BlackWidow Chroma V2 – Gaming Keyboard
There are lots of low-cost mechanical keyboards that have hit the market recently. However, if you're looking for something exceptional, the Razer's BlackWidow series have come up with the ultimate feature loaded mechanical keyboard with its Chroma V2 model.
Apart from boasting a lot of RGB color options, Chroma V2 has thorough customization options. The keys go well for both work and play.
The body is attractive matte black plastic. The anti-ghosting that prevents jamming during gaming sessions and flexible and durable power cable are some features that make this wireless gaming keyboard one of the best PC gaming gears among your gaming peripherals.
3.   Razer Ferox Mobile PC Gaming Speakers –
This unusually sleek speakers by Razer is another great high-qaulity device that works seamlessly with an RGB PC gaming setup. 
Razer Ferox gaming speakers offer 360-degree Omni-direction surround sound, unlike other speakers that emit sounds only in one direction.
The distortion level is pretty low, so you can expect a crystal clear lossless sound. The strategically positioned drivers ensure rich acoustic which makes up for a good bass and immersive sound. For its durability and mobility, it's the best buy for gamers that rely on sounds like CS:Go or Fortnite.
Omnidirectional sound allows the player to understand where your opponents are coming from (left or right), pretty much a must for most modern games.
4.     Sennheiser PC 373D Gaming Headphones –
Sennheiser may not be the most economical of all headsets available in the market, but its PC 373D model sure adds an element of enticement to a gamer who spends hours gaming.
It doesn't have a typical gaming headphones design.
The PC 373D rather has a very simple design and its build quality is great. The surround sound is a great value and its noise-canceling microphones will ensure that you have crystal clear game chat.
These over-ear headphones with XL velvet earpads will be very comfortable during long gaming sessions. If you rather have headphones than a stereo, I would highly recommend these earphones from Sennheiser.
You can be assured that they're durable and high quality as Sennheiser has been making headphones for a long time and with great success.
5.     Gaming monitor, display and dual monitor –
MSI Optix MPG27CQ is the best gaming monitor in the market as it offers great a seamless high-quality design.
Instead of putting the lights behind the screen, they are placed right below the panel in this one. This enables users to set up signal ability cooldowns and other in-game timers, and also discord chat notifications.
If you need a multi-monitor setup Asus Bezel-free kit is the best gaming gear you can buy.
It uses prisms and light reflection to hide bezels behind optical camouflage and create a seamless picture. Rather than buying a whole new display, you can opt for this.
HP Omen X 65 BFGD gaming display
However, if you're not too fond of the talked about above and want something much larger,  the HP Omen X 65 BFGD gaming display is the best out there.
It offers 65-inch panel, 4K resolution, HDR compliancy, 120Hz refresh rate and 1-millisecond response rate. What else does a gamer need?
6.     Vertagear PL4500 RGB Gaming Chair –
Apart from the comfort Vertagear PL4500 chair provides, you just can't ignore the RGB lighting. The lighting is built into the harness and the whole thing works on the batteries which can power the chair for as much as 30 hours.
The wireless sync effects make it the perfect furniture for your gaming setup. It will blend perfectly with the gaming mouse, keyboard, monitor, speakers and headphones mentioned in the article.
Just as you can create the best office environment to boost productivity, you can have a great gaming experience with the right gaming gear.