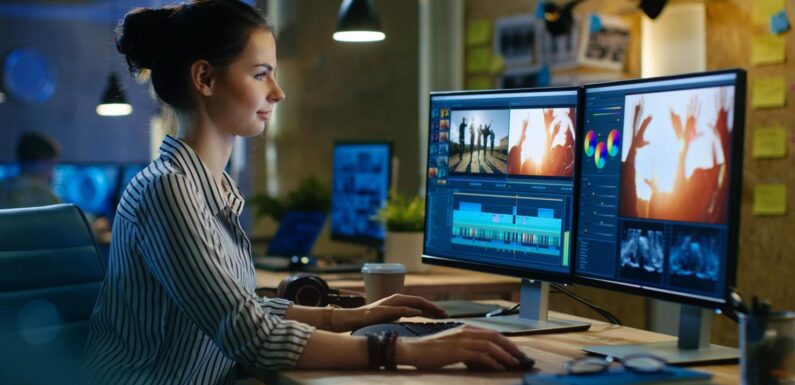 If you're a small business owner looking to increase your brand's visibility online and engage your audience then it's important to have high-quality content. Nowadays, people only have a short attention span so it's vital your content makes them stop to watch.
Motion graphic design can help you with this. By the end of 2022, it's estimated that over 80 per cent of all internet traffic will come from video. That's an impressive statistic. So, not only do you need to keep up with what's driving clicks and engagement, but you also need to stand out from the crowd and motion graphic videos can help you do just that.
What is motion graphic design?
Simply put, motion graphic design is an innovative way to tell a story and it combines a variety of animation, graphics (shapes, images and text) and sounds to create a video that will leave a lasting impression on viewers.
The great thing about motion graphics is that it allows you to showcase complex ideas, and concepts and relay lots of data in a short, simple, visually pleasing video. As a result, it allows you to get your message across in an easy, digestible way – all while keeping your viewer's attention.
Why should my small business use motion graphics?
As we've already mentioned, by the end of the year it's estimated that over 80 per cent of internet traffic will come from video – that's a lot when you consider how big the internet is. Additionally, Forbes estimate that video can help grow business 49% quicker than still content and as a small business owner you want your business to grow and thrive – right?
In addition to driving revenue, motion graphic videos can also help to increase your brand's awareness, improve engagement and make you stand out from your competitors.
What type of motion graphics can I use for my small business?
For your motion graphic video to stand out, you must first decide on the objectives you want to achieve and for how long. Before starting, you want to think about:
Your target audience – how can your product or service solve their problems?
Your business message – what do you want potential customers to know about your business?
What do you want your audience to remember
What business KPIs do you want to achieve? Do you want more sales or more clicks to your website?
Once you have thought about the above, it's time to start thinking about the type of video you want to create. Let's have a look at some of the types of videos you can utilise in your marketing campaign.
Product Explainer Video
Product explainer videos give your small business the opportunity to explain what your business, product, or service does in an engaging and digestible way. They can be used on your social media channels and on your website and offer you the perfect way to answer many of your customer's queries in a minute.
In addition to answering your customer's questions, videos on your social media platforms also generate more engagement than any other content type. One study showed that when you add video to Twitter posts, you can increase your engagement by 10x.
Customer Testimonial Video
Small business marketing is more than creating visually pleasing digital marketing material. It has now evolved to evoke an emotional connection between brands and their consumers and one great way of doing this is by creating customer testimonial videos.
Customer testimonial videos help you to foster positive, trustful and credible relationships with potential customers during the purchasing journey. When a customer willingly leaves a glowing review about your product or service, the more credible it is and the more likely someone will make a purchase from you.
Company story video
Storytelling has always been one of the best ways to capture your customer's attention and win their hearts as it allows you to set your business apart from the rest. By effectively telling the story of your brand in a fun, light-hearted and engaging way, you can evoke a sense of emotion in your consumers, and this will make them want to make a purchase from you.
Animated Social Media Ads
When done carefully, animated social media ads can be the key to your success as they help to capture your viewer's attention through a series of graphics and voiceovers. This is incredibly important as humans have a short attention span of 8 seconds to be captivated by your content.
Should my business use motion graphic design?
While live-action videos are all well and good, cutting-edge animation videos can really help to improve your goals across the board, from sales conversions and increased web traffic to brand awareness and business growth.
When you use motion graphic videos for your marketing, you can showcase your brand to a wide audience and become a leader in your field. If you're thinking about creating motion graphic videos for your next marketing campaign, speaking to a motion graphics agency is always a good choice.