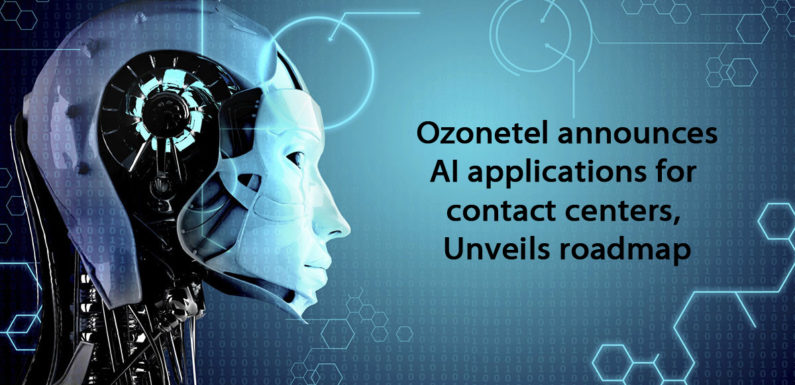 Ozonetel, pioneering cloud contact centre software provider in India, has announced its AI-driven contact centre solution. Its tools include natural language processing, voice bots, chatbots, and smart assistants.
Chaitanya Chokkareddy, CIO, Ozonetel Communications states, "We are determined to take the contact centres revolution to the next level. AI is not just a buzzword, it is our main focus.
We have completely reworked our stack and AI/machine learning is the core of all our modules now. We will be releasing the new modules one by one. Additionally, we are using a proprietary algorithm to power our AI and not a regular deep neural network built on Tensorflow etc."
Today Ozonetel has unveiled the first three of these modules: Speech API, Kookoo Intent and Smart Assistant tools.
1. The Speech API will translate voice to text and improve CX
"Voice interfaces are becoming ubiquitous with devices like Alexa, Siri and Google Home. So why should customers still punch keypads to communicate with your IVR? " asks Chaitanya. " Our <recognise> tag accurately converts voice to text, in seconds. This means you can let customer speak out their menu selections, answer surveys, give verification details and access ticket details far more naturally."
2. Kookoo Intent will be used for Speech Analytics, Sentiment Analysis and data mining
Speech analytics will give the instant analysis of customer sentiment, keyword search, agent performance and greeting detection—as soon as a call is completed. Sentiment analysis will be used to judge customer mood. The keyword search will improve data mining options.
"We expect contact centres to start mining their data much more profitability, and want to give them the most advanced tools to achieve this," says Murthy Chintalapati, CEO Ozonetel.
3. Kookoo 2.0's Smart Assistants will be able to create targeted, tailor-made customer experiences.
Predictive layers will match customer history, customer journey, current urgency and customer sentiment. Based on agent history and expertise, it will ensure best–possible matches. Throughout the call, they will assist the agent with information needed to personalize the call. They can even judge sentiment in real time and suggest barge-ins if needed.
Ozonetel is not new to innovation. They pioneered cloud telephony in India in 2007. Way back in 2009, they launched Kookoo, India's first cloud communication platform. Their first clients like Big Basket, Zomato & Practo are all powerful success stories today. And Ozonetel was instrumental in creating the customer service tools that moulded their success.
In 2015, Ozonetel won the prestigious Frost & Sullivan ICT Award for "Technology Innovation Leadership in Cloud Telephony Solutions". And this year, Ozonetel became the first Indian company to get ISO certification in the telephony space. Now they are committed to pioneering AI drove Contact Centers.
KB Nagaraju, COO, BigBasket, has this to say about Ozonetel: "Ozonetel has been our partner since inception when we started our call centre with 8 agents. Now we have scaled it to almost 700 agents. They continuously innovate and are now working on disrupting the contact centre space with AI and machine learning. We are glad to get first access to the cutting edge tools which will take our customer experience to the next level."