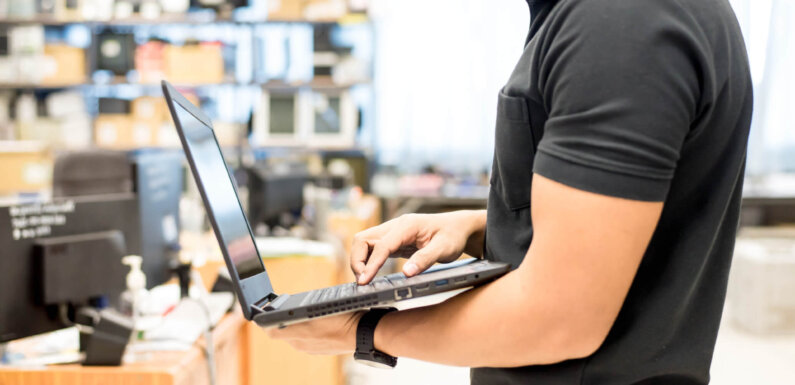 It Is Necessary to Merge Partitions Windows 7/8/10
As we know disk management is important is daily computer use as we manage our disk as well as computer frequently. For instance, we may format partition, resize partition, create a new partition, migrate OS and so on.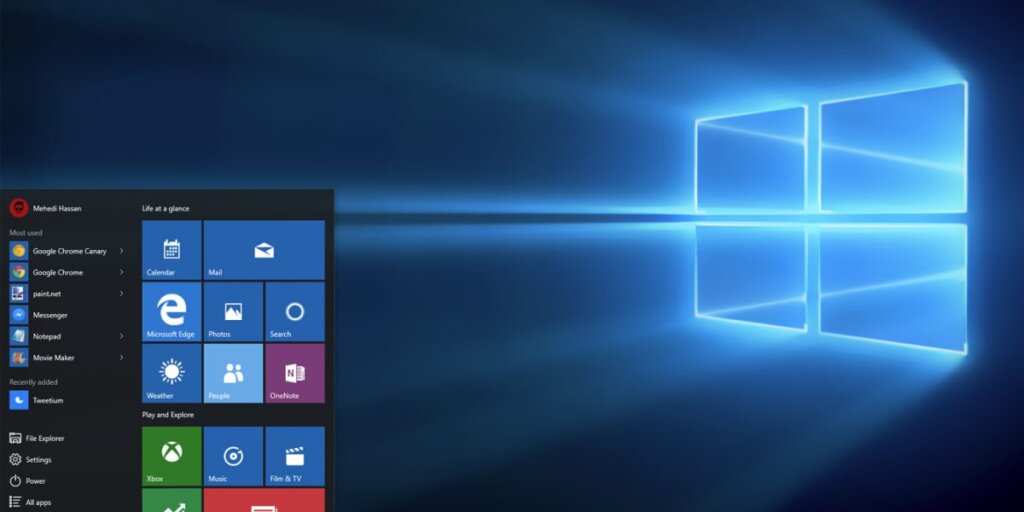 Merging partition is also a common partition management operation. For example, if you want a large partition while there are several small partitions on a disk, you can choose to merge two partitions to create a larger one. This operation is especially important when the system partition is running out of space.
Well, how to merge two partitions in Windows 7/8/10? Here, we'll give you the good methods in the following sections.
Solutions to Merge Two partitions in Windows
Method 1: Merge Two Partitions via Windows Disk Management
When it comes to merging partitions, you may think of this tool – Disk Management. It's a Window built-in utility for users to have some simple operations of disk management.
However, this utility doesn't allow you to merge partition directly. Instead, you can achieve your goal by deleting the target partition and then recreate new partitions with the larger size.
Let's have a look at the detailed steps of combining partitions in Windows.
As the shortcut shows in below if you intend to combine partition D and partition F, you need to delete partition F to increase free disk space, and then, use Extend Volume feature to merge the two partitions.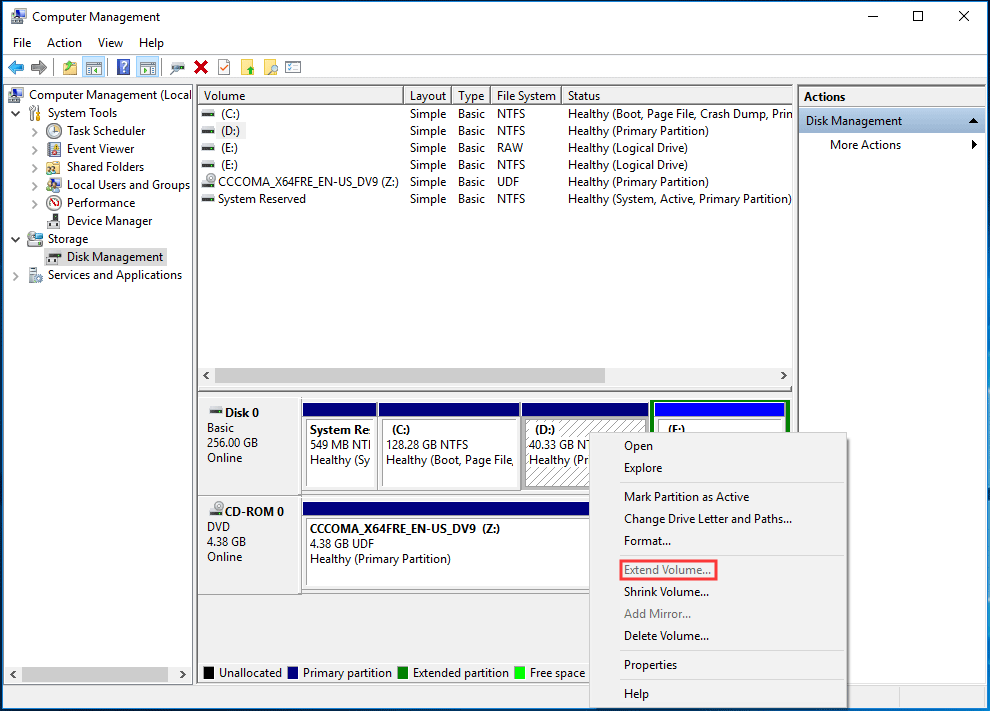 However, this way is not recommended as it will cause data loss when partition F keeps important data. This is what you don't want to see. Is there any solution, with which you can merge two partitions without losing any data? OK, please move on to the following part to find the answer.
Method 2: Merge Two Partitions Windows 10 via MiniTool
When you need to merge partitions without data loss in Windows, a third-party partition manager will be helpful. I'd like to show you how to combine partitions with MiniTool Partition Wizard in this post.
This program is an all-in-one partition tool that is compatible with nearly all Windows operating systems (including Windows 10/8/7/XP/Vista and Windows Server). It can help you merge partitions perfectly without bringing any data loss.
The free edition of MiniTool Partition Wizard is available if you are a non-server computer user. So, just download and install it on your PC.
Two conditions you need to know before the operation:
The two partitions needing to be merged should be neighbouring.
The file system of the two partitions should be NTFS. If not, you should use Convert FAT to NTFS to convert the file system to NTFS first.
Here is an introduction of how to merge two partitions with Partition Wizard in Windows.
Step 1: Launch the free edition of Partition Wizard to enter the main interface. Choose the partition (needing expanding) and select a preferred way to begin the process:
Choose the partition and click Merge Partition from left panel. 
Right-click the target partition and choose Merge from the menu. 
Choose the target partition and hit Partition on the menu bar. Click Merge from the menu.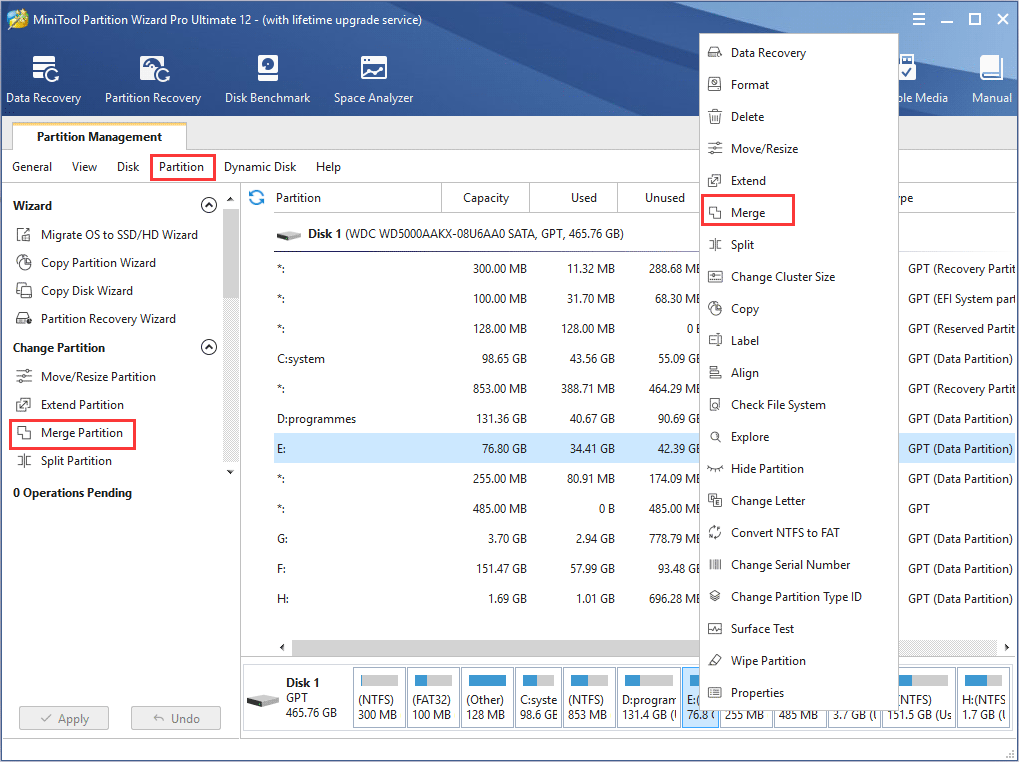 Step 2: In this window, you need to repeat to choose the partition needing expanding (we take partition E for example). Click Next to move forward.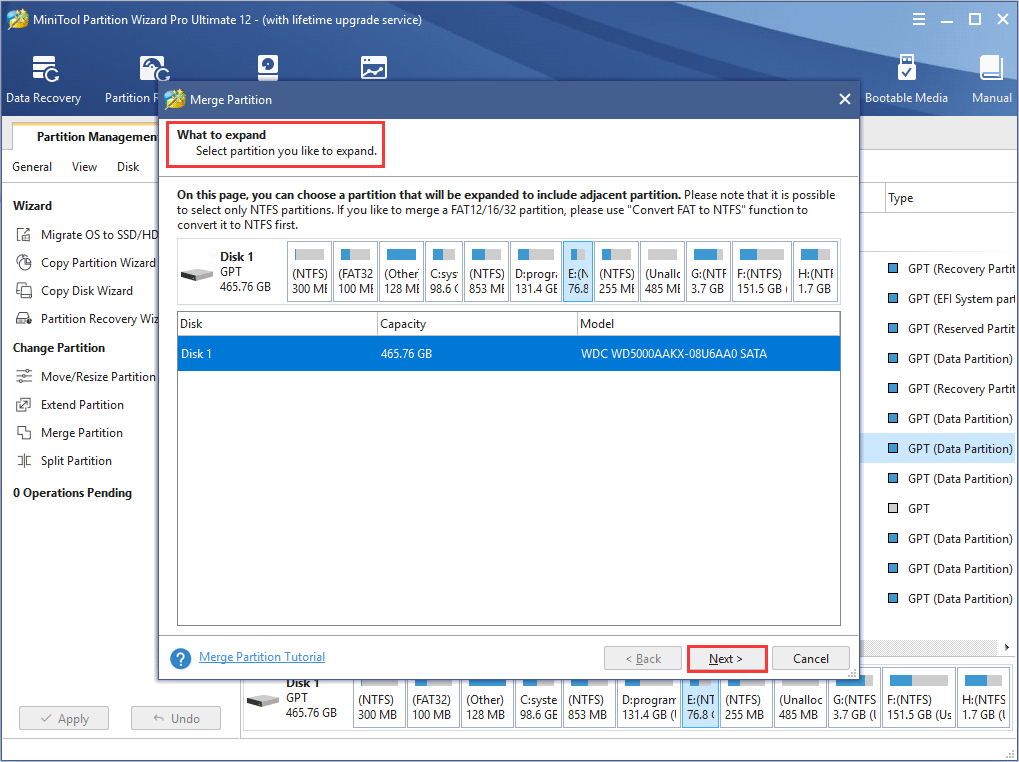 Step 3: Select a neighbouring partition that will be added to the target partition. Click Finish. 
Step 4: Click Apply to on the left bottom to make the change effective.
Tip: if you want to merge C drive with other non-neighbouring partitions on a bootable computer, you are suggested to choose the bootable edition of this software Extend Partition feature to finish the work.
Final Words
Now, you may realize how to merge two partitions in Windows with different methods. Above all, a third-party partition tool is more helpful than Disk Management when you want to deal with some sophisticated operations on disk.Actually, except for merging partition without data loss, Partition Wizard enables you many other practical disk and partition operations, like copy partition, shrink partition, extend partition, hide partition and so on. Just have a try.