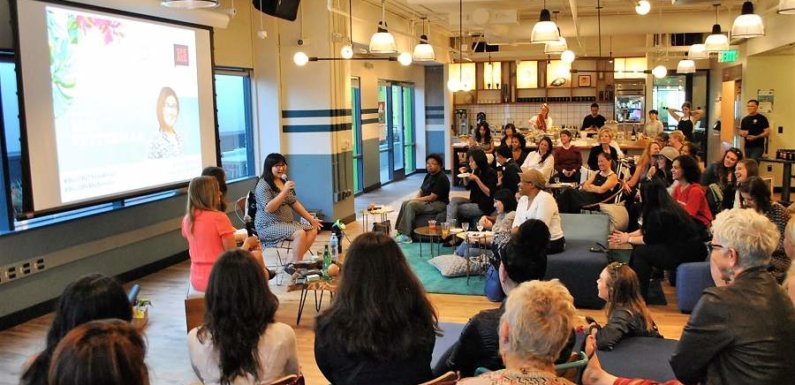 Not seeing an increase in your eCommerce sales that you need to see in order to grow your business? Maybe it's time to look at your online listings. You can have great products, but if your listings aren't making an impact and giving shoppers the information they need, you're never going to make those critical sales.
But it's not just product details that make sales – your listings and descriptions need to connect with buyers and differentiate your eCommerce shop from the competition.
How to Influence and Motivate Consumers
There are thousands of eCommerce businesses for buyers to choose from. As they browse from one product to the next, what makes your listing different? Much of consumer buying behavior is based on emotional ties and connections. So, if you can write listings that make a buyer feel something, you're that much closer to making the sale.
How to Connect with Buyers
A successful marketing tactic that elicits emotion from buyers is using the FOMO marketing approach. Consumers often buy if they think they're missing out on a great deal or if they feel they're not keeping up with their friends. These feelings of discontent are a good motivating factor in getting people to buy.
When writing listings, consider who will be using the product, how they'll be using it, and how it makes them feel.
Provide High-Quality Product Information
With so much eCommerce competition you can get the upper edge by giving buyers relevant and useful information about your product. Add supplementary data that supports the value of your product to the consumer. This tactic also sets you up as an authority and builds your reputation and brand to attract even more customers.
Customers are Motivated by Their Needs
Consumer buying psychology shows that people are motivated to buy a product they need because it can solve a problem or address a specific concern. Your listings shouldn't just talk about the features of your product, they should also go over the benefits and what your product can do for a buyer.
Listing Marketing Strategies

Your product descriptions can be your success, or they can be your downfall. Great listings have the power to convert browsing consumers into buyers. One of the templates that makes a great listing is the ability to sell to a consumer and not just tell them what your product is.
Consider online listings to be part of your content marketing strategy by using these listing tactics:
When to put up new listings
When you add new product listings to your eCommerce store, concentrate on posting at the best times. Consumers have more time for online shopping in the evenings after work and on weekends.
Posting strategies
There's a strategy to posting your online listings. If you're posting your products on social media, such as on your Facebook business page, don't make the mistake of re-posting the same listing every day. Rotate your listings so there's something different every day for consumers to see.
Write headlines that count
Don't overlook your product headlines. More people read headlines than they do the copy of your listing. Your headlines need to count and pull the consumer in, making them want to learn more about your product. Be bold, concise, and build curiosity so people move on into the content of your listing.
Tell a story with your description
You can tell buyers all about your products using boring language, but even if they make it to the end, they're unlikely to buy. Descriptions need to be compelling and use words that honestly flatter your product. Try adding interesting adjectives that make your product unique and appealing. The components of a great listing are to discuss the benefits and features, address a problem, and state why your product is the best choice.
Sell with pictures
In today's eCommerce world, listings without images quickly fall behind the competition. When online shopping, consumers need visuals of the products they're buying. Marketing research shows that high-quality photos can influence consumers and give them the confidence to click on the "add to cart" button.
Design A Professional Listing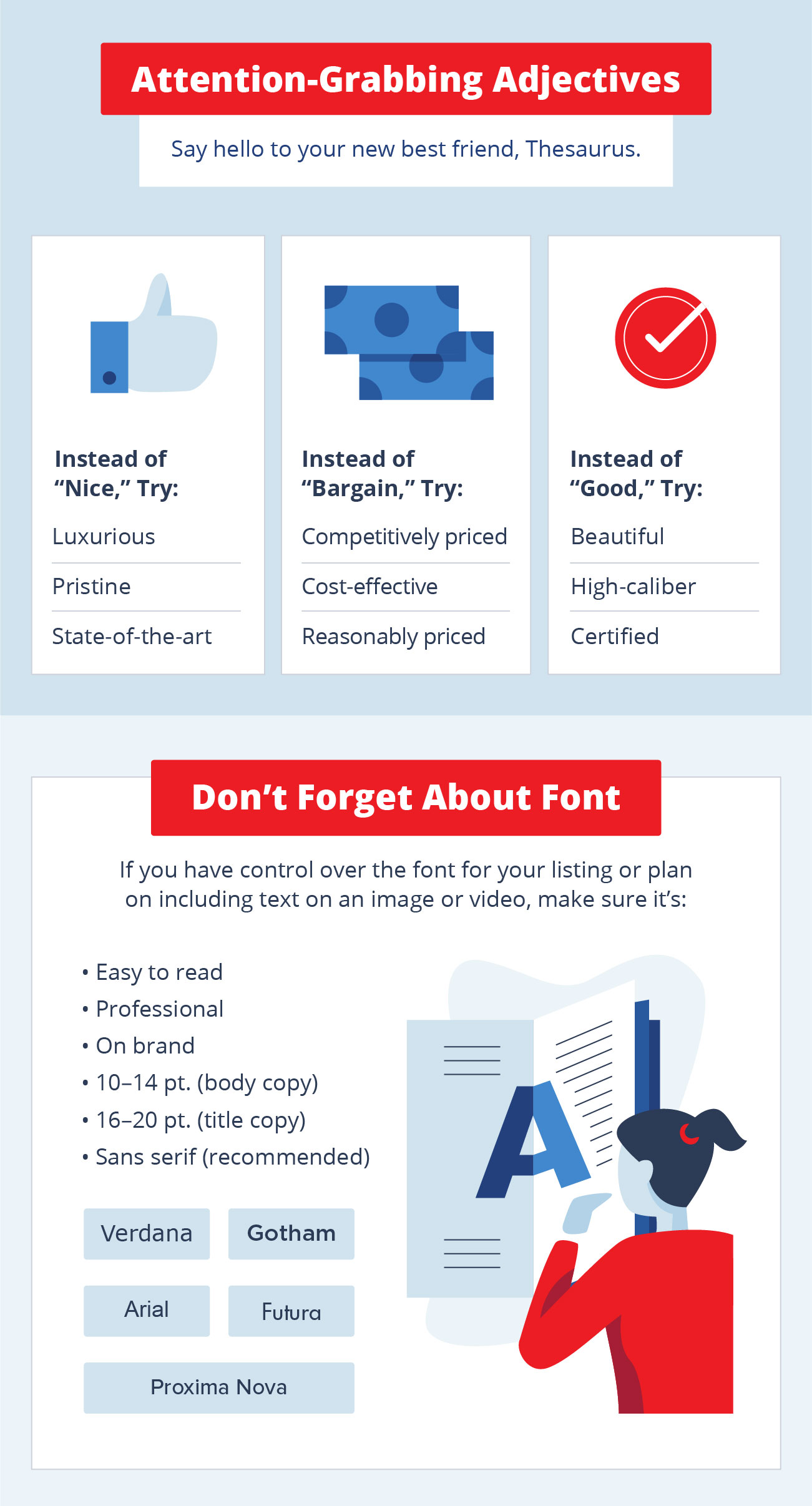 Sticking to a professional design format for your eCommerce postings plays a big role in upping your sales. Consumers are shopping online for convenience and product choices. They don't want to be frustrated by trying to browse listings that are hard to read. Keep your design streamlined, sharp, and professional:
Check grammar and spelling before posting. Buyers are turned off by misspelled words and sentences that don't make sense.
Use a professional, easy-to-read font, such as Arial or Verdana.
Use a larger font for headlines.
Use 10 to 14 point font for the content of listings – text needs to be easy to read even on smartphones.
Use enough white space throughout the page so it's easier for readers to scan over.
Use bullet points to condense details.
Use numbered lists when outlining how a product is used.
Keep sentences and paragraphs short.
Final Words
Take a close look at your online listings. Do they meet the requirements listed here for writing an effective and successful listing? If you want to increase sales in your eCommerce business, you'll need to create online listings that do more than just describe your products or services. Use these tips from ForSaleByOwner to write listings that use powerful words and techniques to reach customers and drive traffic to your business.
Ready to write listings that improve your conversion rates? Here's how.