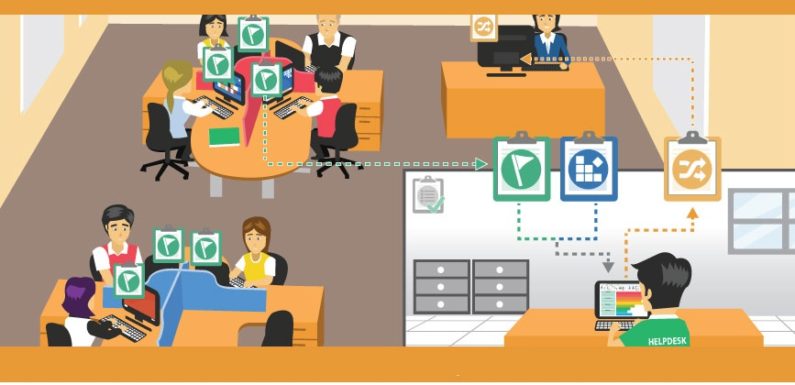 With the evolution in technology and the emergence of web services, businesses have found newer means to reach out to their customers and offer them better services. More or less all companies nowadays resort to using the latest digital and web technologies to cater to customer needs. Adoption of helpdesk tools has also shot up among the businesses and this is a global trend. Apart from incorporating new features, these tools are also laden with advanced security features for the convenience and safety of the users.
This is only logical given the fact technology giants like Google have become stringent about deploying security in web services and IT technology related things. The controversies and buzz regarding websites being made GDPR compliant corroborate the trend.
Need to choose and use secure help desk solutions
With time, the helpdesk solutions used by various businesses have become more advanced and feature packed.  Present generation help desk software solutions are equipped with cutting-edge features and technologies. These include integration with numerous apps and web services, social media integration, automation features, reporting and analytics and real-time monitoring of operations. However, it is also necessary that you buy a helpdesk tool that comes with embedded robust security features.
Listed below are the reasons for investing in a

secure helpdesk solution:
The helpdesk tool will be used to link with the CRM database, containing important customer information. You can risk this data to be misused.

The internal

knowledge base 

of the company will be accessed and used by different types of employees. This section contains vital company data that has to be safeguarded at all costs.

The helpdesk if compromised by hacking attacks and online exploits, can lead to data theft and other damages which can cost the company dearly.
Security features to check for in a helpdesk application
#1 Security technology/protocol compliance-
When investing in any helpdesk solution, you need to check if it is compliant with industry standard security protocols. This will not be the same with every application that you come across. Typically, you can look for software that is compliant with protocols like HIPAA, ISO 9001:2015 etc. This also depends on your company niche, for sure.
#2 Secure encryption technology-
The data that is stored on the servers of the helpdesk service provider (typically cloud service) should be secured by encryption technology. The same is applicable for the data that is transmitted between the server and network of companies using the service. While some helpdesk providers use 128 bit SSL/TLS encryption, some others offer more advanced 256-bit encryption tech. This is what most govt entities also fowl nowadays.
#3 Password protection-
A majority of helpdesk solutions rely on password-based protection for user access. While it offers a level of security, you should opt for software that has features to specify password strength. Some tools have passwords for accessing core features too.
#4 Additional authentication-
In a corporate setup, the helpdesk tools are accessed and used by hundreds of employees and plenty of customers every day. So, relying only on passwords may not be enough for safety. Some of the latest helpdesk tools, therefore, are equipped with two-step authentication. A mobile number or unique code is required for logging in, apart from the password. This helps keep the data safe even if a password is stolen.
#5 Data centre safety and network security-
The Companies offering helpdesk software services ensure the data centres remain under 24×7 digital surveillance. All backup provisions are kept in place to ensure that it keeps running, regardless of hardware or software snags. The companies also pay attention to maintaining network security. They have dedicated teams to monitor network health and glitches. Besides, the companies store data in geographically separate data centers. A number of companies use Amazon web services which is a versatile and scalable cloud service platform.
#6 Session duration settings-
Modern helpdesk tools have inbuilt provision for users to set a default duration for session expiry. This can be handy in setups where the software is used by hundreds of people and maintaining data security is really important. When the session duration is set, the users have to re-enter passwords and authenticate after the duration is over. This can be handy when the user leaves his workstation for a while and wants the data to be secure.
#7 IP restriction-
In companies dealing with sensitive information, the management should opt for helpdesk solutions that come with IP Restriction features embedded. This will ensure only the specified computers and web access devices can be used to access the web-based helpdesk SAAS platform. This is like another layer of safety and your data remains safe even if the passwords are stolen by any means. Every computer or web access device has a unique IP address. The software can be set to allow connections only from a set of IP addresses.
#8 Options to set multiple access levels-
The helpdesk solution is linked with a self-service portal and internal knowledge base of a company. This basically serves as the gateway to access important company data and customer database. While the employees and customers need to be given access to the software, the management needs to set access limits for different types of users. Latest helpdesk solutions let you set access levels for various types of users accessing the system. This can be set by either the management or network administrators in a business setup. So, the users given 'read only' access to vital data will not be able to modify or delete, even by mistake.
Future of IT Service desk security
As a matter of fact, a present generation help desk software solution comes with oodles of safety features and most of these are suited for the businesses, including the large sized entities. However, the reality is technological evolutions brings its share of problems and it also gives rise to new malware, web exploits and hacking loopholes.
So, the next generation help desk solutions should be equipped with more robust and cutting-edge security features. Some of the upcoming and anticipated security features are:
Automated alerts (conditional)-
A lot is being said about a deployment of automation and AI in helpdesk solutions. Some entities are experimenting with these emerging technologies and the results are quite encouraging. Automation will have a greater role to play in help desk segment in near future, say the experts. The solution can have automated alert mechanism to caution users about potential unsafe activities. This way security breach and data theft can be evaded.
Biometric authentication-
With time, mobile web access devices are getting equipped with advanced biometrics authentication features for secure yet faster access. These features will seep into help desk segment too. As it is, plenty of customers use mobile devices to use online services. So, deployment of biometric authentication in such tool will only make things easier for the users.
Summing it all up
The existing help desk solutions already come with adequate security measures embedded. However, cybercrime incidents are on rise and online security risks keep evolving with technological growth. So, the ticketing software  needs to be laden with next generation security features. Automated safety features and biometrics are among those features.