In this digital age, achieving financial independence isn't that difficult. Everyone wants to be their own boss, but only a few people know how to move forward with their ideas.
If you're looking for some inspiration, consider starting an ecommerce business. According to Statista, global ecommerce sales are set to double by 2021.
The internet is booming, and there are a lot of opportunities waiting out there for you. If you're planning on cashing in on these opportunities, keep these simple steps in mind:
1. Identify a Profitable Niche
First, you need to identify the products that you want to offer. It can be anything from clothes to kitchen equipment. The important thing to consider is that it should have a high global demand. The higher the demand, the higher your profit margins will be.
Keep an eye out for the latest trends to see what's hot. Use Google Trends to see what people are searching for, and which products are in demand. For example, searches for cold-pressed juices have dramatically increased in the last 5 years.

Image via Google Trends
A high volume of Google searches indicates high demand and a big market for the product. Be one of the first few people to spot such trends early on. That way you can establish your business when there isn't much competition in the market.
Keep an eye on newspapers and lifestyle magazines too. They are great places to see what's in fashion and what other marketers are trying to create a demand for.
2. Analyze Your Competitors' Strategies
If your target niche already has a few competitors, see what they are up to. Check out their products, pricing, and marketing strategies. See what's working for them, and write down all the positives and the negatives. This way you'll learn a few lessons even before you step into the field.
This will also help you zero in on a good pricing strategy for yourself. You don't want to charge customers $10 for something that they can buy for $3 from your competitors. Of course, if your product is absolutely unique, that's a different story.
For your competitor analysis, you could also pose as a customer yourself. This way you can stay updated with their offers, newsletters, and new products. Even after you start, it is a good idea to revisit your analysis every three months.
The virtual world is dynamic, and so is the world of ecommerce. Keep a tab on your competitors' strategies and tweak your own accordingly.
3. Focus on SEO
A study by SEMrush in 2017 found that most ecommerce websites get their traffic from direct Google searches. It even beat social media and Google ads in driving traffic.
This means that whoever gets more visibility on Google has a better chance of getting more customers. To get your ecommerce strategy right, begin with researching your keywords well. Look for specific keywords that your target audience may be searching for.
The best way to find these keywords is via tools like SEMrush, QuickSprout, or Ahrefs. Some of these tools would require you to pay to use them while others offer free trials. For an added advantage, check out the keywords that your competitors are ranking for.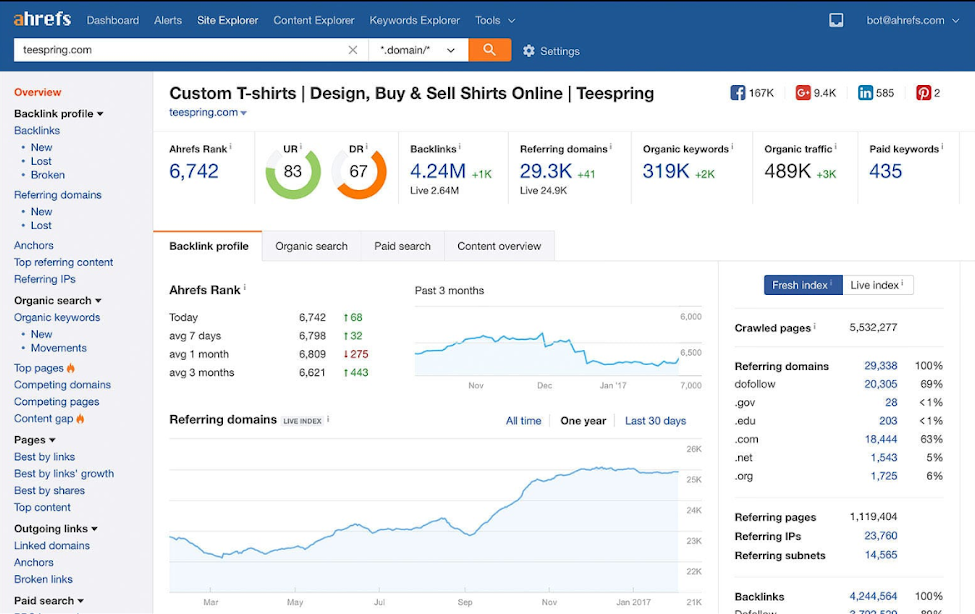 Image via Ahrefs
4. Plan Your Budget
Before you start, divide all your expenses and set clear revenue goals. How much are you willing to invest in setting up your website? How much profit margin do you expect? How many products do you expect to sell every month?
You may not have clear answers to these questions, but you cannot ignore them either. Write it all down so you can understand it clearly. This will also help you to figure out if you can fund your own project or will need an investor.
Also, make a separate section for small expenses. Postage, packaging, merchant processing fees – all of these need to be included.
5. Get in Touch with Manufacturers and Vendors
After you've decided on your products, start looking for manufacturers and vendors. Discuss the quality of products, pricing, and logistics. Both the parties need to be on the same page from the very beginning.
Will you be acting only as the party taking the order? Will your manufacturer fulfill the orders right up to shipping? Get these details cleared up. Different models work for different products, so see which one suits you.
Also make sure that your manufacturer is able to deliver the products even if the demand suddenly increases. If you're contacting manufacturers via Alibaba or other similar sites, make sure your communication is clear. If required, get a contract signed that mentions all of your terms and conditions.
6. Create a Branding Strategy
Branding involves everything from the name of your brand to its marketing. Come up with a unique brand name and secure your online presence with a relevant domain name. Also, create social media handles for Twitter, Instagram, and Facebook.
Try to be consistent across all social media platforms. Ideally, you should have the same profile name and profile picture. Make sure you invest some time to fill in the "About Us" sections well. That will give your customers a peek into your brand and products.
Tell your customers more about your story as well as your products. To gain credibility and reach your target audiences quickly, you can also collaborate with social media influencers. They already have a loyal audience who listen to them. So if they showcase your product, you can be guaranteed some eyeballs.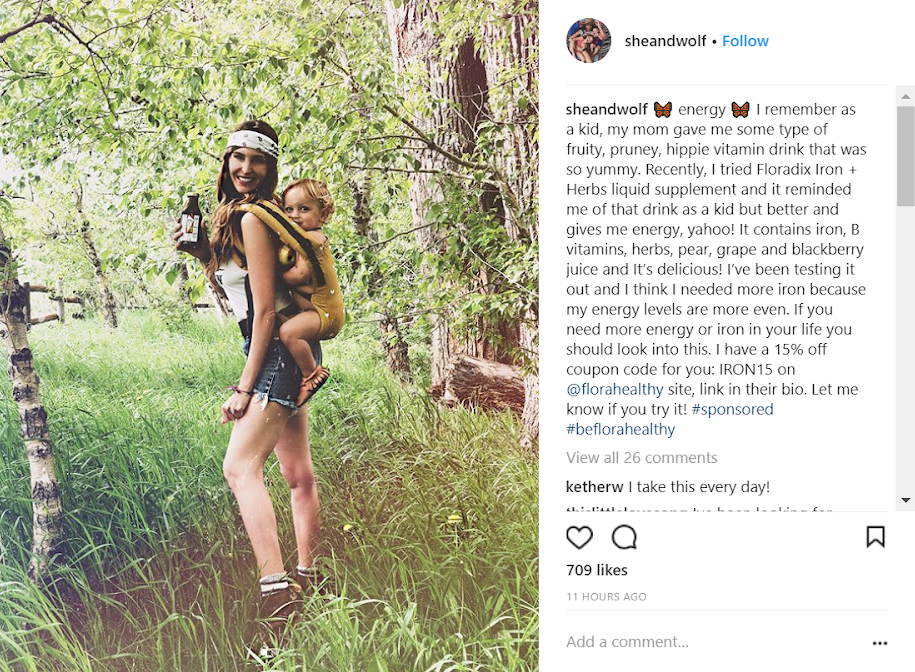 Image via Instagram
It can be difficult to get in touch with relevant influencers if you're just starting out. Influencer marketing platforms can help you here. Platforms like Grin, for example, can help you find relevant influencers filtered by industry, reach, and engagement. You can also run, manage, and track your campaigns from these platforms.
7. Create Your Website
To create your website, check out platforms like Shopify, Magento, or BigCommerce. These platforms will help you create a website quickly and easily using their existing design templates.
While deciding on a layout and design, also make sure that they are compatible with your ecommerce software.
Make sure your ecommerce software helps you optimize your page loading speed and helps you with SEO too. Also, ensure that it is compatible with payment gateways and your business structure. If you have a big budget, you can also hire an expert to take care of these technical aspects.
Conclusion
Starting an ecommerce business is easy if you have done your planning well. You need to have a clear picture of your product, budget, and your competitors. After that is sorted, you need to talk to manufacturers to ensure you have a smooth supply chain running.
Once the groundwork has been laid, concentrate on developing your website and brand presence. Make sure your marketing strategy gets your brand the attention it deserves.
What else do you think needs to be taken care of while launching an ecommerce business? Please share your suggestions in the comments section below.