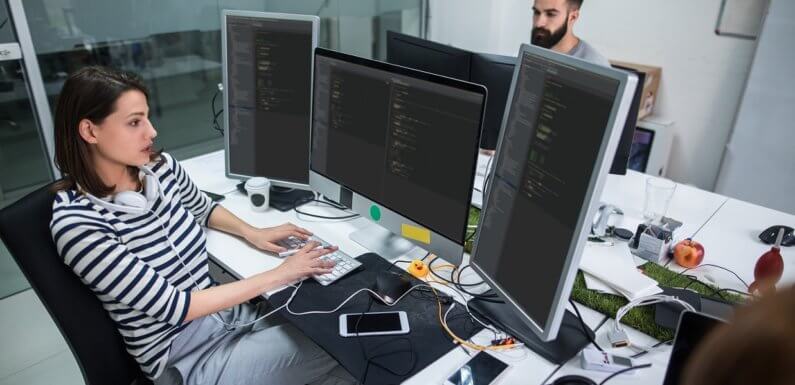 Computer programming is a very popular career option for people seeking employment in the STEM field. The Bureau of Labor Statistics reports that there are currently 213,900 computer programmers in the United States. Although the number of programming jobs is expected to drop over the next 10 years, it is still a very lucrative career path.
There are many different career options for qualified programmers. Many people consider getting a degree in computer programming to become video game developers while they are children. However, as they get older, they discover a number of other ways to apply their knowledge in programming.
If you have recently earned a degree in computer science, then you can find a number of great ways to use it. Keep in mind that you may need to learn new skills, such as organizing a Docker registry to open more doors. Five of the best computer programming job options are listed below.
Backend Web Developer
A backend web programmer is works on the internal architecture of a website or mobile application that is linked to all content (forms, maps, databases, etc.) that will be integrated with everything that the end user sees in a website or mobile application (which would be FrontEnd programming). These professionals are very important for companies that want to develop an e-commerce site.
Some years ago, web programming tasks were entirely completed by webmasters. These days, due to the growing complexity of the tools, this work is divided between several professionals, each one specialized in his branch.
Due to current advances in technology, it is indisputable that a backend developer is in a continuous process of training and learning to find the best solutions at every moment.
Graphic Design
Are you interested in a job as a graphic designer? You will need a computer engineering degree. This degree will cover the subjects of computer graphics, with a very solid base of both programming and applied mathematics.
Computer graphics creates software for image processing and develops interfaces between the user and the computer. This educational path offers the basic skillsets needed to generate virtual realities and artificial environments, as well as develop algorithms in search of realistic visualization. It was born as a graphic expression of mathematical models and works with vector graphics.
Video Game Development
In many cases, the people who decide to dedicate themselves to this profession have been authentic and dedicated gamers that want to make their passion their work. However, they may find that it is not the cakewalk that they expected. A career as a video game programmer is a very demanding job.
Whether you have studied computer engineering or not (obviously, you will have much better base if you have earned a CS or CE degree), you can learn programming languages on your own. A good way to start is by reading Jesse Schell's famous book, The Art of Game Design, which deals with C++ programming in video games and screenwriting. You will learn to make small interactive programs or Flash games and experiment with the SDKs of PC titles or 3D programs, Ogre or Source.
Business Analyst
A career as a business analyst might be ideal for programmers with a multidisciplinary view. They can apply their programming knowledge, along with other businesses and technical competencies. They should also be competent data analysts.
The main responsibility of the Business Analyst is to design and implement improvement strategies in business processes from analyzing data in its proper context and understanding the different processes involved in the organization, such as policy issues and resources. A business analyst works as a link between the technological area (IT) and the business area. They serve as an internal consultant that contemplates all the visions of the corporate universe.
Computer Systems Analyst
The systems analyst is the professional who is in charge of, among other things, the creation and revisions of the apps. They create solutions to the problems posed by the client. In short, the systems analyst is in charge of the design of algorithms.
He or she also provides opinions on the modifications that should be implemented in the software being used within a given context, the planning of appropriate changes in an operating system and decisions over the platforms or applications being used.
These professionals give suggestions as to which tools are the best from a computer logistics standpoint. They are also in charge of determining which application programming tasks will be most useful.