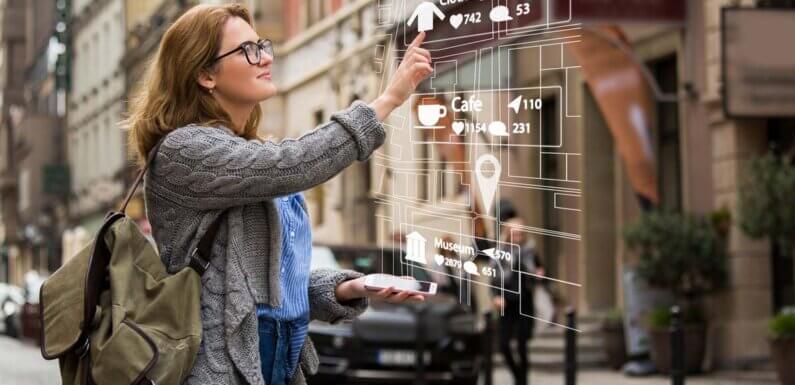 It is needless to say that Cloud computing has gained immense popularity over the past few years now. With the competition getting stiff every day, Cloud service providers are currently looking for newer methods to remain competitive.
Cloud computing is now made available to every organization, irrespective of its size or business area. Owing to its wide adoption, there has been a significant shift from on-premise solutions to Cloud-based servers and Cloud hosting. Factors like- scalability, efficient deployment and lower maintenance costs justify why Cloud has witnessed such mass adoption over the years. 
Reasons for Shift
Some other reasons why we are witnessing a significant shift from on-premise to Cloud include-
Security Compliance
One of the key reasons why enterprises are making a shift to the Cloud is quick compliance. Various software systems help in managing customer data along with the information that companies hold. Advanced messaging systems can now be integrated with the Cloud systems that allow businesses to exchange messages securely. Post introduction of the GDPR and MiFID (Markets in Financial Instruments Directive) Acts in 2018; it has become necessary for organizations to store customers' data securely. These Acts also ensure that the data is encrypted correctly at all times. Such data security regulations make Cloud-based solutions a more comfortable option to align with the latest compliances and standards.
Increased Security
Most of the Cloud service providers tend to invest significantly towards the Cloud infrastructure, resources and enhanced technology for offering raised security levels. Performing off-site data backups in the Cloud helps decrease chances for any online and cybersecurity associated problems and concerns. The backed-up data can be easily & quickly replicated as in when required.
Adding Innovative Services
Considering the case of on-premise set-up, there is minimal scope for innovation. Also, adding new innovative solutions in on-premise set-ups can be a costly affair. With Cloud-based platforms, it has become much easier to add new innovative solutions and services by incurring minimum costs.
Faster Deployment, Connectivity & High Availability
Today it has become faster to plan, build and implement the internal IT architecture for enterprises. The traditional methods used to take days for their deployment. On the contrary, using cloud-based platforms and services, these set-ups can be reduced to just hours.
With Cloud technology, it has become easier for users to access data and files anytime from any location. Users physically present at any location in the world can access their files and data stored across any device without being worried about data getting lost.
Cost-Effective Solution
By using Cloud technology, enterprises can reduce their IT requirements along with the physical storage of their data. Usually, a cloud-based device offers users a prompt scalable computing power along with enhanced data integrity levels. All of these summatively result in reduced OPEX costs.
Better Efficiency
Post-migration to the Cloud, enterprises don't need to worry about components like- power requirements, considerations related to space, expensive hardware or even software updates. The Cloud provider addresses all these things. Cloud is well-known for offering rapid scalability, parallel synchronization while sharing data in real-time. As there is parallel synchronization taking place between users, it results in improved efficiency of users.
Key Differences Between On-Premise and Cloud Set-ups
There are various notable differences between on-premise and Cloud platforms. The choice for selecting the right platform depends on the needs of an enterprise.
However, these two solutions can be differentiated on the following three parameters-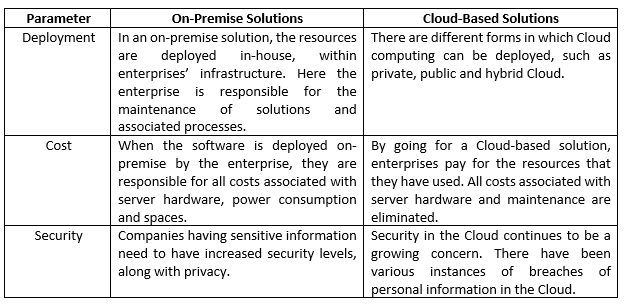 Closing Words
The reasons stated above are quite evident to show why enterprises are now opting for Cloud-based services rather than on-premise solutions. Thus, companies also look to leverage the expertise that Cloud providers and their in-house team offer.