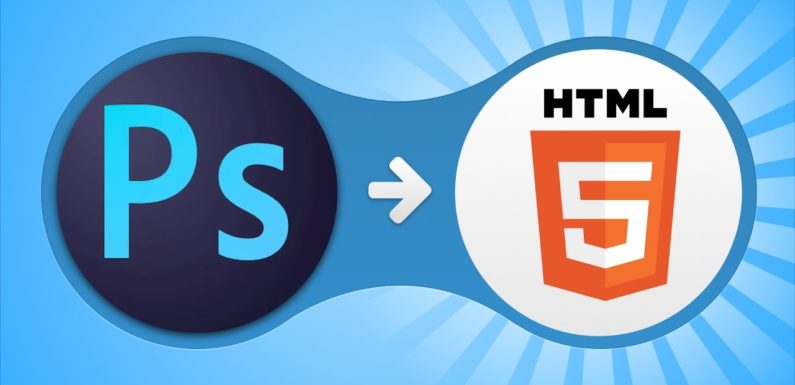 The technology has made huge advancements in the field of genetics in recent years. With this pace of ascent, the creation of responsive and effective website design has become the need of the hour.
A responsive and dynamic website represents the company's position in the online world. As per the current statistics, there are approximately 3 billion internet users in our country.
Hence, it is important for every business to create a good position over the web.
The website designing consists of various steps. The most important step is the PSD to HTML Conversion of a file. This conversion embraces numerous benefits which help many website development companies, freelancers to start their own websites.
Before you embark on your journey into the pool of PSD to Html conversion, its benefits, first understand the basics of PSD and Html.
What is PSD?
PSD is the acronym for Photoshop document. It initiates the design process of a website. Photoshop is one of the most popular software programs for image editing, creating designs and save the designs in various formats. The default file format for Photoshop is .psd.
What is HTML?
HTML stands for Hypertext Mark-up Language. This is the most popular coding language for creating web pages. To convert your PSD file to Html, you must be familiarized with the latest version of the language. HTML5 is the latest version of this coding language.
Now, you have a basic idea of PSD and Html, let's move forward and find out how PSD to Html conversion is so beneficial for your business.
There are 3 kinds of clients who will get benefitted from PSD to Html conversion services.
Web development companies, creative agencies, graphic design studios.

Web and design professionals

Web individuals
Benefits of using PSD to Html service are different for all these groups to some extent.
Benefits for Web Development Companies
For web development companies, PSD to Html conversion services depends upon the organizational benefits and cost-effectiveness. This conversion service is best for any organization because of the following reasons:
It provides an easy access to the network of specialists known for their best practices of coding and designing. These require concepts, knowledge, and skills which comes from maintaining W3C standards compliance, cross-browser compatibility, semantic coding etc.

By using HTML conversion services, there is no need of renting office space.

Customer satisfaction is the utmost priority of any organization. Conversion service provides better customer satisfaction and hence more customers will visit your website.

Conversion service is easy and provides fast assistance in the overload time.

It has more efficiency and flexibility in core revenue producing activities.
Benefits for Web and Design Professionals
For the website designers and developers, the creation of a good website, perfect coding and attractive designs is not enough for high performance. They enjoy more benefits of PSD to Html services which are listed below:
There is no need to learn in detail of HTML5/CSS3/ Javascript/ W3C Standards.

They don't need to bother how to solve different markup problems.

They will get more time for designing; more designs will lead to more opportunities to earn more money in a fixed time.

They can get more time for promotion, customer care, and
Benefits for Web Individuals
Search engines prefer quick websites which take less time to load. PSD to Html services optimizes your website to speed it up through markups.

These conversions provide an expert and professional look to your website or blog.

Semantic coding used in HTML helps search engines to understand and rank your website better.

Helps in the maintenance of W3C standards compliance and cross-browser

The websites which use PSD to HTML services have high authority, as HTML5/ CSS3 templates and themes are in trend nowadays.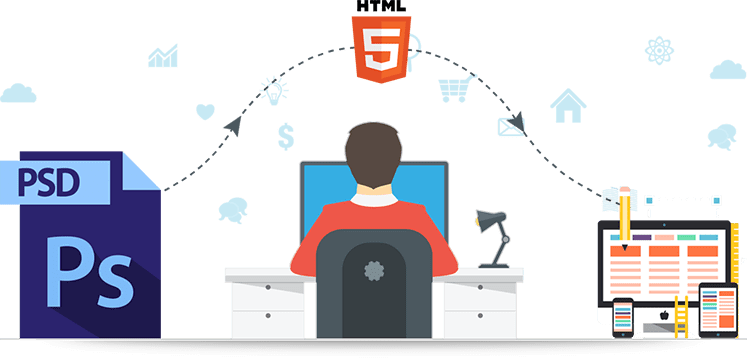 The above-mentioned groups are the major clients who get benefits of PSD to Html conversion. Apart from these groups, we have highlighted some more important benefits of PSD to Html conversion and why business should take such services to grow their sales.
#1 High online visibility
The main aim of any site owner is to get in touch with the global audience. And to connect with such an audience, your website should be visible to search engine bots.
By converting your website from PSD to Html, you can easily and effectively attract a good amount of web traffic to your site. The search engine crawlers can easily read the Html code and also indexes your site in a proper manner.
#2 Cross Browser compatibility
Using the PSD to Html conversion services means the content of the websites can be accessed on all the browsers like Chrome, Opera, and Firefox etc. So, browser support is not an issue any longer.
#3 SEO Adaptability
Search Engine Optimization (SEO) techniques are the best way to optimize your site's search engine ranking. Improving your website ranking can be accomplished through SEO techniques quite easily. The PSD to Html service creates the possibility to manipulate your web pages without any complications.
#4 Good Conversion Rate and Maximum ROI
A responsive and attractive website will connect more customers and more customers mean more conversion rate of your website. Every business website should opt for this conversion service to reach out to their target clients which in turn will give a good return on investment.
#5 CMS Integration
Websites' having good Content Management Systems helps them in the conversion of PSD to Html Service. Websites find it difficult to manage the whole content of the website. But the websites which use CMS Integration techniques of content management are easy to navigate. So, the websites' are always recommended using popular CMS for PSD to Html conversion.
#6 Enhanced User Experience
User's experience is very important in increasing the web traffic for your website. The user will come back to those websites which are attractive and offers a remarkable user experience.
To retain your customers, your website should be easy to use and navigate.Html provides a professional look to the website and makes your website look good. This enhances the web traffic and sales for your website.
#7 Error Free Website
The semantic coding in HTML provides error-free websites. The semantic coding helps in an easy spot of bugs, effective maintenance of the scripts with the help of pre-defined tags and remove errors.
#8 Appropriate implementation of Dynamic Functionality
Modern day technology is dynamic and highly responsive to changes. Nowadays, there is a lot more option available on the internet like Animation, Parallel scrolling, instant messaging/ commenting, sharing photos, buying online products etc.
Websites using PSD cannot perform such dynamic functions. With Html, implementation of the dynamic model is very fast. Hence, website's and bloggers' prefer PSD to Html conversion service to perform dynamic functions.
#9 Brand Identity Creation
Branding is one of the important factors for the enhancement of any business. PSD to Html Conversion is the best way to establish a strong and effective brand identity. An Html website offers fantastic identity that will be unique to your business. The logo of your website should be relatable to your brand. Anyone who gets to see your site will be able to relate to your brand. PSD to Html Conversion websites will help you to build your brand's identity to your website will be recognized in search engine rankings.
In this technology-driven world, the website is the best and foremost method to reach out to your target audience. An effective website establishes a two-way communication between you and your potential customers. PSD to Html conversion service will help you in achieving your goal to connect with more audience for your business and gaining a real stronghold in this dynamic marketplace.