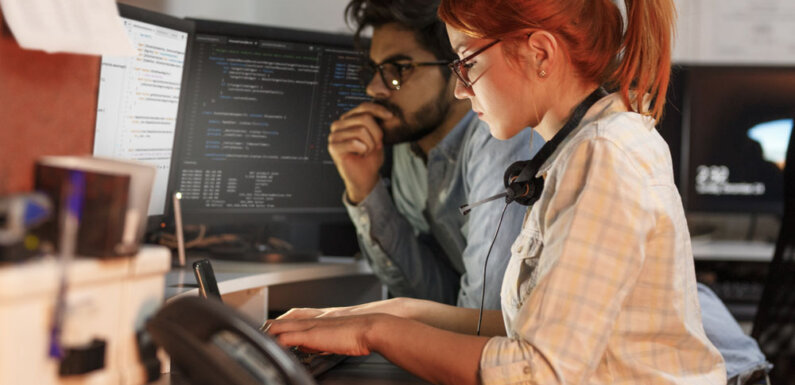 Today, in this world of digitization, it is hard to find a business or service provider without using a software application. Ranging from upgrading and automating the in-house process to improving the overall customer experience, a software application has become a necessity of a company.
In fact, professional services are required even when developing a micro-website or building an entire application. Outsourcing is the best way to achieve digital transformation and this can be done through a freelancer or by a team of specialists at a dedicated development agency. But why to hire an agency over a freelancer is a genuine question.
Following are some explanations to choose an agency:
Professional approach:
A software development agency values quality and works with set guidelines in a more professional way. Remember that your website makes the first impression and to convert a visitor to a potential customer, a well-designed website plays an important role. A team of experienced developers in an agency makes this task easy as they have a thorough knowledge of making good and responsive websites as per the customer's requirements. An agency understands that a customer's feedback is more crucial for them, as this will provide a base on which the next client will hire them. Thus, agencies follow a strict work schedule with a strong work ethic.
Variety of Service:
A software development agency in the UK will provide a variety of different services together. An agency has a team of professionals, who are well trained in various business chores and have access to additional required services fruitful for the client. A client does not need to search other avenues for their additional services of a similar vertical. One does it all, and the client does not have to go through the screening process again and again. When a freelancer has its limitations to additional devices and software, an agency is equipped with the latest techs available to stand well ahead in the market.
Collective expertise with promising back support:
Clients deal with more than one expert in software development companies of the UK. The end results are developed by the high level of collective experts, based on the client's feedback. A team of experts dealing in programming, designing, marketing, etc. ensure the best outputs for their clients.
Moreover, a software development agency works on a project with more responsibility, providing the best relevant results. The final results delivered by an agency are always better than a single head, as they have been produced by a group of team experts. Also, a good agency provides a well-equipped 24×7 customer helpline to provide on-going support for their customers.
Better maintenance and support:
A freelancer cannot provide support once work has been done. For example, let's say your website is prepared and delivered. After a month you face some issues. A freelancer is less expected to resolve the problems in comparison to a software development company. A good company is sure to provide full cooperation and will listen to all the grievances of a customer, providing them with the best solution.
Proven standards:
A professional software development agency has access to more tools when compared to a freelancer. A company invests more in technologies and up gradations to provide the best solutions. A company purchases different paid subscriptions to access various software and provide robust reporting features to their customers. A freelancer has limited resources and has no support for any open-source tools.
Trustworthy practices:
An agency is more trustworthy to work with when compared to a freelancer. A software development company is committed to cooperating with its clients in any set of circumstances. A good agency may also assign a dedicated professional to their client to help them out with their specific needs and demands. The companies plan out strategies that are ought to provide positive results making a business strong.
Key benefits of hiring an agency over a freelancer:
Saves time and money
Ensures data security of the clients
More experienced team of professionals
24 x 7 customer support
Timely delivery
Stress-free results
After delivery support and services
Provide timely updates
More reliable for start-ups
Smoother workflow
Maintenance and after-sales support
Conclusion
When we are talking about a professional approach, hiring a software development company is always a better choice. An agency can guarantee solid quality work with the best desired results.
It is worth noting that there are a limited number of website applications that have been appreciated and developed by some freelancers. But, more appealing solutions are found to be designed by a group of people, working as a team. A classic result has always been a result of a team