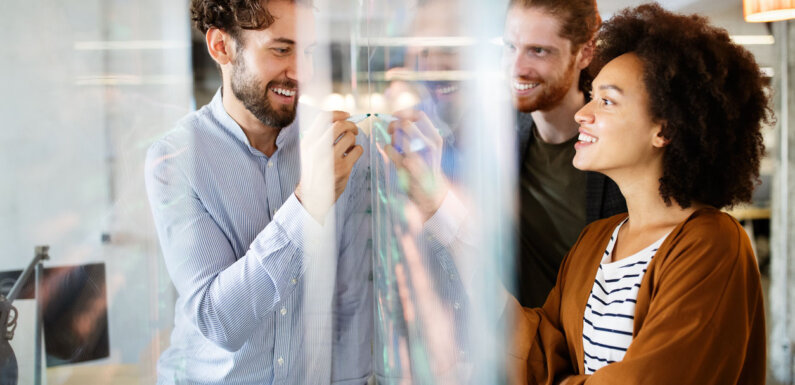 2020 was undoubtedly one of the most challenging years for businesses and technologies of all kinds. For some, it meant losing staff, shutting down shops and going into administration. And for others it was quite the opposite, taking on more staff to handle the new workload.
However, for big tech companies, it was business as usual. In fact, it picked up at an accelerated pace from the very beginning of the pandemic. Investors have predicted that, in 2021, the tech sector will be the most lucrative market. Predicted to increase by 50% from last year. The statistics below show a clear increase after a heavy decline in 2020.
(Source-Statista)
The graph shows a clear indication of projected percentage yearly growth over the years of 2016 to 2021 in relation to spending in the technology industry. The prediction gives us a clear picture of what to expect and the technologies.
As an increasing number of pharmaceutical organisations develop vaccines, and more countries approve them, the question remains. Will we be hooked on tech for the foreseeable future and if so, what does it look like?
Big tech to look out for in 2021
Folding phones
In 2021, we can expect more folding phones as the famous flip Motorola made a comeback in 2020. It has also been rumoured that Apple is developing a clamshell-like folding phone too, levelling up to competitors. 
Samsung has already stormed the market with their Samsung Fold which goes one step beyond being a folding phone. The device folds out to be a more significant tablet-sized shape and so could this be the future of smartphones?
This year also promises a year of 5G connectivity brought to us by all major networks. 5G technologies connectivity will help connect everyone better, allowing for more collaborations to occur and for work and business to move faster.
The Year of Robots
One particular brand that has done exceedingly well over the pandemic, making the CEO one of the world's richest men is Amazon. Thanks to its next day deliveries and ease to use interface, the use of Amazon over the pandemic has skyrocketed. As brick and mortar shops were forced to close; online shopping took a spot light of its own.
To help keep up with the vast influx and boom of orders, Amazon has accelerated the pace of automation within their warehouse. By intelligently getting robots and software to work in unison, they are able to pick and pack orders to keep up with demand.
There is a big chance we may also be seeing more robot delivery pods on the road. As online booms and delivery services are unable to keep up with the rate of online shopping, delivery pod robots and technologies alike may fill the gap.
The pandemic may also accelerate robot careers which are already popular in Japan. Over the past few months, we have seen how the NHS has struggled with keeping up normal services whilst trying to fight the pandemic. Robot carers could help alleviate the services giving them more time and opportunities to care for a broader range and amount of people at any one time.
Self Driving & Electric Cars
For some time now, we have been promised that self-driving cars will be the motor industry's future. With increased attention on the environment, we can expect nothing but the best technology in the motoring industry in the years to come. However, as the UK government announced their goals to ban the sale of petrol and diesel cars by 2030, Electric cars and technologies will take the spotlight. Battery technology to power electric cars is also increasing, which will help excel the market.
Home Connectivity & Fitness
If the past few years are anything to go by, automated home tech will most definitely make one of the most significant returns this year with voice-controlled lights, smart doorbells, home assist speakers and fridges that help you keep count of your food stocks. There is much to be expected in this space as both Amazon and Apple fight for the home connectivity market's top spot. But, is there a chance of reverting back to our old normal? Here's a look at the general consensus for going back to normal in 2021.
Is normal possible after a pandemic?
The entire world has had a mind-altering experience which we may never be able to shake off. From a psychological level, the previous pandemics and epidemics such as the influenza outbreak in 2009 and the Sars epidemic in 2003 show signs of lasting psychological effects on people. Past outbreaks have provided evidence that shows, those who were hospitalised with the conditions developed PTSD from their experience and anxiety.
(Source-Statista)
According to the graph above, 85% of Brazilian candidates were much more confident that things would return back to normal by June. In a stark contrast to 19% of Japanese people had very little confidence.
Even those who have not suffered from coronavirus may indeed suffer. From psychological effects and symptoms due to the global impact it has had and life-altering experiences. Lasting anxiety is caused by isolation and confinement, even for short periods. Therefore, there's no doubt that 2021 will be another challenging year which technology might be able to save us from.