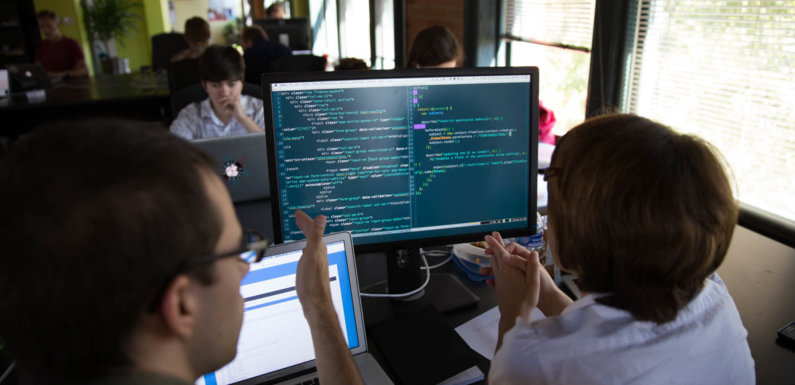 As your organization grows, you'll likely encounter new challenges, changes, and needs. Business processes can become more sophisticated. Ensuring that all business aspects, such as operations, administration, financials, and management, are in unison can be chaos. This is where enterprise solutions come to the picture.
Business software applications are a game-changer. Digital technologies help solve your business' concerns and ensure efficiency in your operations. They are vital for the success of your business and help you thrive in an ever-competitive global market.
There are numerous enterprise software solutions available nowadays. These software packages are broadly classified as off-the-shelf and custom-made solutions.
Off-the-shelf applications are mass-produced software suites that offer generic technology that businesses in an industry can use. They are designed for use in a specific industry with similar business processes, such as restaurants, retail, manufacturing, healthcare, etc. These IT solutions are generally less costly. Many businesses can operate efficiently using off-the-shelf software.
Although businesses in the same industry share similarities, every organization is unique in many ways. Specifically, your business will have distinct daily processes, service offerings, processes, and culture. Considering the unique characteristics of every business, it is crucial to use a personalized IT solution that addresses each of these requirements and simplifies tasks and processes.
Custom software solutions provide the exact platform that you need to run your organization efficiently. However, tailor-made applications come for a price. This is one reason why many businesses don't consider custom software development services according to a developer at Entrance Consulting.
So, how do you know if your business really needs it? What are the conditions that suggest you need custom software development? Below are signs that indicate your business needs custom software development services.
Disruptions
Initially, a packaged software application will work wonders for your business. It can bring order to your processes. But as your business grows, it might overwhelm the technology. Once your enterprise solution becomes unable to support your business, you might encounter disorganization. This can lead to unwanted disruptions in the day-to-day operations, which can eventually affect your business bottom line.
Recurring problems in technology can hinder growth and success. Custom software can address these gaps and make your technology responsive to the changing needs of your business.
Lack of efficiency
The main objective of business software is to bring efficiency to the organization. If you feel that it has lost this function, it suggests the need for custom-made software that addresses all loopholes. Custom software developers look into the entire picture; analyzing and identifying the bottlenecks that prevent efficiency. They attempt to solve these issues through the software.
Lagging behind competitors
If you sense that you are lagging behind your competitors, you might have to revisit your technology. Custom software development enables us to maximize all opportunities and open up new revenue streams. The developers create innovative tech solutions that aim to eradicate the challenges faced by users. This keeps the business on top of the competition.
Change in business
Major changes in business strategy, focus, size, or operations might require you to revolutionize your technology. Custom software development services redesign and equip your technology with new capabilities and features. Tailor-made IT solutions ensure that the quality of product and level of service is maintained even though the process changes.
Custom-made IT solutions are focused on meeting all the potential changes, such as technological advances, compliances, regulations, strategies, and other aspects of a business. These applications keep your business top-notch.
Highly specialized business processes
For businesses that offer niche services, hiring custom software development services is a must. Usually, the functionalities and features that your business needs are not available with mass-produced applications. To ensure efficiency in your operations, a highly personalized solution is vital. The developers will work closely with you in crafting the best software that meets your unique needs.
Obsolete software
It seems that technology changes in the blink of an eye. Emerging technologies, like AI, machine learning, and IoT, are transforming the business landscape. Many businesses are now taking advantage of these innovations. The continued use of outdated software may result in your business lagging behind the competition. If you are in this situation, custom software development services can help update your technology. Custom-made applications can grow with your business and be updated alongside the latest innovations.
Lack of available skills
Running obsolete software might make it more difficult for you to find someone with the skills and expertise in technology. There are still businesses that run their IT on RPG and COBOL, which have long been phased out. If your software is still using these coding languages, you will surely benefit from upgrading it and using custom software development services. Aside from the lack of talent, these outdated applications might not be compatible with current web browsers, devices, and platforms. This can result in a loss of functionality and glitches.
Poor employee satisfaction
Dealing with problematic technologies can reduce employee productivity and satisfaction. If the software is unable to serve its purpose and forces employees to do numerous manual tasks, they tend to feel overburdened and unhappy. Custom software solutions can help streamline their tasks and eradicate manual processes.
Roll-out new solution
Businesses face many challenges. If you've found a solution to these problems using digital technology, custom software development services can help turn these concepts into reality. Unlike off-the-shelf software solutions, tailor-made applications are created from scratch, based on your ideas. Developers can help you design and develop out-of-the-box apps that can be used by your organization. They are experts in this field and will guide you from planning down to its fruition.
Business growth
Business solutions must be able to adapt to the demands of a growing company. Unfortunately, packaged software doesn't have the flexibility and scalability. These IT solutions come with fixed coding that limits its capabilities. As such, it is unable to accommodate the added requests from customers and employees. Custom-made solutions are scalable. They can address the inefficiencies and internal challenges of an emerging business. At the same time, developers ensure a user-friendly experience.
If your organization meets any of these situations, you should begin reviewing your digital technology as it might need some transformation. Custom software development services can help you in this process – and might be all that your business needs.