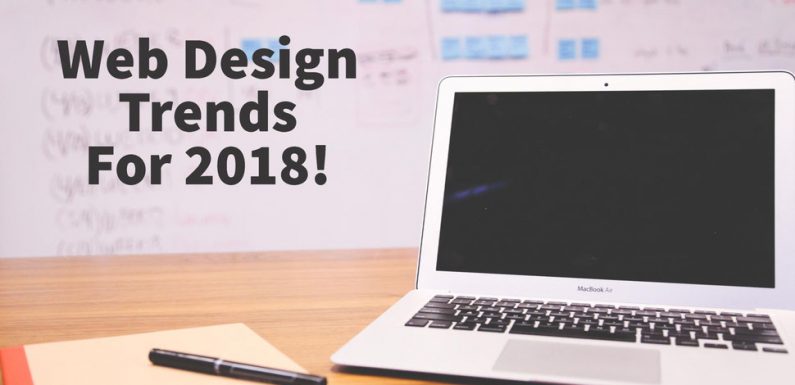 New years are exciting. Aren't they? Every new year brings with it new opportunities, new choices, new hopes, new dreams, new trends, new fashion, new technology, and a lot many new good things. The list can literally just go on.
One such world which sees new trends not just at the beginning of any year but in every few months is the web designing world. It keeps innovating and never seems to run out of new trends and ideas.
Here are some web design trends that are sure to rule in 2018:
— Big, bold and beautiful typographic would surely be seen as a web design trend in 2018. Typography is a powerful tool that can make a website look enticing. Long-form content has already started emerging as a web design trend. In 2018, we are likely to see over-sized typefaces and typography cutouts i.e the technique which uses a block of color over a still or moving image that appears through clear lettering in web design.
— Videos and 3D effects- This web design trend has been seen throughout the present year and will continue expanding in 2018 as it has become a key element in contemporary web design. Static backgrounds have become a bit boring and old-fashioned since we've got used to looking at wide screen video clips and 3D effects on landing pages. They individualize your brand and are known to enhance user conversion significantly.
— Experimentation with adventurous and bold & bright colors would be seen commonly as a web design trend in 2018. Proficient web development companies plan on using bright and bold hues and other vivacious tints in their websites since they attract more users and make the design catchy.
— Use of various kinds of geometric shapes, patterns, and lines would also be used in websites for adding decorative details and a little extra attention to certain areas and content on your site. They can help add an aesthetic factor to your site content and images. If you are deciding to follow this trend, make sure to use everything in moderation though.
— Photo content is a thing which is consistently gaining popularity in the web designing world, especially in the e-commerce portals. Photos of original objects create distinctive and appealing designs and entice users to look at them, interact with them and also purchase them. We can see this trend in most of the top e-commerce sites of today. This trend will gain more popularity in the upcoming year.
— Use of animated objects in designing logos, icons or applications are known to engage the viewer's attention more effectively for a longer period of time than static imagery icons/logos. Animated objects can narrate a story to viewers crisply. These include GIF videos, scroll-triggered animation, parallax scrolling, transition between pages, animation on certain elements and sections, mouse-over effect, custom animations, and other animations.
They encourage users to keep scrolling and engage them better. When following this trend, just remember to not compromise on your visitor's patience by overusing animation as this could make your site heavy.
— Microinteractions have become extremely popular with the rise of social media websites as most of these sites have quite intelligent microinterations in them to make their websites and applications feel a lot more human by using the user acknowledgment. They allow users to interact with others without reloading the page and provide them with richer interactions.
— Playful illustrations are visually engaging and another good thing about them is that they do not get in the way of functionality. They're an extremely versatile visual element and can create unique experiences for your website visitors. This is just an emerging trend at the moment but is quite likely to stay relevant in 2018.
— Fixed header design is increasingly being seen in websites. It makes the navigation easy for users when they scroll down any page. It offers an extremely smooth navigation experience.
–Irregular grid layouts is another emerging web design trend that is likely to rule in 2018. this trend could be used for an ultra-modern design style. It helps make the site content stand out and encourage users to spend more time on the page.
— Artificial Intelligence technologies like chat-bots, voice assistants, and many others have started being incorporated into web designs. We'll surely see this more prevalent in the upcoming year.