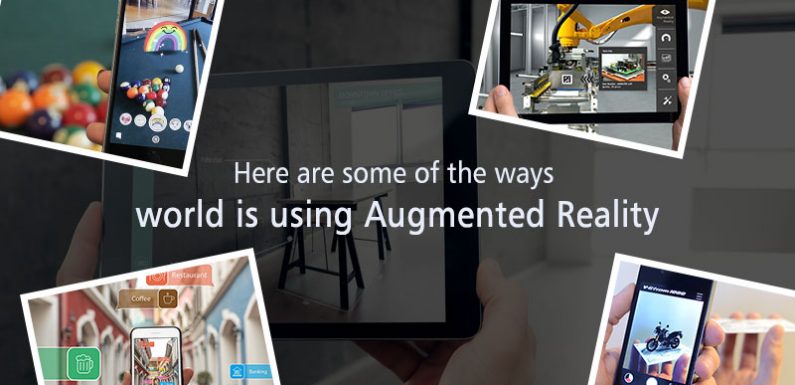 One of the biggest and most amazing inventions that have branched from the digital technology is Augmented Reality, it seems like it has already got the world in its awe. Whatever may the concept be in the backstage, on the front, AR is mesmerizing and useful at the same time as well. This is the reason why different sectors from entertainment to manufacturing have readily accepted Augmented Reality, and are also putting efforts to optimize the technology using mobile app development platforms by building dedicated apps for the purpose.
Looking at the market size, AR technology has grown by leap and bounds in the last two years. According to 'MarketsAndMarkets.com', AR market is growing at 55% CAGR, will be reaching USD 61.39 billion by 2023, rising from USD 2.39 billion in 2016, which indicates a jump of about 2400% in 7 years, fairly meaning that the AR sector is growing at a steady pace.
So what is powering up AR to break its own records? In what ways AR technology is already being utilized? Here are the answers you are looking for:
Navigation Apps
The ability of AR to mend with the environment and create a seamless interface, demolishes the boundaries between virtual and real. Navigation systems have taken advantage of this nature of AR, and as a result, we see many navigation apps on Play Store and App Store.
One such example is AR GPS Drive/Walk Navigation mobile app, which integrates with your car's dashboard and loads the HUD with all the necessary information and indications to provide the driver with the easiest navigation experience ever.
Another app that goes by the name AR GPS Compass Map 3D, is quite suited for on-foot exploration, as it brings up a virtual compass on the user's phone screen. Some of the AR Navigation apps are also intelligent enough to anticipate traffic and mark hazards on the screen itself.
AR Headsets
One of the coolest gadgets invented in the recent times is, without doubt, an AR headset. AR headsets are wearable devices that use physical display optic lenses to create an amalgamation of virtual environment and reality. An AR headset is usually worn on the head, and is currently quite in demand due to mobile app development companies and desktop gaming companies creating a new class of games and utility apps.
AR technology has great potential in marketing as it can use AR headsets to enable users to visit a brand store, manufacturing facility and even offices. AR headsets can also help in attracting masses that share common interests. For example – in 2018, gaming development major Niantic will be launching Harry Potter: Wizards Unite AR game, which allows a player to explore the magical world of Hogwarts through the scope of AR headset.
Travel Experience
Planning to embark on an adventure to a destination you never been to or never even heard about could be confusing for many. Some people are just sceptical about trying an anonymous destination just because can't take the anonymity in a positive way. AR has a solution to this as it is able to create an augmented picture of the destination, and even the points of interest.
For example – with AR, one can check out what Eiffel Tower looks like from the comfort of their bed, or how scary would it be to stand below leaning tower of Pisa. Another application of AR in travelling is that an AR device could be attached to a car dashboard to display on-the-go amenities like Gas Station, Restrooms, Cafes, and many more.
Maintenance & Repair
Apart from all fun and games applications, AR technology can also be used to serve some purely technical purposes. AR headsets can be mounted by engineers and mechanics to develop a deeper understanding of machine design. Not only that, AR technology can be used to scan a machine to build a 3D model of it, which can be used to plan the maintenance operations or strategies, before starting to work on the machine.
This application of AR is particularly helpful for automotive, heavy machineries, army vehicle maintenance, plant machineries and more. Other than automotive sector, a similar application of AR can be practiced in logistics, where vehicle maintenance is critical. Unlike automotive, much quicker maintenance and fixes are required for on-the-go service.
However, using AR technology in collaboration with other cognitive tools could help logistic partners predict the faults that might occur in the vehicle, and prepare a maintenance schedule in advance, to avoid in-transit inefficiencies.
The potential that AR technology contains is huge and it is bound to grow in coming years because of the sense of intelligence it shares with its peer technologies such as VR, Artificial Intelligence, Machine Learning, and much more. However, in the wake of unfortunate incidents that took place in due to AR the past couple of years, the technology is something that has to be used more responsibly.