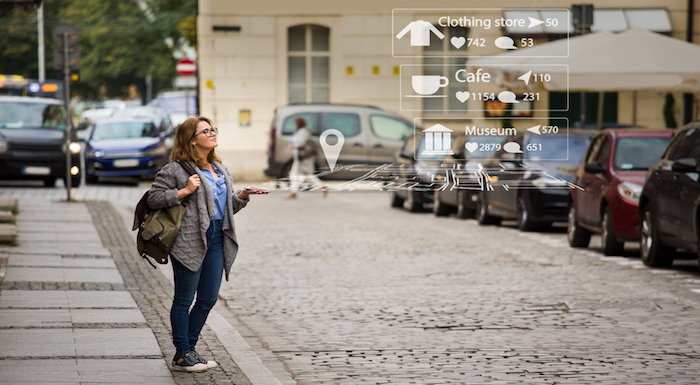 Mobile app developers always strive hard to know the mobile application future trends in the niche market. So, TechWeb Space decided to acknowledge the ongoing trends that will shape app development more beneficially in 2020.
Smartphones, tablets indeed made our lives better & smarter than what we think! The mobility factor has enabled us all every moment for accessing app services anywhere.
Therefore, despite being in the heap of applications, the demand for new mobile apps is growing fast. As a result, it is pushing the custom mobile application development companies in USA to build new apps under new categories as per users & businesses.
It is a simple rule of law that older apps go into the trash can, and newer apps replace the older ones.
The new apps come loaded with the latest app development technologies to deliver an innovative and seamless user-friendly experience.
"In 2018, 194 billion apps were downloaded while by 2022, it is expected that 260 billion apps will be downloaded."
Hence, there is continuous competition among mobile app development services providers to utilize the best tech trends and deliver the best app in the market.
If you are one such provided, company, Android app developer, iOS app developer, then this article is for you to increase your knowledge base!
In this list of the current mobile technology trends, you come to know the reshaping app development industry.
The future of mobile application development trends of 2020 might look a bit controversial; but if you see the changes around you, then you probably will notice that the global app development industry is moving fastly towards capitalization.
"For example, 5G internet connectivity with secure cloud services and databases is in action inside our mobile devices."
Stay tuned with us until we finish telling the top 5 trends that define the mobile application development future!
Machine Learning & Artificial Intelligence
Although AI & ML isn't 2019's phenomenon; however, by the end of 2020, we can expect the Artificial Intelligence industry to rise above $40 billion.
Virtual assistants like Siri, Alexa, Google Assistant, Replica are pre-configured in the mobile devices. They also integrate easily with your downloaded apps.
Even with IoT (Internet of Things) connections, these advanced technologies are widely in use among healthcare software solutions, banking & finance sector, and the agricultural industry.
The deep learning advancely studies human behavior, their way of using an app, and improves the product. Moreover, it works heavily on audience research to improve information technology.
The recent mobile app trends are actively using AI to make the best app that tops its category. For example, production management automation, trading automation, forecasting future customer purchases, etc. are some apps using AI.
What next is we don't know yet, but 2020 is going to be a landmark year for mobile application development future.
M-Commerce: Shopping Portals App Development
The customer conversion rates from mobile apps in the e-commerce industry were 70% higher in comparison to mobile sites. In fact, 53% of mobile device users use apps to shop online.
According to the reports of one Google survey, 66% of eCommerce mobile apps users shop at least once a week.
Furthermore, 8 out of the 10 smartphone users always keep their mobile gadgets nearby them all the time.
Therefore, by sending alerts and push notifications, eCommerce owners can sale more and earn more!
Hence, it is not wrong to tell that mobile eCommerce apps trends in 2020 are the future of mobile application development.
Since mobile applications offer high speed in comparison to the website, the shift towards mCommerce will be commonly seen in 2020.
Wearables & Their App Integration
Wearable devices are tech-gadgets, such as smartwatch, fitness tracker, etc. These body gadgets are connected to their mobile apps via IoT algorithms, and by 2021, the wearable software & app market will reach $950 million, twice the 2017's value.
Wearable gadgets connect to a mobile device through the internet. A few examples of wearable hardware are as follows: fitness-tracking bands, smart glasses, health data collectors, smartwatches, and smart jewelry.
Surveys on these modern mobile application development solutions & trends suggest that wearable devices' applications are highly profitable.
In 2020, the wearable gadget mobile app development services global revenue can grow to $34 billion.
In 2018, there were 10 billion IoT connected devices, and by 2020, the wearables devices will be more. As a result, the Internet of Things will be a new future mobile application development trend.
Moreover, there are many custom software development companies who have started investing in these advanced technologies like artificial intelligence, machine learning, IoT, augmented reality, virtual reality, etc.
The Chatbots Apps
50 years ago from now, the first chatbot ELIZA was launched. Its only function was to simulate a Rogerian psychotherapist. Additionally, chatbots before the 2000s never differed much.
However, after 2010, successful standalone chatbots like SIRI, ALEXA, ECHO, etc. are the best examples of the new age chatbots whose app is always present in your mobile.
Also, it is not shocking that chatbots help business owners; even more, give high profits from making strong decisions. It is expected that by 2023, the chatbot market will grow to $5638 million globally, which was $946 million in 2017.
Conclusion
Experts believe that these top multi-level mobile application development solutions and technology will change everything from 2020.
Alongwith that our perception of the mobile application, the internet will be soft, as our lives will march towards more betterment.
Therefore, these trends that define the mobile application development future must be in the hands of all dedicated android app developers and certified iOS developers.