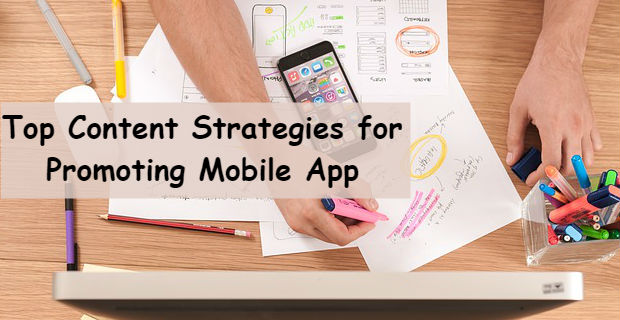 With so many apps already in the market, it is a challenging job to get your app noticed. There are already so many companies marketing their app that it gets a little difficult to get ahead in this race. Sometimes in this race while doing marketing activities, they miss the content marketing, which is a very important part when marketing your app.
What is Content Marketing?
Content Marketing is an activity of delivering the content that will benefit your potential customers with information about the app. For an app, content plays a major role in its popularity and for engaging users. If you can let your content revolve around your user's problems that your app will help in solving, this will be a big reason for people to download the app. It is all about creating content that will solve your user's problems.
Below are a few ways Content Strategy can promote your mobile app
1.      Research your Target Audience
When developing the app, you need to survey the industry and your competitors both. While doing the research you will be able to research your target audience. You can then target these audiences with your content. This will also help you to define your audience in the future. Understand your user's challenges and what they like to read. Keep a track on their action in the app, this will help you create content accordingly.
2.      Create Buzz While App Launch
It is important that you create a buzz while launching the app. It is the perfect time for exposure to blogs and other media channels. As people do burst campaigns to get user growth for their new app, similarly media exposure can put you on the radar of customers who are looking for a similar app.
You can explain your app in a unique way & highlight your features in an interesting way. Find the niche bloggers for your app. Blogging is a great way to create buzz.
3.      ASO – App Store Optimization
The title of your app, its screenshots, the description of your app and your targeted keywords highly influences your app's popularity and being search in the app store. Hence, you need to work on optimizing your app with a lot of sincerity.
Some tips you can use for ASO
Use Long tail keywords
Do not stuff the title or the description with Keywords.
App features Screenshots will be an additional help.
Optimize the in-app content increases the chances of higher ranking in app stores.
4.      Attract New Users
You have to find the best ways to attract new users to use your app. However, the question is why would someone do that? You need to attract your customers by showing them some blog posts, reviews of customers and some media coverage that will tell them why your app worth downloading.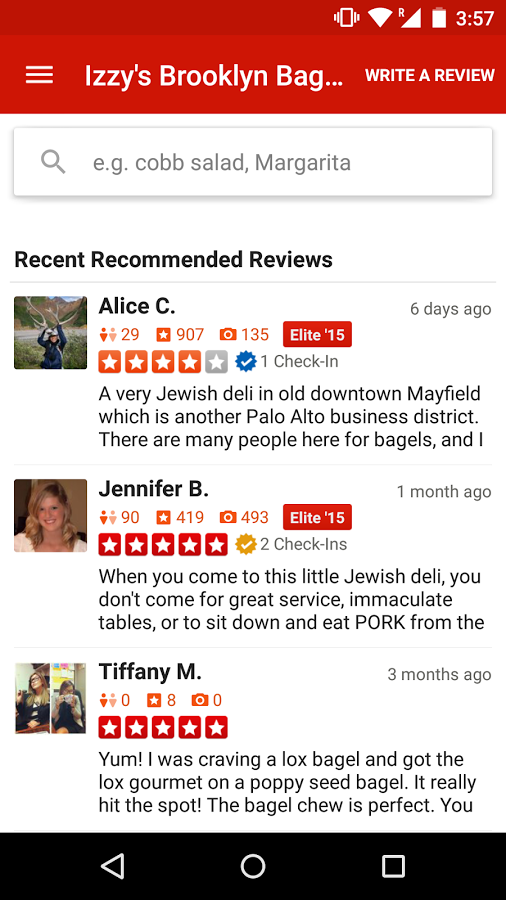 Image Source: Android Police
Anyone who will see the review of Yelp will be forced to try it once. They will definitely download the app to see what is in store for them. This is the power of content. Ask your users to give reviews and ratings on the app. The more positive review the better for your app.
5.      Retain Your Customers
It is not easy to retain your existing customers. American users spend at least 18 hours a week on their smartphones. Let's say building restaurant app or grocery app or fashion app is one thing and you are using it is another thing. How many apps users use and how many they have downloaded there is a huge difference in both. They may have downloaded many, but they use only a few. See the Graph below to get a better image.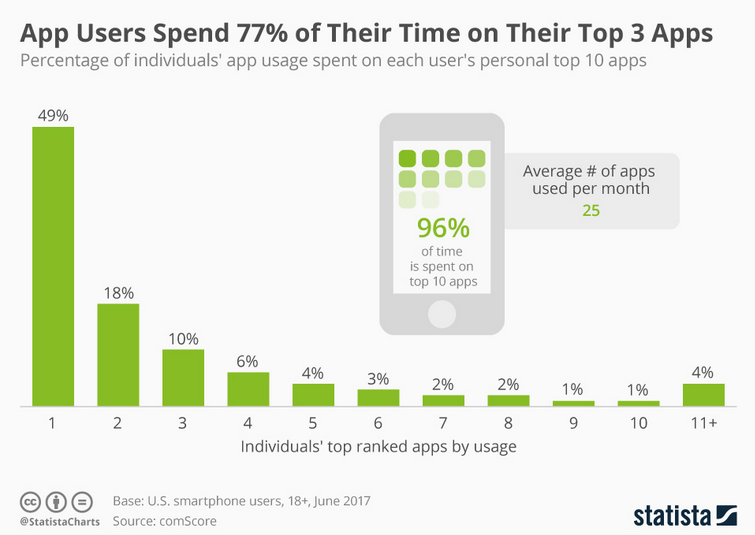 Where 96% of the time spent on their top 10 favorite apps, 49% is spent on the No 1 app. Therefore, you need to create content that will bring your app among the top 5 for them to use.
6.      Omni- Channel Content Marketing
It is a good idea to use various distribution channels so that you can target your users from different sources.
Email Marketing Content
When running an email marketing campaign, you have to be sure your content is eye-catching and will hold your users interest. You can add "How To" videos, articles, etc. that will interest customers more. Think very carefully, study your competitor and create something unique before you send the emailer.
Google Adwords
Google Adwords is another way you can do content marketing. It is a nice strategy to use where you can display ads with the content of landing pages. Make sure your landing pages have the CTA button where your app is downloaded. With Adwords, you test different content campaigns helping you to analyze the data.
Social Media
Social Media is a very powerful channel to promote your app. If you content is strategized and planned well, you can get amazing results from various social media platforms. If your content is ready in advance, you can pre-plan your distribution.
These a few content strategies will help in promoting your app. There are many more strategies you can use besides content strategies, but content plays an important role.
Conclusion
A well-planned content strategy for promoting your app will always give good and rewarding results. You need to reach your target audience at the right time with the right message. With good and creative content you can increase retention of your app users too.