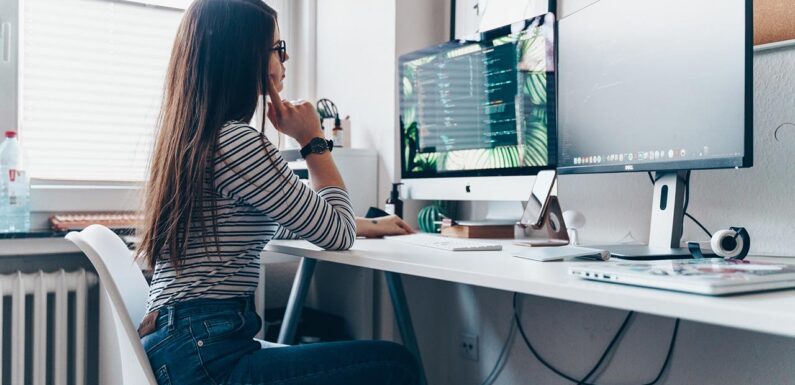 Have you always wanted to own an app for your business? But, do not have a clue how to start or where to begin? People often get intimidated thinking that creating an app is way too expensive or too complicated a process. It is not so anymore.
App development software enables anyone to own an app without much coding knowledge. Plus, you need not invest money and hire a dedicated development team. Yes, you heard it right. You don't have to be coding expertise or hire developers to create modern, functional, and visually impressive mobile apps. Mobile app development software can help develop your dream app precisely.
What is App Development Software?
App development software is an application that helps you build an app by offering various functionalities, including IDE, code-free developments, templates, data synchronization, API, and Analytics.
It comes in handy to help you quicken the app development process without much investment and limited technical skills. This software provides APIs enabling easy integration with backend services. Plus, it also offers hardware compatibility and assistance in workflow design. With this app development software, you can create desktop apps, mobile apps, and web apps.
This software eliminates the need to hire an entire development team or outsource your app development process. Thus, any business owner can invest in app development tools to give life to their business idea.
Here are the top 10 mobile app builders that can help individuals/business owners own a mobile app.
1. Appy Pie
Appy Pie is the most popular app maker as it enables anyone to build an app within a few minutes irrespective of their technical skills. Millions of people use Appy Pie for their app development for its hassle-free process.
With Appy Pie, you can create a simple app for iPhone and Android devices without coding. All you need is to choose a template, add your features, and publish.
Appy pie mobile app comes with several features like:
Push notifications
Integrated photos and videos
Integrated social media functionality
Navigation and step-by-step directions
Customer loyalty programs
Coupons and discounts
In addition to that, you can also benefit from app analytics, multilingual support, and publishing assistance.
Appy Pie is an ideal app maker for startups, entrepreneurs, and small businesses as it offers several plans to get users started for free. Users can also subscribe for advanced features once they feel comfortable creating apps.
The app maker also provides several tutorials to help users with their app development. Furthermore, you have a live chat option to resolve any problems you may encounter while building an app.
2. BuildFire
BuildFire is one of the most famous mobile app development software rendering nearly 10,000 apps. With BuildFire, users can create any app without any coding skills.
Users can add new features simply by installing an extension from the BuildFire marketplace. BuildFire is user-friendly as well as developer-friendly. Yes, the BuildFire SDK allows you to create custom functionality for your app. BuildFire can help you create several apps like:
eCommerce apps
Fitness apps
Educational apps
Event apps
Business workflow apps
Anyone right from a small business owner to an established organization can benefit from BuildFire. The app maker has something in store for everyone.
Moreover, BuilFire provides excellent customer support. It will help you with the planning, design, and development of your app. Plus, the team assists you in competitive analysis, wireframing, publishing process, and post-launch support.
3. Zoho Creator
Zoho Creator is known for its custom apps that help people with daily business operations and management. The platform encourages you to build customized solutions that will fill any gaps that your current technology cannot support.
Users can build an app from scratch with Zoho Creator's visual builder or a simple code editor. With Zoho, you have endless opportunities. Users can feed data, process, or workflow into the Zoho Creator builders to chain together triggers and actions that allow for easy auto-syncing, updating, and notifications.
Thus, you can build an app that connects your inventory, accounting, customer relationships, vendor and supplier management, and supply chain and logistics.
However, if you are not confident enough to build a custom app, look no further. You can rely on the prebuilt templates that come with Zoho Creator. You can find ready-made apps for every functionality like time tracking, project management, sales, and hiring.
4. GoodBarber
GoodBarber is yet another user-friendly app maker that encourages users to create and publish apps even if they have never coded before. Users can sign up and start working on their app immediately.
GoodBarber is a web utility platform that allows you to create apps across all devices. It offers several features that can enhance your app, including:
Chat
Push notifications
Social Networking
Geofencing
The platform is very user-friendly with a well-designed layout. The users can find all the options and locate the add-ons quickly. Plus, the users will also get extensive plan options and subscriptions. They can choose depending on their needs. Some may want native Android apps, while others may need apps for both Android and iOS platforms. Users have to pay accordingly. Thus, creating a mobile app is not only user-friendly but also budget-friendly with GoodBarber.
5. Shoutem
If you want visually stunning and sleek apps, then Shoutem is for you. The platform has amazingly impressive templates that you can utilize on your app. The platform gives simple instructions and a beautiful layout. Thus, you can figure out how your app will look and function.
Shoutem offers various options to customize your app with several design options. The user can pick customized themes, layouts, colors, and typography from the platform. Shoutem is ideal for event apps as it offers a social wall where users can post pictures and share comments.
Shoutem also offers monetization features like mobile advertising support that allows you to earn from the app. You can also integrate the app with social media platforms like Facebook and Twitter.
6. Appian
Do you want an app for handling business process management (BPM)? Appian is an enterprise low-code development platform that you can use for your BPM apps.
The app maker demands users have some technical knowledge, unlike other code-free app makers. However, enterprises with an in-house IT team can use this software effortlessly.
Appian is famous for its instant mobility. If you are building internal applications for web apps, you can use them for your mobile devices without investing extra time, effort, and resources. So, build an app once, and it will work natively on any device.
Appian has some cool features like
Visual development tools
Drag-and-drop building functionality
Highly secure and scalable
Automated workflows
Fast development time
Instant deployment
Ability to track, analyze, and adapt to changes
In short, Appion is ideal for creating a mobile app for improvising internal business processes.
7. AppMachine
Creating apps is made easy and fun with AppMachine. Developing an app with AppMachine is a seamless process that even a first-timer can do. This app builder automated almost all tedious processes making app development a lot easier.
You can copy all data from your web page to the app builder by just adding your URL. You can even transfer data and visuals from your social media portals. The editor is simple in design but visually appealing and easy to use.
Moreover, the platform comes with beautiful, modern, and flexible templates that users can use for their apps. Other than that, you will get different styles of font that will make your mobile app unique.
AppMachine comes with some exotic features like:
Push notifications
Ad support
Location-based services
eCommerce options
RSS feed options
Social media integration
Loyalty features.
8. Appery.io
Appery.io is a low-code, multi-purpose development tool that helps with web apps, mobile apps, and PWAs (progressive web apps). The platform demands some technical knowledge like other low-code platforms.
Here are some features that make Appery.io stand apart.
Simple yet powerful low-code tool.
Cross-platform development.
MBaaS (mobile backend as a service).
Visual development tools.
Quick Deployment
Administrative tools.
Appery.io makes the task easy for your entire team. Now, your developers, designers, business users, and even customers can contribute to your app development project in real-time.
9. BiznessApps
BiznessApps is one of the tools that help small businesses to create an app without knowing code or hiring a development team. The app comes with a drag and drop feature that makes the app development task easier and quicker.
BiznessApps is a one-stop solution for native iOS apps, native Android apps, and PWAs. Thus, it is widely used in restaurants, real estate businesses, education, healthcare, beauty, community organizations, and entertainment industries.
Here are some of the exciting features and benefits from BiznessApps:
Intuitive design
Mobile ordering
Easy-to-use content management platform
Reviews
Customer loyalty programs
Third-party integrations
Messaging and communication features
Furthermore, BiznessApps come with many built-in features and premium add-ons. Thus, you can easily add any functionality and enhance your small business mobile app.
10. iBuildApp
iBuildApp comes with a drag and drop editor that enables the users to build an app without any coding knowledge. In addition to that, the platform offers various sleek templates and a rigid content management system.
The app maker has a large selection of tools and marketing features that you can leverage to make your app look professional. The intuitive interface that comes with the app allows any amateur to develop a fully functional app in a few minutes. Plus, the beautiful layout, user-friendly and fast loading nature of the app will attract your customers for sure.
Long story short, iBuildApp is a versatile mobile app builder that allows users to develop stunning apps with no programming knowledge. Moreover, the app maker comes with a free trial. Users can use the free trial to understand the platform better before investing in it.
Wrapping Up
Owning a mobile app for your business cannot get easier anymore. You will need little-to-no coding knowledge and very little investment for building apps. Yes, with app development software, almost anyone can build efficient apps cost-effectively.
However, users have to do their research before finalizing the app development software. Of course, every business is different, and so are its goals and customers.
As a business owner, you can use this blog as a handy guide to know about popular app development software available in the market. It will help you make informed decisions when choosing the app development software for your business.