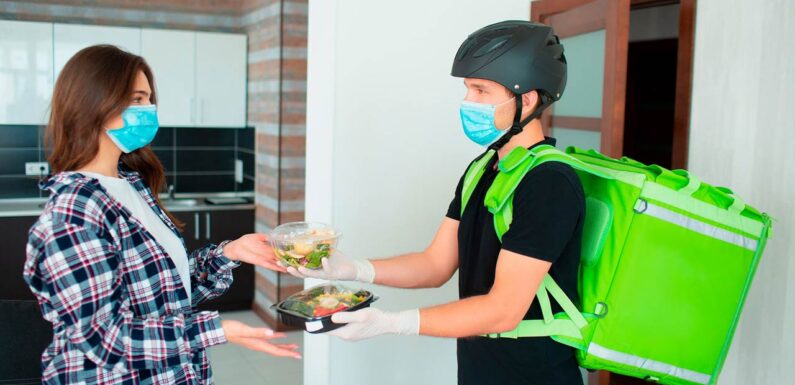 Over time, the demand for meal delivery has increased steadily. With technology innovation, more and more people are shifting to online meal delivery, taxi booking, shopping, and more. Revenue in the online meal delivery segment has increased and reached US$270,317m in 2021; it shows an annual growth rate of 10.39%.
Image: (Source)
The project value is estimated to reach around US$401,391m by 2025. With online meal ordering and delivery becoming a norm, delivery app development like UberEats is expected to experience upper growth. So if you are operating a restaurant business, it becomes vital for you to know how to start in today's competitive delivery market. This article will help you look over the step-by-step process, helping you start a business online. 
What is an UberEats Clone?
UberEats clone is a feature-rich platform that helps automate your delivery business activities. It connects you with customers and makes it easier for them to order anything and get it delivered at their doorsteps within a few minutes.
Facts & Figures Explaining Why Your Business Needs Advance App?
Meal delivery giant, UberEats generated around 4.8 billion dollars of revenue. The company accounted for 22% of the meal delivery market in the US alone as of March 2021.
Image: (Source)
When many people sheltered in the home due to pandemic spread, online food and grocery delivery sales reached their peak point. Data reveals that the food delivery services increase 13% year-over-year collectively. The pandemic has changed the purchase habits of most people, now customers are more likely to make a purchase online, and it seems to continue in the future as well.
The global meal ordering and delivery market is expected to reach around $192.16 billion in 2025; it shows around 11% growth in CAGR during the forecasted year. Most delivery brands are resuming their operations and opting for a new norm to recover from the pandemic impact. This led to restrictive containment measures involving work from home, social distancing, and many more activities that resulted in operational challenges.
Benefits to Launch Business with UberEats Clone
On-demand meal ordering and delivery apps are increasingly popular and have restored the food industry. Neither food delivery startups nor food joints can disregard eyes from the possibility they offer. They can make an app like UberEats to leverage the opportunities and boost business growth.
Easy to manage UberEats Clone helps you satisfy the craving of millions of food lovers. Giving digital touch to the restaurant business can provide you with numerous advantages, including:
Easy and Smooth Customer Experience
Build A Visible Brand
Helps to Reach Targeted Audience
Boost to Customer Retention
Cashless Mobile Commerce Experience
Build Professional Workforce
Mobile apps help restaurants increase business sales, create brand awareness, and much more. There are many benefits that customers leverage by developing an app like UberEats. The app provides a win-win situation for all parties, including customers, delivery providers, and business owners as well.
The on-demand delivery app has become a crucial part of the urban lifestyle and positively impacts customers' and entrepreneurs' buying and selling activities. It helps restaurants offer personalized delivery service, which positively affects busy lifestyles. It ensures quality control and helps to thrive with reputation and revenue.
Steps to Follow to Develop App Like UberEats
Delivery options are available everywhere these days. People can request on-demand delivery for prepared meals, groceries, and more. With customers turning to options for safety and convenience in light of pandemic spread, it's a smart choice to develop an app like UberEats; launching a mobile app is an excellent opportunity for almost all entrepreneurs.
Are you looking to start a delivery business online? The mobile app makes it easier for you to scale up your delivery business and efficiently meet the market's growing demand. Keep reading the steps that help you launch a meal delivery business online.
Choose App Models
The very initial step that you need to consider is to choose the model of your delivery app. Understand each business model and make sure to implement the one that caters to all your business requirements.
Implementing Perfect UX
Ignoring the UX design can cost you more. If you want to engage more customers, it becomes crucial to make your delivery app more attractive and engaging. A great UX design is a driving force for the success of your app. Therefore make sure that your mobile app is easy to navigate; your ideal customers must find it easier to search for content they are looking for.
List of Features to Include
Which features are crucial for your on-demand food delivery solution? It becomes crucial for you to include all essential features in your app that help you attract more customers and retain old ones. Check the list to find a few of the essential ones in different modules:
Customers App
Pickup / Destination Type
Select Outlet
Add Favorite
Contactless Delivery
Provider App
Online / Idle
Referral Code
Earnings History
Store App / Panel
Add / Remove Item
Set Popular Item
Categories / Sub Categories
Admin Panel
Add countries
Manage Earning
Store Management
Set Delivery Men Profit
Draw Zone
There are many features that you can consider including in your delivery app. Unique features and functions help you stand out from other competitors in the market.
Technology
Once after choosing the features, it's time to select the technology and platform. You can choose to create apps for Android and iOS. Find which platform your customers are mostly using and make the development decision accordingly.
Development & Testing
Take the support of an app development company or hire developers to create an impressive platform for your business. Also, make sure that your developed solution is bug-free and takes less loading time as most customers eliminate using the branded solution that takes more time to load on their device.
Summing It Up
The need for meal delivery will not diminish; thus, the onslaught of an on-demand delivery app like UberEats will continue. If you are operating a delivery business, it's the right time to develop an advanced app as its lucrative option. Mobile apps help you to build a strong relationship with your customers and at the same time also help you to bring more business.
There are many ways to proceed with an endeavor, but the basics is developing an app or investing in a ready-to-use solution. Creating an app like UberEats saves you both in terms of money and time. You can choose to add features that make your product better, and it's all you are set to deliver food and drive business success.