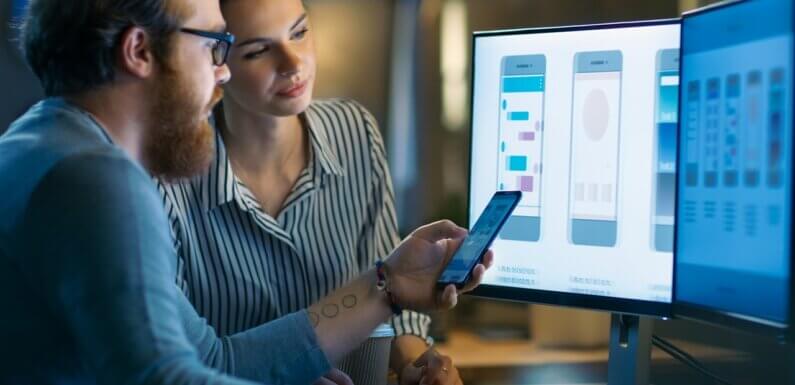 After the success story of Uber and Airbnb, consumers are looking to be satisfied instantaneously. 'Speed' is a five letter word that is driving today's on-demand economy.
Smartphones have been the real game-changer, and the convenience it has brought for consumers is unprecedented in today's highly digitized on-demand app world.
According to research, by the end of the year 2017, the on-demand economy reached somewhere around $57 billion, a 159% increase when compared to the year 2015. It can be inferred from the research that the strong breeze that started to flow in the online servicing sector has transformed itself into a robust storm with an entry of on-demand apps.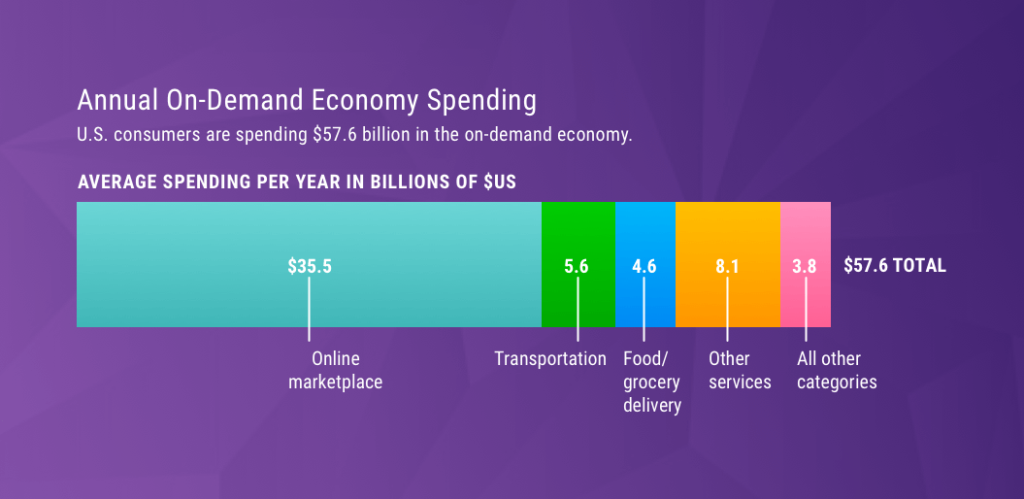 In this blog, we will highlight the key considerations you need to know before you set out on your on-demand app development journey.
Types of On-Demand Applications
Do you want pizza delivered to your doorstep? Or looking forward to home care services at your fingertips? From food delivery to home care services, on-demand delivery apps make the lives of users more convenient than ever. Based on the type of users involved in providing the service, on-demand apps can be categorized into the following types: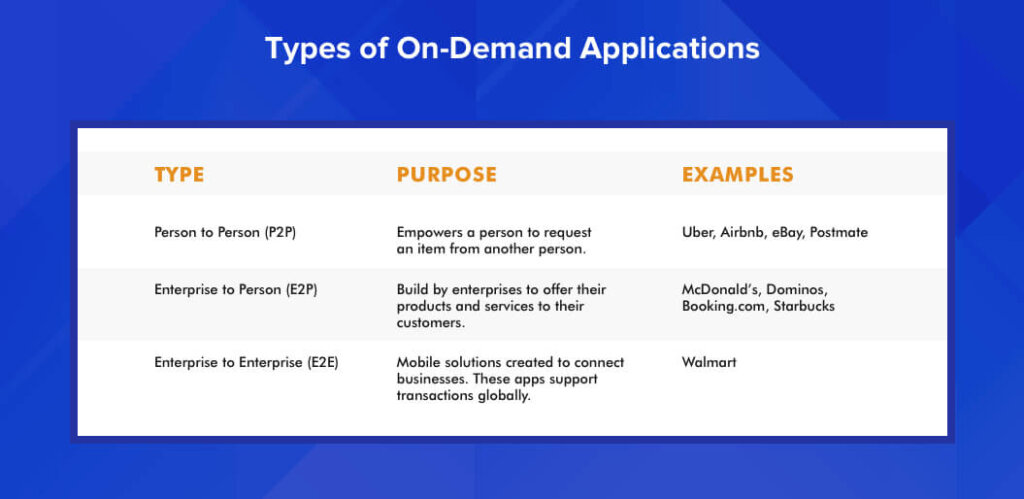 Key Considerations Before you Set Out on Your On-Demand App
The on-demand economy has surpassed the traditional business models; paving the way for the people to get instant access to what they want and where they want.
The user experience and fast services are one of the important factors that lead to the success of on-demand apps. Keeping that as a pillar, the following are the key considerations that you must get acquainted with, before embarking upon your on-demand app development journey:
Find the Pain-Point and Solve it
You will be flabbergasted to know the fact that almost 80% of the US population owns a smartphone. And it's a huge business opportunity for on-demand mobile app developers to cater. However, it's not easy to analyze their pain-point and solve the same.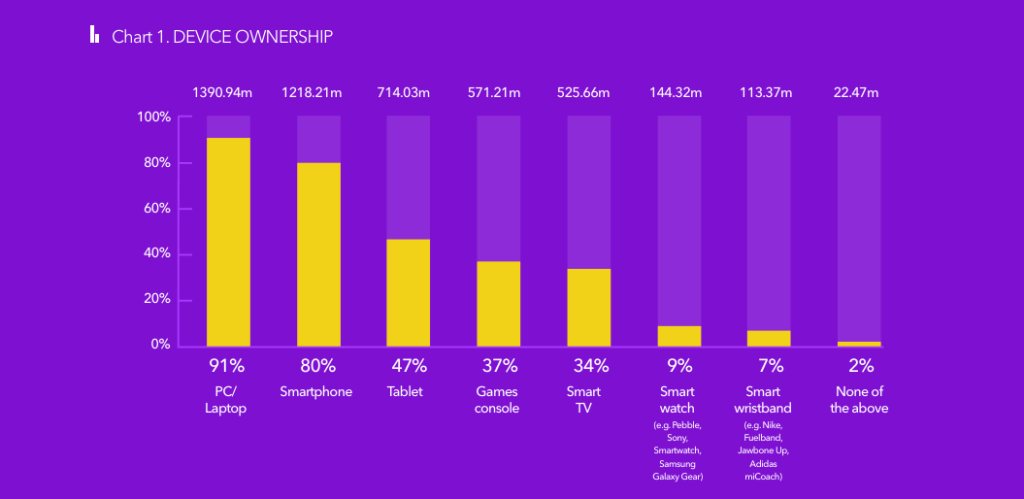 Everybody has a certain set of problems in their life. You will have to target a defined segment and solve their problems effectively. A huge number of people coming from different walks of life may have a collective problem.
For instance, Uber intelligently solved the problem of both the drivers and passengers in a single shot, who had a hard time finding a passenger and driver respectively. They both become actors on their on-demand taxi service app and the rest is history.
But note that not every problem is a real problem.
It is advised to validate your on-demand app idea before building it.
Make sure that the problem you target is frequent, not seasonal. For example, Cherry, an on-demand car wash app failed badly because users didn't need a car wash every day. Maybe every week, at best.
Have a Strong Convenience-ing Power
Understand this scenario.
Customers don't roll up to Domino's and order an extra cheese pizza off the dollar menu because it's cheap. They go ahead with this choice because it's convenient and engineered to taste yummy.
The psychology of convenience is the driver for on-demand apps. Have a look at the following graph: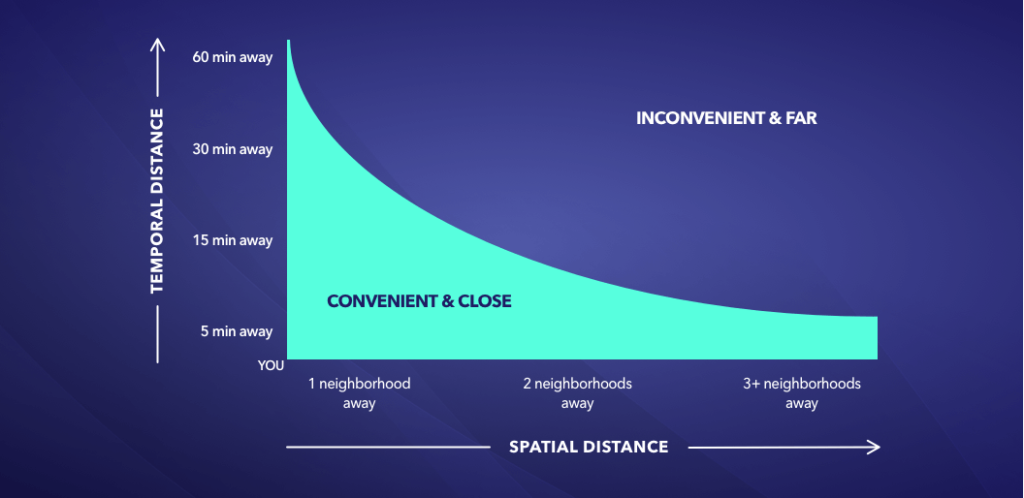 It can be understood from the graph that the distance and the time are important parameters that define what is convenient and what is inconvenient for the user. If more time is required to invest in a defined activity, it will become more inconvenient for the user. When it comes to online shopping, keep one thing in mind – convenience is the driving force.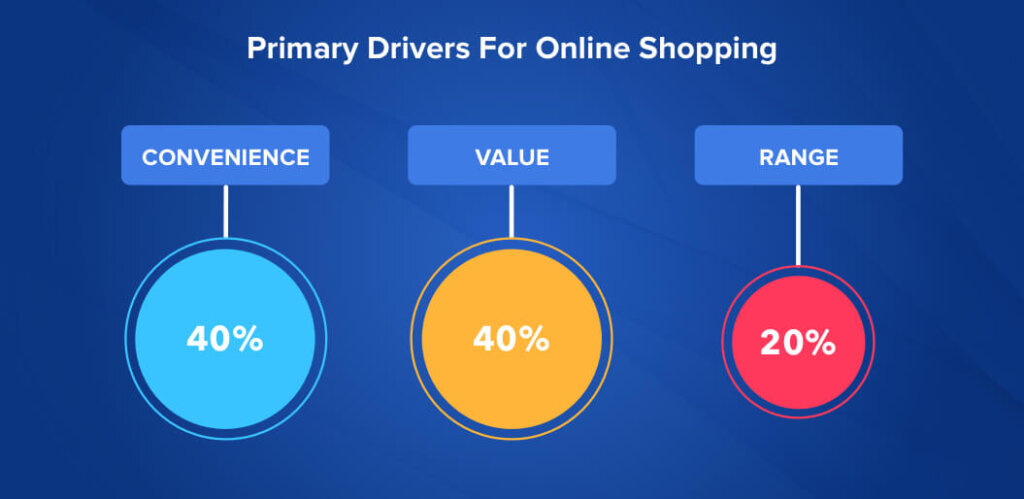 For instance, the Uber app has a simplistic psychological appeal – it promises to buy user time and save effort in one word – convenience.
Following is the working of the convenience model for service industry: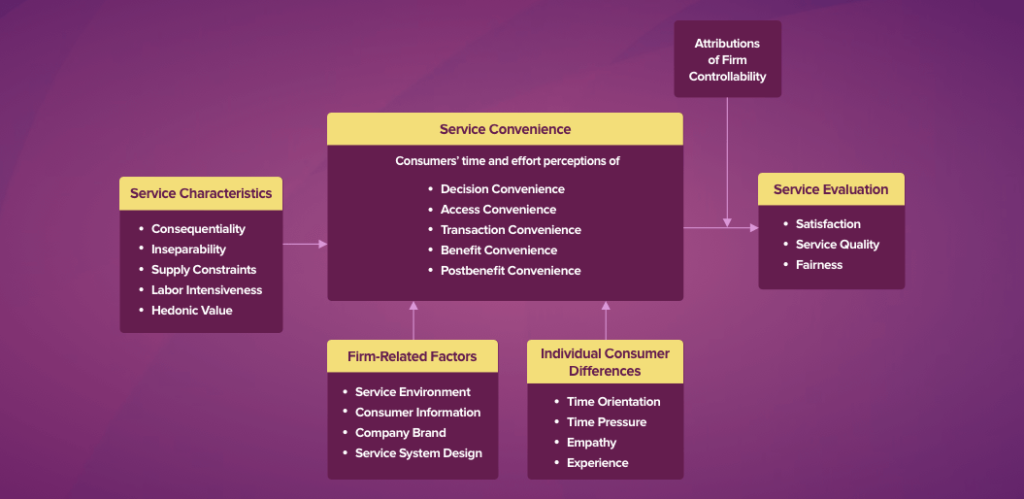 Based on this convenience model, Uber hits the bulls-eye on every parameter:
Decision Convenience – Making it fast and easy to choose
Access Convenience – Making it fast and easy to acquire
Transaction Convenience – Making it fast and easy to pay
Benefit Convenience – Making it fast and easy to enjoy/use
Post-Benefit Convenience – Making it fast and easy to re-purchase
No matter which industry you are in, it's important to deliver convenience with these must-haves:
Add real-time tracking feature – Customer satisfaction and sales go hand-in-hand. As per the SalesForce reports, 70% of buying experiences of customers are influenced by how valued they feel. It is satisfying for the customers when they can live track their orders. They feel they have some kind of control over this situation.
Frictionless payment – The USP of on-demand mobile apps is its potential to make payments without cash. The entire process gets convenient if the payment gateways are frictionless and are available with all popular options.
Ratings and reviews – With ratings and reviews, a high-quality experience for on-demand platforms can be ensured. Customers go by the word of other customers and choose one service provider over another based on reviews (both good and bad). Ensure regular reviews and Real-time feedback to create a trustable environment.
Build an MVP Before Building an On-Demand App
When it comes to mobile app development, one of the traditional approaches is the waterfall approach. In this approach, the development team goes ahead with a process – initiation, analysis, design, development, testing, and deployment. However, this approach accompanies a number of loopholes like poor testing with bug issues, slow-paced app delivery, and a rigid process.
An ideal way to get away with the loopholes of the waterfall approach is MVP development. MVP includes only those features that are the most important according to you. Following this approach involves less time and money. Your on-demand app that takes around 6-7 months to reach the market could take only around a month and a half.
For instance, one of our clients approached us to launch an app that would incentivize users who could leverage their spare time by delivering parcels and get paid for it.
We built an Interactive Prototype of the parcel delivery app for our client in order to explore various design solutions. Here, we used Product Prototype as a service and methodology to design the app.
We did multiple iterations in design while prototyping the app, tested our early prototypes with focused groups, and recruited personas as potential users of the app. Rapid prototyping helped us identify those friction points, which were stopping users from using the app more regularly.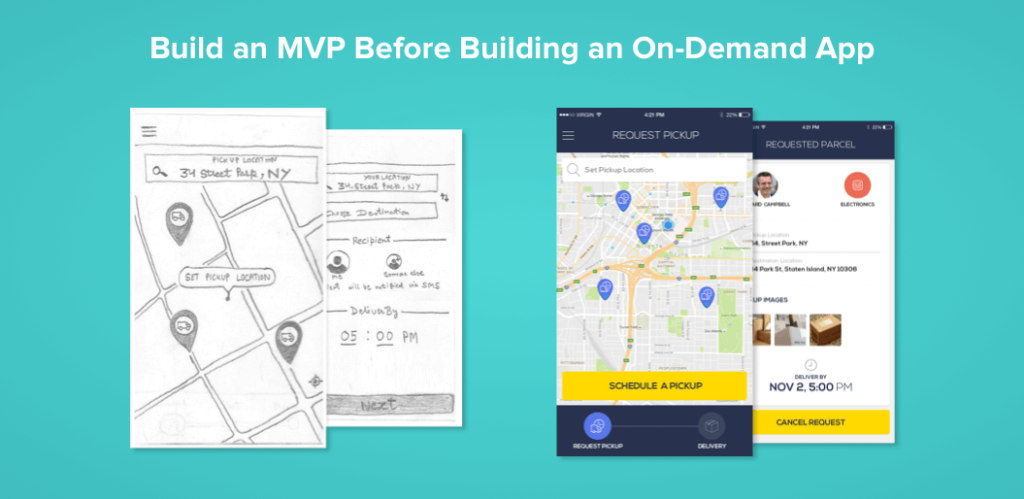 The cost to Build an On-Demand App
Answer this simple question – How much does it cost to build a home?
You will not be able to answer this basic question with a particular amount. Because it depends upon the kind of home you are building and features you wish to add to it. The same goes with an on-demand app development cost. Rather than digging Google in search of your answer, it's better to get in touch with an expert on-demand app development company to find out the actual answer and the exact price.
However, we can discuss the structure of the usual on-demand mobile app. It will usually consist of 3 big units – User App, Service App, and Admin Panel. In the case of Uber, it looks like the following: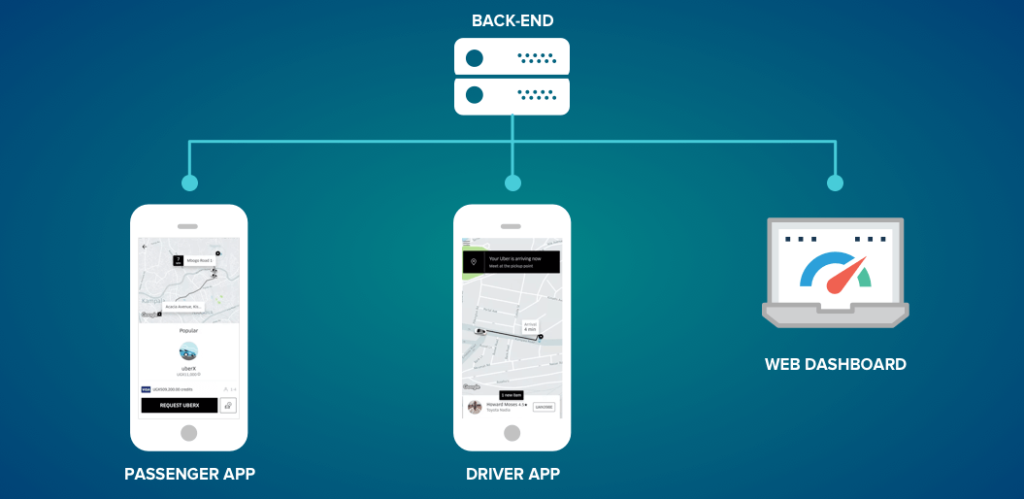 The on-demand app that we use every day is the "consumer app", which connects us with a service provider. Service providers, too need their own app to respond and to be able to deliver the service.
Hence, the sum of these vital components will give you a rough estimate of an average on-demand app-based solution.
Final Thoughts
In this fast-paced service sector, cut-throat competition has become an order of the day. From restaurant to healthcare and travel to logistics, the services-related business has taken the competition in stride. Fortunately, technological advancements remain useful in this endeavor, and in line with the mobile-driven trend, the on-demand apps come in handy for entrepreneurs.
On-demand apps are no longer the future. They have already transformed itself into the need of the hour for all the services. The on-demand business model is changing the buying patterns of people globally. Thus, if you are looking forward to building an on-demand app, then there can never be a better time than today.