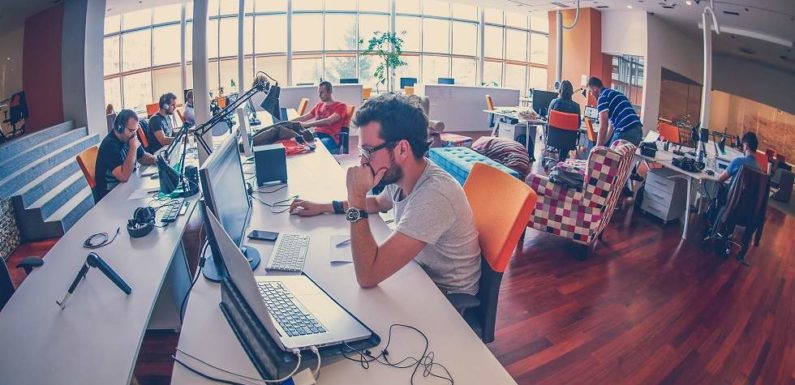 According to FATbit Research, online rental marketplace platform revenues which was valued at $19 billion in 2017 is expected $59.4 billion by 2022. American markets will constitute 57.2% of the $40 billion industry. Online marketplaces are all the rage right now. Apart from spoiling the buyers with choices, these online marketplaces have changed the way people used to go shopping.
Source: Online Rental Industry Report by FATbit
What is happening in the eCommerce industry?
While online selling platforms like Amazon, Alibaba, eBay and more are at the forefront of eCommerce business, resale and rental avenues are not far behind and have found a strong footing in the eCommerce industry.
The entirety of the virtual marketplace business is undergoing a major paradigm shift. But amidst all the portals competing to improve their bottom line by selling products, Millenials have stumbled upon a fairly new concept that allows them to fulfill their needs without spending a fortune on buying new stuff — Renting!
Why renting products make sense?
Rental marketplaces allow users to explore products and rent them out on a temporary basis. According to a report by the Organization for Economic Co-operation and Development, 60% of millennials prefer renting goods instead of owning them. According to a Coresight report, here are some of the most popular rented items today:
Cars
Bikes
Apparels
Jewelry
Furniture
PCs & Laptops
TVs
Smartphones
Equipment
Travel / Sports Gear
The case of Online Clothes Rental Marketplaces
Let's understand the impact of rental eCommerce marketplaces with the help of an example — Online apparel renting.
According to a report titled – Online Clothing Rental Market by End User and Clothes Style: Global Opportunity Analysis and Industry Forecast- 2017-2023 by Allied Market Research, the global clothing rental marketplace is expected to reach a whopping $1,856 million by 2023 with a Compound Annual Growth Rate (CAGR) of over 10%.
Clothes rental marketplace apps allow users to dress for different occasions at affordable prices. The major marketplaces are segregated into the following geographical areas:
North America (U.S, Canada & Mexico)
Europe (Germany, UK, France and the Rest)
Asia-Pacific (Japan, China, India and the Rest)
LAMEA (Latin America, Middle East, and Africa)
Some of the prominent players offering products on rental eCommerce marketplace include:
In the U.S.
Bag Borrow Steal
Gwynnie Bee
Le Tote
Lending Luxury
Rent the Runway
In Brazil
In Asia-Pacific
Secoo Holdings Limited (China)
Secret Wardrobe (India)
Share Wardrobe (India)
How to Get Started?
For an online rental venture to be successful and sustainable, it is important for the business model to be time-tested. One such business model that has successfully been implemented in the sharing economy is the online rental marketplace.
The defining unique value proposition (UVP) you get by implementing this business model is the lowered transactional costs, which is also one of the key benefits of sharing economy. Implementing this business model requires the know-how of available online rental marketplace software in the market.
There are two types of solutions to begin with – custom online rental marketplace software and online rental marketplace platform developed by a vendor. When launching a new venture, the time value has greater significance. Hence, many choose an online rental marketplace platform to save time and effort.
Having the industry know-how as well as the talent to design meaningful solutions, we recommend Yo!Rent, an online rental marketplace platform, which comes with an exciting range of features and a beautifully designed online rental marketplace buyer mobile app.
Advantages of Choosing Online Rental Marketplace Web and Mobile App
Yo!Rent, has been designed after careful analysis of the industry and evolving end-user's expectations. The result is that we have centered our product around four core values. The values are:
Truly Multi-vendor – To adapt the multi-vendor model, is to know the new rules of the road. The eCommerce ecosystem is huge and by embracing this model, you prioritize your time on other activities that are essential to establish your business without worrying about product research and development.
Best of Both Worlds – Selling occupies a large proportion and rental is gradually catching up. To give you the best of both worlds, by choosing Yo!Rent, you can rent as well as offer products on sell.
Easy Checkout – The core ethos of a truly multi-vendor system resides in the checkout process. The checkout process has to be fast, distraction-free, and designed for a mobile-first world. With Yo!Rent, the online multi-vendor buyer mobile app is optimized to not get in the way of end-users.
Security – All the work you put into building your brand reputation can be lost if you are not using secure systems. Yo!Rent has been built using LAMP stack which comes with the promise of security that every open source technology offers because of global support. The online rental marketplace buyer app is developed using native mobile app development method with Java and Swift at its core for Android and iOS respectively.
Trusted Name in the Ecommerce Industry – There are many advantages of selecting an online rental marketplace web and mobile app platform from a reputed vendor such as FATbit Technologies, the company behind Yo!Rent. The easy to customize solution comes with a one-time cost (lifetime license) and no installation charges. With the flexible-payment option, entrepreneurs can run and manage their online rental marketplace without spending much.
To Wrap Up
With the increasing number of mobile users across the globe, online rental marketplaces will continue to gain prominence in the near future. While the North American markets have taken the concept to Millenials and will be the major contributors in the online rental marketplace business, it is the Asia-Pacific markets that will experience the highest growth rates owing to the growing economies of countries like India and China.
Are you ready to leverage the rental concept?