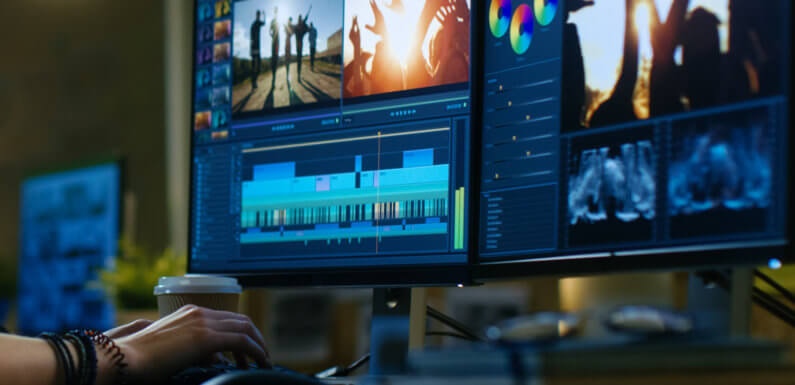 As you know, video editing is very complex and time-consuming. It is really hard to find a suitable program or find a free program. For this reason, for those who want to edit video files programmatically, we give you sites that can make online video editing through the browser.

After searching and reviewing many free online video editing sites, we return to you with a list of useful sites where you can edit videos.

If you want to edit videos online without downloading the program, you can find the top five sites on this list.

Many of you may think that editing online video is difficult, but make sure that it isn't. Make your video editing fun and fast, upload it to your Youtube account and enjoy the comments you'll get!

We now know that it's not just professionals who make impressive videos on social networks like Youtube, Vimeo, and so on. Editing and making videos no longer require much expertise. Anyone who owns a computer and appropriate hardware can become a video editor in minutes.

Back to our list, if you have enough Internet speed, you can edit and save your video files online without downloading or installing any programs. Almost all of the sites listed allow you to upload image files, audio files, and raw video files. After this stage, you can make the mixture you want to create a great video! Moreover, you can do it very quickly!

Without further ado, let's go to our list of the best free online video editing sites.

1. Magisto

Magisto allows for video merging, adding effects, setting background music, making a video from pictures, etc. You can edit your videos on the Magisto platform and then share them easily via shortcut links.

Magisto offers three different packages (Premium, Professional, Business) in order to have a lot of detailed features with the paid membership system as well as the features offered to you in the video editing process. By purchasing these packages, you can use many detailed features online to combine and edit videos.
2. FlexClip Video Editor

The best user interface is definitely FlexClip! On this site, you can download and edit videos for free. When creating a video, you can select pictures and raw video files, and then add music to them. FlexClip, where you can create video from pictures, is also very useful for creating a slideshow.

In addition, you can also add text to the video, as well as many other features such as cutting, combining, and giving special effects.

The features in this editor are mainly; video clipping, merging multiple video files, adding music to video, adding special transitions to video.

Another nice feature is that there are many royalty-free videos, photos, and audio files in the stock library that are open to use. You can choose any of them in your own video movies!

3. Online Video Cutter

Online Video Cutter is an online platform that allows you to use features such as video conversion, video cropping, video rotation, and video editing for absolutely free.
It has the following great features:
The application supports almost all video formats.
After uploading the file, you can choose the quality value and the output format.
Thanks to cropping, you can place a video in any frame.
You can rotate a video 90, 180, or 270 degrees.
You can edit in all video formats up to 500 MB.
You can do all online video cutting.
4. Kizoa

Make fun videos and slideshows with Kizoa!

Kizoa was designed to create fun slideshow-style videos for sharing on social media rather than creating a cinematic masterpiece.

You can use it to rotate or crop video clips, and you can add titles by combining several different videos.

You can save your finished projects to your desktop or share them immediately via email or social media.

You'll need to open a free account to get started, but it won't take long. Free users' video output is watermarked with the site logo. Finally, they offer you 1GB of storage space for your videos.

5. VideoToolBox

The site also offers video conversion, as well as other editors. So you can use this site for online video conversion.  This online video editing application also offers an excellent file manager.

Video ToolBox's most powerful features can be listed as follows:
It's FREE to use.
It's capable of processing video files up to 1500 MB.
It helps convert your files between all of the popular video formats (3GP, AMV, ASF, AVI, FLV, MKV, MOV, M4V, MP4, MPEG, MPG, RM, VOB, WMV).
It lets you add a text watermark to your video file.
Crop video with just a few clicks
It merges multiple files for you into a single video track.
It can record video from your webcam or another movie device.
This is our list for now. If you have problems at any stage, you can try to help with comments. We are also happy if you share this article with your friends and people who are looking for online video editing. Have fun!