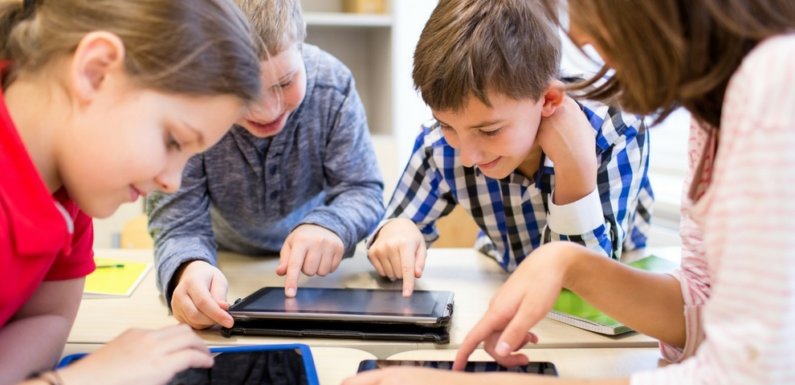 Rationalize and streamline – that's what advanced technologies demand today. In the sphere of education, there is EdTech to make a difference by the means of tech advancements. Through state-of-the-art tools and powerful techniques, educational technologies assist students with their academic efforts and ease the burden of the teachers' mission. Artificial intelligence (AI) has a treasure trove of tools to help the education industry make headway into the future. We'll take a gander in depth.
Let's face it: the educational system as it looks today, is a far cry from being technologically advanced. Luckily, it doesn't stifle the desire of tech companies to innovate in this field. Speaking of AI, its application within the U.S. education sector is expected to grow at a CAGR of 47.77% during the period 2018-2022. The educators look forward to such an escalation and perceive AI-powered tools as an opportunity to breathe a sigh of relief. At least to a certain extent.
AI Among Other EdTech Developments
According to one of this year's studies, the education technology expenditure, fueled by AI, is expected to double, reaching $341 billion by 2025. It proves yet again that artificial intelligence in education will continue to mature in the coming years. Let's run through some of the other EdTech breakthroughs that have come along with AI to improve student outcomes and cut teachers some slack.
Augmented reality and virtual reality (AR/VR).
Both technologies enrich classrooms with digital elements to keep students engaged. With a blend of real and virtual content, AR and VR create visually fascinating studying models. AR apps can help with the real-time translation of objects and text into a foreign language. Using AR or VR equipment, students can also scan a static image of a machine to see a 3D working model of it.
Mobile technologies.
Educational institutions invest in mobile tech to provide extra opportunities for students to consume information. It offers an appealing user experience and a source of valuable information on users' behavior.
Cloud-based technologies.
Learning materials, expensive textbooks, or even fancy learning hardware now live in the cloud. Instant video and text messaging is yet another example of how education can capitalize on cloud-based tech.
Artificial intelligence.
AI is fueled by data—and data is the key to personalization and analytics. AI helps in fighting the disturbing phenomenon of plagiarism. To detect cheating is no small task. You should compare multiple variables and consider dozens of factors.
AI can spare teachers from spending hours trying to find out whether their students' works were purchased, ghostwritten, or plagiarised. Unicheck developed an AI-based solution that does precisely this. Behind the AI-powered authorship, verification service stands a new technology called Emma. It evaluates dozens of parameters to determine a unique author's style and trace the author's digital "fingerprint." 
EdTech Simplifies Teaching and Drives Better Student Outcomes
EdTech is all about preparing for living and working in a new digital world. Its advancements don't come down to a handful of items on a bullet list, in any case. However, it's possible to highlight at least some of them.

Personal touch.
EdTech combined with AI creates adaptive learning platforms with built-in individual models of student learning behaviors. Platforms like this gather and process data about student's progress, strengths, and knowledge gaps. Putting this data to use, teachers learn exactly what this or that student needs to succeed.

Gamification.
Thousands of educators use artificial intelligence to create a fascinating playful environment, rich in real-time information and interaction. The use of gamification for educational purposes shows tremendous results, especially when it comes to explaining complex topics.
Special education.
AI stands behind all kinds of educational tools and devices for students with special needs. AI-assistants, AI-wearables, and robotics change their lives for the better. AI can determine the levels of impairments and areas where students fall behind to adapt the learning process to their pace and manner of learning.
Fighting plagiarism.
AI helps teachers automate routine administrative tasks. It's a win-win for all as teachers who now get more time to spend with each student. AI is an excellent tool to fight contract cheating, plagiarism, and ghostwriting fueled by essay mills. AI-based authorship verification technologies like Emma are effective assistants able to prevent contract cheating attempts.
AI-Based Plagiarism Checker by Unicheck Makes a Difference for Both Teachers and Students
Emma steps in to identify a specific author's style by evaluating 50 different parameters. Verifying such a large number of variables would be a monumental task for any teacher. Emma helps teachers be more efficient by taking over their contract cheating prevention tasks.
Teachers can feed the system with at least three texts, not fewer than 300 words each, and kick back and take a breather. Not too long, though, since Emma works pretty fast. It applies machine learning and stylometry techniques to analyze the writing and break it down into linguistic and stylistic categories. Having evaluated a student's style along with other criteria, Emma puts forward an assumption whether a submitted work belongs to the author or not.
This way it arms teachers with data to make a rational decision.
Challenges Faced by AI and Other EdTech Innovations
What is definitely not helpful to EdTech, is all the hoopla around tech advancements like artificial intelligence. AI is not a panacea for every classroom challenge. While teachers, students, and tech providers have high expectations toward technological marvels, the real impact of red-hot EdTech trends often remains unproven. Educators should be picky and trust only reliable technology providers. The latter should be ready to justify the credit of trust and show some tangible benefits of technologies behind their solutions.
For instance, Unicheck claims that their plagiarism checker that comes with an AI-based authorship verification assistant can raise academic integrity in K-12 and higher education. They deliver on their promises by encouraging students to stand by their knowledge and freeing teachers of routine and complex tasks. That's why more than 1,000 educational institutions worldwide already rely on Unicheck's plagiarism prevention capacities.
The Bottom Line
EdTech is actively transforming education. It connects educators, students, gadgets, and learning content suggesting new effective approaches to studying. Is there a place for mobiles, wearables, electronics, and other advanced tools in the classroom? Yes, for sure, provided that they complement teachers' efforts and make students more productive and confident.