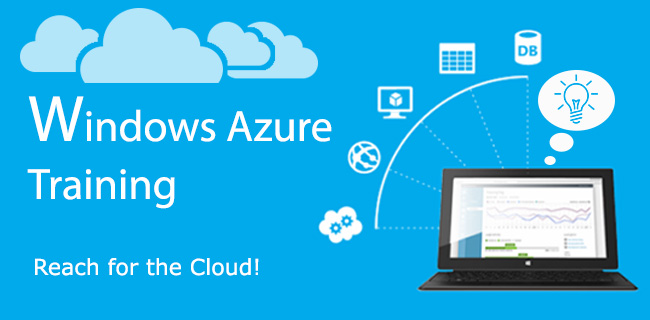 There are little chances that you would have not heard of the term Cloud, even if you think that you aren't using it. And there are high chances that you are already making use of Cloud services, and probably would also benefit from Azure training.
The Cloud is diverse and serves us in a variety of manners. Your daily internet usage for sending emails, online working, watching movies, listening to music, gaming or even posting and storing photos online is made simple and possible by a backhand cloud service. Cloud today helps in creating new apps and services, storing, backing up and recovering data. It also helps in hosting websites, stream audios and videos, deliver software on demand, carrying data analysis and making predictions. Today organizations as small as a startup to global corporations, government agencies and non-profits are embracing the Cloud technology, for the future is bound to grow by leaps and bounds.
Microsoft Azure, is a cloud computing service that helps in building, testing, deploying and managing applications and services. Cloud computing comes with a variety of benefits, these include:
#1 Reduction in cost: Cloud helps in cutting down the direct costs of infrastructure set up. As cloud helps with hosting and managing all work form a public or private cost, thus the cost of setting up a datacenter is saved. Along with it the maintainable and running costs are also slashed down.
#2 Better Speed: The Cloud is designed to facilitate services to a large number of organizations, and it hardly faces a lag or downtime. Thus, working on the cloud gives better speed and connectivity round-the-clock.
#3 Enhanced Productivity: The cloud helps in enhancing productivity as the time spent on maintaining and running an individual data center is cut through. Many a task that the IT team needs to take care of are tackled and all lags are cut short.
#4 Better Performance: Cloud computing services run on a worldwide network of datacenters that seldom see a downtime or disruption. Cloud provides high speed and several benefits over a single corporate datacenter, including reduced network latency for applications and greater economies of scale.
#5 Reliability: Working bon the cloud is reliable, as it offers a lower cost of data backup, disaster recovery and business continuity.
Azure is a Consistent Hybrid Cloud
Azure allows its users to build and deploy wherever they wish to. It is also seen as the only consistent hybrid cloud in the marketspace, and helps in connecting applications and data in the cloud and also on premise. Azure is also seen as a service provider with maximum portability and value for money. Users experience hybrid consistency in application development, management and matters of security.
Azure remains the first choice of many organizations as it helps create data-driven intelligent apps. The features of Azure include from image recognition to bot services, creating new experiences in scaling and supporting deep learning through Azure data services and artificial intelligence, real-time analytics on any kind of data and HPC simulations.
Azure Training and Careers
Azure training is a stepping stone for candidates who wish to enhance their learning and skills on cloud platform. If you already have a basic understanding of cloud technologies, its development concepts, tools, application solutions and implementation techniques and wish to enhance it even more, Azure certification training can help you reach closer. You can begin your learning of Azure with NetCom Learning.