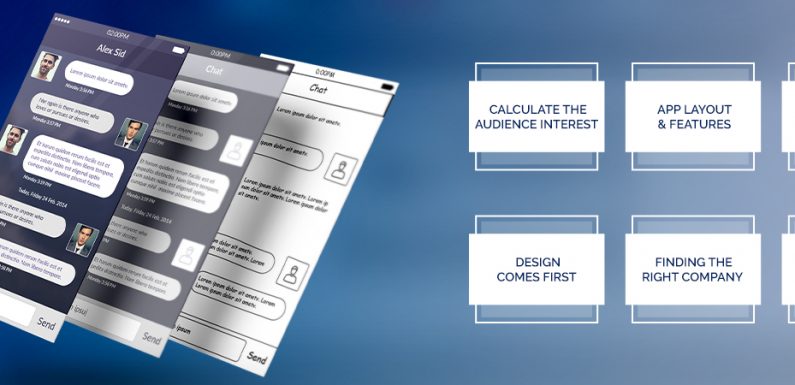 An idea can born anywhere anytime – it could be anything, any inspiration or urge to solve a problem you see around and willing to address it by introducing a distinctive solution using ultimate IT solution such as mobile application.
From startup businesses to entrepreneurs came up with brilliant ideas and changed our lives completely. Which is why, these living examples inspire whole new generation to come with amazing idea and take privilege to embrace technology.
So, if you have an amazing idea that you think would make a definite difference and looking for an easy guideline to start it then here it is. Stay with us till the end as we have put down our experience into this article where we will guide you about how to turn an idea into a fantastic mobile application.
However, if you are struggling to find an Idea for Mobile Application read the following passage or else If you already got a brilliant idea, skip this step and move on to next. Since it is not necessary to force your brain to give an idea, there is a useful and proven way to find one without having to do a hefty job.
Therefore, if you are motivated to bring any change in society observe your surroundings carefully. Think of what people need and how you can efficiently fulfill it without having to leave their comfort zone. Think a unique process of solving the problem; it could be booking a cab or a hotel booking app.
Think about what people are not good at and your application can help them to improve it. The purpose of your application should first resolve a problem and add value to your audience daily routine.
For instance, usually, when winter season arrives, we all become lazy to drink sufficient water (so causal issue, right?). By introducing a water drinking reminder app, you can help people to stay hydrated without having to do much then just download an app, that's it.
Now you are all set to continue reading and discover easy map to follow right below:
1. Calculate the Audience Interest
So you are finally ready to fuel your idea into an app, that takes time, budget, a lot of efforts. So it is important to estimate how much people will be interested in it? We do not want to discourage you by saying interest is all that matters
– However, we will not suggest facing reality by closed eyes as well. So, to validate the idea you need to figure out how many people will genuinely get interested to know such type of application exists or about to come.
This might seem too early to measure the interest, but Google Keyword Planner Tool can help you do that. This way, you can compare the idea and potential in your application concept. Google Keyword tool will display how many people over the internet are currently looking for something you are up to right now.
For instance, you want to develop a mobile music application, by using this bold keyword/phrase on Google Keyword Planner tool you will be able to see how many people are currently searching for the medium you are working on.
This will help you analyze the audience interest, the size of crowd who is already looking for such mobile app and will allow you to understand other related users interest too.
2. App Layout and Features
Since you need to present this idea to team or mobile app development company, it is mandatory to clearly mention the idea, objective and goals you want to achieve through the app. No matter how big or a small idea is, the more clearly you explain it to developers the less time it will take to understand application objectives.
To be productive with your idea presentation, use tools to demonstrate that imaginary idea in your mind for your app. From each steps, button, actions, and field of your application there are many free tools you can use to physically shape your app concept and its flow such that the developers can comprehend it.
This framing and presenting application functionalities through somewhat drawing or online extencils is referred as wire-frame or prototyping helps developers and designers to understand the exact picture of the mobile app and do not forget to document it.
Don't worry about the word counts for documenting you features – be detail oriented and explain each function and app flow clearly. Once you prepare to prototype your mobile app idea present it mobile app development company by handing them a written document separately along with the image you're created with prototyping tools.
3. Core Features First
We all know how one gets excited to make the app all-rounder. Since this is your first attempt, you need to come up with app having precise and core features only.
Doing this will not take much time, because all you need to do is, take the prepared document in your hands, hold the marker and cut down the features you think are not too primary to immediately avail.
By cutting from this report. By this we don't mean to remove completely those features from the list, we mean, to save those feature for your mobile app second update.
This will help you cut down your budget in first place as well as will help your application to proceed with well-defined features and clear vision.
4. Design comes first
If you think that only a good development and great idea are key ingredients of success than that's not the case. Design has a lot of influence over your app image and impact. By design, we don't mean the appearance (user interface) only but the flow of application and users experience with it.
Since every user admires to feel important, it will only happen when you come up with unique mobile application design that is simple to layer up and flow is just friction less and requires no skills to learn the step. A good design should compose of mobile technology that is simple and useful for the end-users.
5. Finding the Right Company
Finding the best team would take time, so don't hurry unless you are completely satisfied.
For this purpose, you can do a deep analysis either the company is registered or not, read the terms and conditions thoroughly, see their past experience with clients and visit their portfolio etc.
Ask about their live mobile applications that are currently active in the app stores or play stores to practically study the quality standards.
6. Feedback is Essential
When your mobile application is live, wait for the response that comes from the audience. Learn from the user behavior and how they interact with you using Furry or any analytic tool available online.
Use their feedback as to improvise your mobile app that will surely help you prospect the concept into a better version in the next update.
Hope this article helps you to understand the basics, if you are in search of a credible company that has diligent developers with years of experience and designers that are creative and hardworking then feel free to visit AppVerticals.com