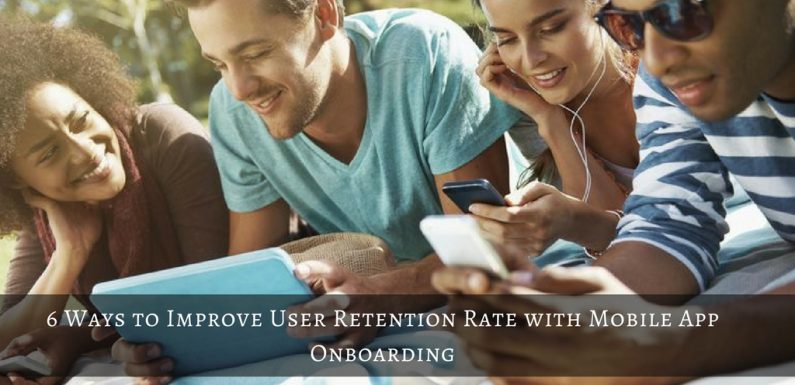 Every Appreneur or a mobile app developer out there dreams of getting their app to the heights of success – be it in terms of revenue or customers. On one hand, the mobile app development's world is at its peak and on the other mobile engagement is kind of going through a crisis. Yes, you read it right. You might be thinking about the constant influx of mobile apps and smartphones in the market and how it's impossible that there would be an impasse, well if we look at the below stats:
1 out of 4 Smartphone owners (i.e. 23% of users) abandons an app after only using it for once.
62% of users used an app less than 11 times after downloading it.
The above stats conclude that users are abandoning and uninstalling apps without giving any second thought to it. See the reason behind this is that they have a plethora of app options available and if an app doesn't interest them they either jump onto the next one or delete it altogether.
So, what can you really do to retain your users and keep them hooked to your app or prevent them from uninstalling your app? Well, here comes the App On-boarding.
Those who aren't familiar with the term – App On-boarding is sort of a guide escorting their tourists through the city. Once your users download your app you would obviously want them to get familiar with your app. And for that you need to provide your users with a good on-boarding experience. A good on-boarding experience is quite essential for an app's success especially in the long run as it not only lowers down the churn rate but also greatly influences the Lifetime value of a user.
Yes, on-boarding might seem like a general step while using any new application but it involves making sure that your user can easily start using your app.So the question here is how can you improve your retention rate? Well, for starters, effective on-boarding is the key. Read on below to find out some approaches to follow to create a great app on-boarding experience for your users.
Easy Get Through
See you have developed an app to address a particular problem of your target users and if your users can't use it to the fullest then it means that there was no meaning of developing the application. Remember that complex onboarding will only lead to higher app abandonment rate. Your app might have amazing features and functionalities but if it is not easy to navigate your users might not use it.
Moreover, based on the type of services you plan to provide you can devise your app onboarding process (Benefit-oriented, Functionality-oriented, Progressive, and Hybrid) accordingly:
Easy Sign Up and Quick Log-ins
As streamlined service is what you generally aim to provide through your mobile app, complicating it by adding complex sign-up and log-in process is like digging your own grave. Sign-ups and Log-ins should be made super quick and easy. You can make sign-up possible through email or social media accounts or divide the complicated sign-up process into different screens.
This would make sure that your user does not get overwhelmed with the app's sign-up process (here you can even consider it as an onboarding). One click log-ins and easy sign-up processes will increase user engagement as well as retention.
Info Overloading – "BAD" idea
Never make the mistake of adding all possible information on a single page. Precise info on a page will help users to absorb more instead of other way around. Use the "one screen, one concept" approach here, especially for the function-oriented and benefit-oriented onboarding.
Guided Interaction
There are many complex apps out there that have adopted a different onboarding approach i.e. they have added "how to use the app" tutorials in their mobile application. In addition to this, there are many apps out there that have focused more on "guided interaction". Guided interaction is aimed towards helping the user explore the app instead of imparting them with info through drawn-out tutorials (guided Interaction is prominent in gaming apps).
Using Animation
Animations are probably the most engaging media you can add to your app. Text screens are a thing of the past and adding animations will prompt users to focus more on app elements along with giving you an opportunity to introduce new elements in a more engaging manner.
Moreover, they are also effective in prompting feedback from users. While adding animation to your app, make sure that you use them carefully as overdoing it will only repel your users.
Focus on "Feedback"
As app onboarding is more about the users and hence, you should also focus on their suggestions and grievances. Listen to what your user says and respond to their reviews. This would help you in determining the weak aspects of your onboarding experience. Keep on testing and trying out new things based on the information collected through users' feedback and reviews.
Hence, you can follow the above-mentioned rules to create a great onboarding experience for your users as onboarding experience is indeed a crucial aspect of an app's success. And if mobile app development companies in India want to increase their app's overall retention they must and should lay emphasis on improvising their onboarding experience.