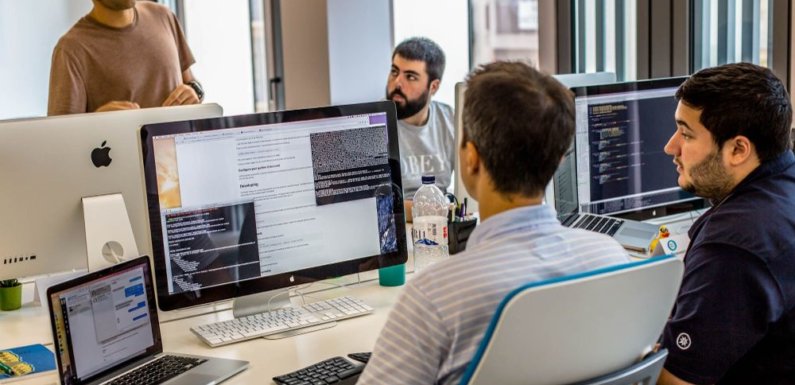 If you are looking to expand your business reach, or develop your brand's public perception, investing in a powerful mobile app UX design would be a good idea. Indeed, mobile apps are everything these days. Whether you want to order a taxi or find what the weather will be like tomorrow, you resort to using your phone, or more specifically, a mobile app.
The market is flooded with many different applications and every one of them tries to offer something unique. So what makes an app successful? Does your product need an effective UX? If it does, then you need a UX strategy. We can't give a definitive answer but one thing we know for sure is that most successful solutions have a superb UX design. Having a good UI is not enough these days as thorough control over the user experience is far more valuable in the grand scheme of things.
And what is this grand scheme of things you might ask, well this is precisely what will talk about today. Thus, without any further delay, here are six benefits of investing in a good mobile app UX design. All of them are collected on the grounds of the best UX design agencies experience. 
1. Cost-Efficient App Development
If you are operating on a tight schedule and budget, one of the key things you have to make sure is that you don't go overboard when you start your mobile app development. And what better way to ensure that than through user experience. Now some of you might argue "What UX has todo with expenses?" and the answer is pretty simple. Having a good UX design will allow you to avoid design pitfalls as these are typically very costly and can put a strain on your budget.
That right, if you have a proper understanding of where things should go and what might pop-up, you can strategize and avoid unnecessary expenses. It won't eliminate all issues, though, but it will minimize errors and will allow you to prepare for the troubles. Knowing how things will work within your app will also allow you to estimate your expenses more accurately as well.
Finally, knowing how the UX flow will work, you can have a more thorough understanding of how usability and accessibility have to be implemented, again, saving you money in the long run.
2. Understand User Interaction
Next on the list is the fact that good UX will allow you to determine how users will interact within the app, or specifically, with the content in it. You will spend less money on engaging with your users as good UX will guide them to your desired destination. In other words, if the UX is doing a fine job and motivates your users to scroll further, then it means you spend less money on advertising.
Knowing how the content will appear and what kind of variables will be in play, you can custom tailor your content to suit the needs of your audience. Good UX will help you predict how the audience will interact with your stuff which means you can target them more aggressively.
For better understanding let's imagine that you are personalizing your eCommerce page for the user. You know how the user will see your stuff, so you proceed to personalize the content displayed using historical or interactive data. This is where UX comes into play. Good UX will allow you to guide your customers in a way that would display your recommendations as actual recommendations and not intrusive attacks.
The last thing you want to do is push your customers in a forceful way to do something. Good UX will allow you to convert prospects easier even if they stumbled on your app accidentally. You need to make sure that the new person is right at home from the very second. If you manage that, you saved a ton of money on customer retention efforts.
3. Builds Your Brand Image
In the world of marketing, the brand is king. No matter what other people might say. If you have a strong brand, people are your ambassadors, your patrons, and most importantly, your business fuel. So what does UX has to do with branding? A lot, and not just a lot, a lot-lot.
Take for instance Apple, on the surface, their products aren't exactly special. It is when you start using them you realize how good they are. Each device was made with the user in mind and everything works for you. The same can be applied to their applications too. Take for instance the Apple Music app. You know when you press on the artist name, you will be taken to an artist hub where all albums and eps are sorted out. This is what is called good UX.
Investing a lot of time and effort into good UX will make your product more memorable and customers more loyal, which is something money can't buy. Good user experience is your sole instrument that can achieve this result.
4. Improve Profitability with UX CTA's
Now one of the key things you need to take care of is to identify how your users will interact with a particular page. Whether it is watching a video in landscape or portrait mode or reading or listening to an audio log, you need to adjust your page accordingly. What you want is a good flow of the entire app and plenty of options.
But providing options and a good flow is half the story. Clarity is also key to building a good UX design. Your main objective is to learn what kind of CTA works, how you should phrase it, and how the CTA will blend in the user interface. Furthermore, you need to ensure that every time when a CTA is pressed, a convenient guide through is introduced. In other words, the journey to the action has to fast and painless.
What this means is that the amount of steps needed to complete the action has to be minimal. The conversion process has to be fast, convenient, and as effortless as it is humanly possible.
5. Improves Engagement and Retention
The next thing a good UX can achieve is engagement and retention. Now we already mentioned the retention part a bit but let's expand on it. So, a good UX will allow you to segment your audience, therefore, you will be able to pinpoint exactly what are your customer needs.
Take for instance Netflix. Every time you finish watching a show or movie, you are being presented with a small list of similar products. This is convenient, this is segmentation, and more importantly, this is retention. Good user experience will keep your audience in the loop just a little longer. Proper UX will help push more niche products/services and will help you introduce new offerings in a much more streamlined and efficient manner.
6. Simplicity Equals Conversions
And the last thing we'd like to talk about is the fact that proper UX will deliver simplicity. This seemingly obvious thing can have a massive impact on your conversion rates. What we mean is that it doesn't matter if your app looks great if it is convoluted and hard to navigate. People will just uninstall it cause using it is cumbersome.
High-quality UX solves this problem through clever and simple navigation maps. Your customers are not ready to learn the many intricacies your app has as they downloaded it to solve something in a fast and effective manner in the first place. The simpler your app is to use, the more likely it will be referred to when an issue needs to be solved.
Summing Up
And there you have it. The six benefits you'll get upon investing in good UX. There's more we could discuss but these are the core ones as they will help you develop your brand, deliver excellent customer experience, and most importantly, foster loyalty. The more thoroughly your app is designed, the more benefits you'll deliver.
If you are planning a mobile app development project but need a solid, functional design, Qubstudio is more than happy to oblige. We have been on the market for years now and ready to tackle just about any challenge. Just drop us a message or give us a call and we'll get back to you in no time.