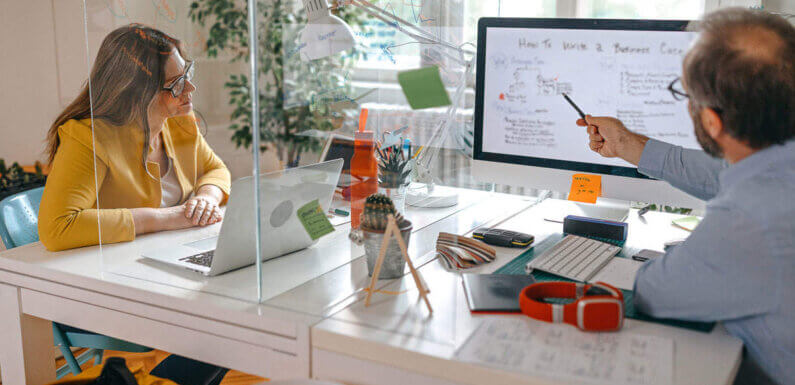 You've probably already changed how your business operates in light of the coronavirus pandemic and the new lockdown way of life. However, some things never change – chief among these is SEO. Digital marketing strategies like SEO continue to play a vital role in keeping the lines of communication open with your customers and maintaining trust in your brand.
However, there are a few small changes you can make to your existing SEO strategy for amazing results.
Optimize Your Google My Business Page
It is important to treat your GMB page just like you would your website and keep the lines of communication as open as possible. Google has included provisions in their Google My Business listing for companies to make communications about COVID easier. This will improve your local SEO results.
The content you update in your Google My Page listing provides Google (and possibly Bing) with more details about your business in both branded and unbranded keywords. As a tried and tested local SEO strategy, keeping your content up to date on your GMB page has to be one of the most effective ways to attract local business.
Try to Rank for Featured Snippets
Run an audit report for keywords that your site ranks for and separate them into two groups: first page results and second-page results. This list will provide a short-term strategy for content production.
Of the blogs that rank on the first page, you can further increase the traffic they attract by targeting more featured snippets and "people also ask" content. A few tweaks are all you need to win the coveted 'zero' position.
Of the blogs on the second page, expand upon the content to increase the chances of your page ranking higher. You may have to create more supporting content to get to the first page of Google.
Re-Evaluate Your Keyword Strategy
The pandemic has significantly changed what users are searching for. As a result, many businesses have experienced slowdowns while others have profited. This makes it important to know about the areas of your business that have declined and areas that are still generating public interest. Your keyword strategy should reflect the new trends based on what audiences are searching for.
Add More Keywords to Your Keyword List
It may be worth your while to future proof your content by maintaining an increased content schedule on topics that aren't related to COVID-19. Ranking for these new keywords can help contribute to a stronger recovery when things return to normalcy.
User Centeric Content
Now that people are spending more time indoors (and have more time to themselves), they may be more likely to delve deeply into in-depth content as opposed to quickly scrolling through feeds while commuting.
It is worth mentioning that long-form content has always been a staple of success, and is continuing to pick up even more traction. The folks over at Backlinko found the highest-ranking websites contain an average of 1900 words. Don't have the time to write long-form content? You can hire article writing services to do the heavy lifting for you.
If traffic to your site has slowed down due to the pandemic, consider using the extra time to create more long-form content like listicles that you can publish in the coming months.
Local SEO
In the same vein as GMB listings, local SEO will continue to be a lucrative option for small businesses because it allows them to go head to head with some of the biggest brands in the world. More importantly, people who prefer to stay close to their home or offices will seek out local businesses, this means more 'near me' searches. The pandemic has made local SEO tactics more important for businesses.
Publish an FAQ
The most effective way to answer questions that people are asking for is to create a new FAQ page. You can provide answers to these questions on your high-ranking webpages to address your audience's concerns.
Pro tip: Learn how to create content around FAQ structured data to allow your FAQs to show up in search results, making them eligible for voice search, and ensuring that your page is more enticing for users to click on.
Write on Trending Topics Relevant to Industry
It may not be a good idea to write specifically on coronavirus topics (because Google pays close attention to those due to fears of misinformation). Instead, you can think about topics that are trending as a consequence of the pandemic, like "in-home", "DIY", "virtual", and others. For example, content related to DIY topics has picked up steam as more people seek to make constructive use of their idle time.
Re-Optimize Old Content
The great thing about this strategy is that it doesn't require effort in creating more content. One of the consequences of the pandemics is that many previously dormant topics are now generating more public interest. All you need is to revisit your content that is relevant to your audience during the pandemic and update it with new information to attract more traffic.
Check to see if you've written on topics that are now trending due to the pandemic and spruce them up!
Create a Separate Page for Each Product
Many small businesses often list all their products on a single page, such as their home page. But this is not a good practice from an SEO point of view. If you want to get more traffic, then it is highly recommended to create specific pages for each product. This way, you can rank higher by capturing several relevant keywords.
For example, if you are selling pet food and toys, then you should create separate pages for each product, such as one page for cats and another for dogs. Moreover, you can create subpages, such as dogs > toys > green toys. In many cases, this is a simple change that can boost your rankings with minimal efforts.
Implemant Schema
Structured data helps Google better understand websites. More importantly, it could help you rank higher by leveraging the advantages of SERP features like knowledge graphs, featured snippets, and more. FAQ, local business, and product schema are must-use schema types for every business.
Optimize for Voice and "Near Me" Searches
Did you know that nearly one-third of searches on mobile are related to location? People use 'near me' to find out more places of interest around them.
What's even more interesting is that over half of these searches are voice searches. You should optimize your website for both.
Wrapping Up
The reach of COVID-19 is vast and it has created a massive economic and humanitarian crisis. Small businesses continue to hurt the most. However, you can mitigate the economic harm due to the pandemic by updating your approach to SEO.
If you haven't already made technical improvements to your SEO efforts, now is the time to do so.