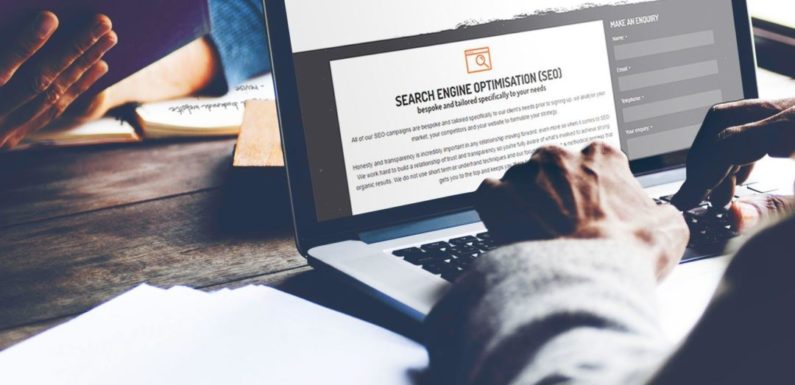 In today's competitive environment for a business to survive, it is important that it has a strong marketing campaign. Imagine you have a great idea for a business model and work on it for months. Ultimately you have developed a website, bought a domain and it is up and running. But months after initiation, you realize that you have not made more than a couple of sales. You start questioning the business model and even yourself.
However, what you fail to realize is that there are thousands of websites and businesses from the same niche and obviously you'll get lost in the crowd.
What you require is not a better business model but a better marketing campaign which would make your business stand out from your competitors. Search Engine Optimization is one such tool that can help you achieve success.
What is SEO and how does it work?
Search Engine Optimization, commonly known as SEO, is a protocol followed to increase the rank of a website on a search engine research page such as that of Google, Bing, Yahoo, etc.
SEO is a great digital marketing strategy because it helps a site rank higher on a search engine consequently attracting more people and higher sales and revenue. Moreover, it is a great method to increase the quality of your website by making it faster, user-friendly and easier to use.
When someone makes a search on a search engine, the results provided are based on an intricate set of algorithms. These complex algorithms decide, among thousands of websites, which one to put at number one, at number two, and so on. The decision is made on several factors concerning the website.
Stages of SEO
Search engine optimization is a set protocol which can be divided into three main stages as follows:
#1 Technical SEO

Technical SEO is concerned with making it easier for a search engine to index your website. It does not deal with the appearance or content of the website but the back-end settings of the blog or website.
You need to configure the settings so that the job of search engine crawlers can be made easier. When done right, technical SEO makes it easier for the search engine crawlers to index your website, thus, increasing the chances of getting a higher rank.
#2 On-page SEO
A search engine does not read a website/blog as a human does. In fact, it looks for certain signs and symbols that let it decide its relevance with the search keyword.
Therefore, basically, on-page SEO deals with making the interface and content of the website comply with search engine standards; to give the search engine crawlers enough signals that they can easily understand the meaning of the context on your website.
On-page SEO is concerned with improving the structure of the website. Adding relevant keywords (in the right amount and places), optimizing titles, adding proper headings, adding internal links, etc. are some of the things done to give the right signals to the search engine crawlers.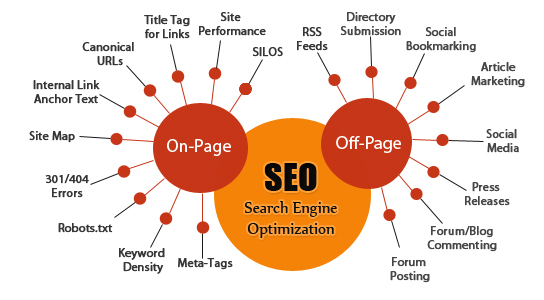 #3 Off-page SEO
There are many factors based on which a search engine ranks a website one of which is back-linking. Backlinks are important as they send a signal of trust and credibility.
Off-page SEO is concerned with the methods used to promote your website to rank higher in the search engine results. It can be done by back-linking and other such methods.
Importance of SEO
Search Engine Optimization is a tool of digital marketing that serves to increase the visibility of your website. However, it should be noted that if you are looking for an overnight success SEO is not for you. SEO is basically a set of protocols that need to be followed and modified occasionally based on the changes made in the search engines algorithms.
It takes time to increase your ranking, however, once your website ranks on top, the number of sales and visitors more than pay for the budget and hard work that went into the SEO process.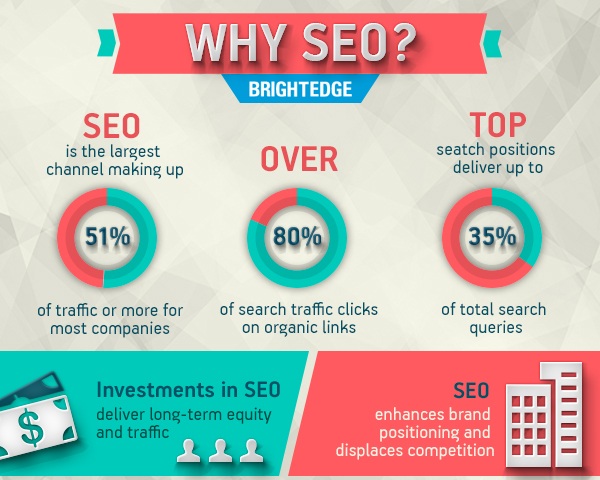 Following are some of the benefits of Search Engine Optimization:
#1 Credibility
It is estimated that 98% of all the people that search for something choose the website that is ranked in the first page of the search engine results. People think that websites that rank on the top are the best; about which they are not entirely wrong.
Most people don't even bother going to the second page of Google search results. Therefore, it is crucial that your websites rank higher in order to build trust and credibility.
#2 ROI
SEO is among the best digital marketing methods mainly because it has the best return on investment (ROI). Search Engine Journal, release a statistics that showed that search engine optimized leads had a 14.6% close rate, whereas, leads through direct mailing or print marketing had a 1.7% close rate.
#3 Insights
One of the indirect benefits of SEO is the information gathered from analytics. Apart from the demographics, locale, device information, etc. one can get into the head of the customer and get to know his/her thought process by studying the keywords used that lead to the traffic.
#4 Cost-Effective
The best thing about SEO is that any business can use it. Small businesses have been known to greatly benefit from SEO because other digital marketing tactics are quite costly and require big marketing budgets. However, SEO does not require huge sums for better performance.
#5 Competition
The importance of SEO can be highlighted by the fact that all of your competing websites are doing it. For you to surpass them or compete with them, it is crucial that you also use SEO to its fullest and garner the benefits.
#6 Better User Experience
SEO not only helps your website rank higher but in doing so establishes a user-friendly interface for your website. Following the protocols set by SEO experts, you end up having a website that is designed to make the incoming traffic become potential clients and to make potential clients become faithful customers.