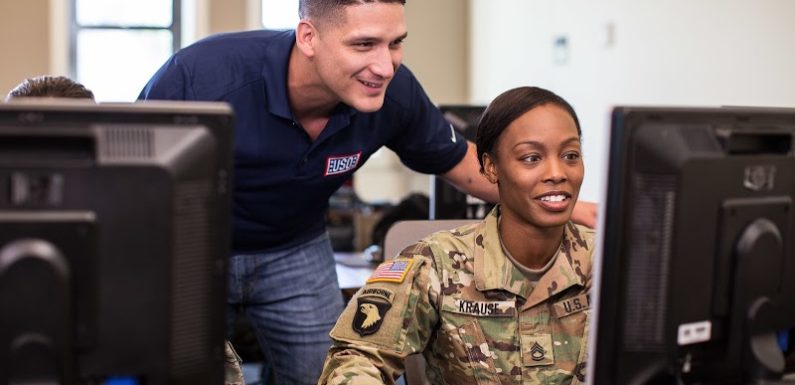 Tech Programs for Military
Military veterans can't always stay on the frontline and protect their home country or defend their allies; they would have to retire from the military, let the next line of jarheads grow into soldiers that will defend their home country, and move back to their hometowns where they're recognized by everyone that loved their devotion to protecting the US.
Change Is Good
It feels like a disservice to go from being in on the action of the war to staying home and not getting the same amount of respect that prior American heroes had when they got to go home, especially if they've either been in the war longer than some of their allies, or if they were more likely to stand out for their courage as well as have their heart keep the mindset of protecting the country their main priority.
Despite this unfortunate consequence of retiring the Army or the Navy, there are several degree programs for military veterans that want to continue doing good things without feeling stuck by having to rely so much on fishy retirement programs while they're still able to remain independent. Depending on where you live, these degree programs will be as helpful for a better future as training before or after going into the battlefield.
Keys to Remember
When your military career is all over, the most important thing is to focus on how you can continue to take care of yourself and if you have a family them as well. It's also understood that you have been away from your family for a long period of time and you wish to spend more time with them.
So, going away to a school might not be the best thing right away or at all. That is why taken the time out to use your tech skill on the internet could pay major benefit. Searching up different online schools could give you the ability to stay home with your family while providing a way in the future to take care of them.
This new part of your life, is something you should be scared of it should be a brand new start and you should see it that way. The best way to make sure it stays that way is taken your time on selecting a school but most importantly making sure you know the right solution for you and your loved ones. You want to be able to have a balance and that is why online schooling is better for flexibility and time.
Be mindful that they are many schools online that allow you the ability to use your service time as a way of getting a discount. Also, there are so many different grants that your military status allows you to be eligible for, don't miss your opportunity to grab one. In some cases, they could pay for your entire tuitions up and until you receive your degree. Finding the right school and means to pay for it is hard but doing your research will pay value when looking for programs for military veterans.
For an idea of what these degree programs could lead up to, here is one example of technology that individuals could potentially run into if they were to find a career that would make them feel more willing to step into a different career path.
Overall, with technology becoming much more important now, military veterans can feel just as important in a scientific field as they were on the battlefield without anything more to worry about. Your skills are extremely advance and they should be used to your benefit always. remember that the stress you were placed on during the war and in the battlefield where way more intense than what getting a degree is like.
You should see that as an advantage and that should give you the ability to have confidence in yourself that you can make more happen. So take the chance of stepping into a new world that you're not so familiar with it, you may be surprised how ready you are for that world and how much you succeed.