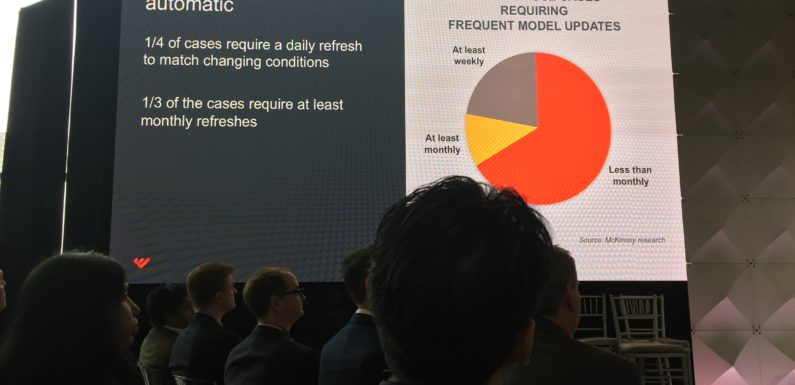 Automation software platform WorkFusion held its second annual Ascend summit in Manhattan May 17 through 18, during which several panel discussions revolved around artificial intelligence and the fastest pathway to maximizing its benefits.
The host company's SVP of Engineering, Marc Ache kicked off the panel discussion, followed by commentary from Bank of Montreal's RPA Director Sehr Saghir and EPAM's Managing Principal of Intelligent Automation Consulting, Theo Piletski. WorkFusion's Director of Marketing, Anthony Russo, moderated.
When it comes to parallels running in the field of technology, there's digital experience and digital operations.
"The digital experience has become quite mature," Ache said. "They're well along their way."
The "they" Ache referred to here are companies like Adobe and Salesforce, which have products that are mature compared to market competitors. And while the digital experiences of these companies have advanced further along than others, there's still time to grow.
"We are in the early days of digital operations, and we need tools that will make digital operations easier," says Ache about introducing the main event. "And one of those tools is going to be AI (artificial intelligence)."
Recent studies have shown that a majority of CIOs (chief information officers) are looking to incorporate some form of AI into their digital efforts.
"If we look at all of these efforts on a large graph," said Ache as he pointed to his PowerPoint presentation, "It shows that they're looking to solve simple problems, and solve complex problems."
Newcomers – perhaps even those who had previously expressed concern regarding implementing AI into their respective companies – are now adopting a new approach.
"People who are now starting their AI journey are trying to automate repetitive tasks with AI," Ache said.
Everyday AI can be utilized across multiple industries – like financial services, retail and healthcare – without falling flat. Ache believes that company leaders are trying to solve simple problems.
"You're using AI to predict whether 'what type of inventory do I want to stock' based on buying habits," Ache said.
The AutoML tool helps with decision-making in lieu of having a team of data scientists, using algorithms automatically configured to intake data and create models. After that is when decision-making would come into play.
"You want to be able to measure those analytics and make sure that your AI is producing good results, and you want to make sure that your predictions are correct," Ache said.
As you putt more data into your AI system, you can continue to improve your model. The best way of keeping your model "healthy" is the constant addition of data. After Ache's initial presentation, Saghir chimed in regarding the structure, governance and framework that sits around solutions and their implementations
"You have to address issues around information security," she said. "Look at the various frameworks and existing technology for the robotics frameworks and the [interacting] AI frameworks."
Theo spoke from an implementation perspective: "I think having guardrails [is important]. You cannot skate on the ice, even if there are guardrails. I would encourage clients to start early; start maybe not with the complex machine-learning business case or use case, but you can put AI in place with some basic model that WorkFusion provides like extraction, that are easy to grasp."
Contrary to popular belief, automating absolutely everything isn't necessary – that according to Piletski.
"Just automate a little piece of it," said Piletski about the automation process.
People trained properly can handle the rest.
"One in the people executing the implementations and then actually doing the work, both on the technology side and the centre of excellence side," she said, "But also for the businesses going through the automation because eventually, they're going to be managing these processes."
Automation by definition might mean having equipment do the grunt work, but that does not mean there's a full-on replacement happening. As the panel agreed on, there's an ongoing paradigm shift regarding humans and their abilities.
"If there is AI involved, [employees] need to have that acumen and skillset to be able to manage those solutions as well," Saghir said.
Article source: https://medium.com/@lizkobak/scared-of-implementing-ai-in-your-business-practices-get-over-it-b4c8b4f1e1a3