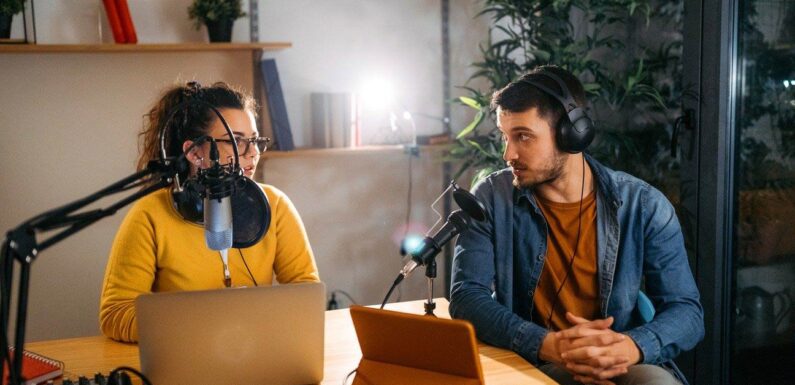 The Covid-19 pandemic brought to the fore the important role of digital marketing. It offered a cost-effective option for companies that may have been struggling to remain afloat. Astute marketers became more innovative in maximizing the available online opportunities.
What makes digital marketing so effective is that more and more customers are gravitating towards using the online space. Here are some interesting insights from the global market.
Platforms like Shopify have seen a 57% increase in revenue in Q2 of 2021. In China, cross-border e-commerce reached $63.8 billion. It signified a 46% increase in Q1of 2021. 91% of e-commerce owners believe revenue will continue to grow as the year progresses.
Our article explores the future of digital marketing in the post-Covid era. Here are some interesting trends we can expect to see.
1. Podcasting And Digital Marketing
Podcasting and digital marketing go hand in hand. It is a fantastic way to reach audiences. It could explain why there are currently over 2 million active podcasts. This signifies a 1.5 million increase since 2018. In the US, 6 out of 10 people will listen to podcasts.
3 out of 4 listeners tune in every day. The reason being a chance to learn something new. Others get inspiration from such platforms. Further, the media are free, niche, and on-demand. Over 65% use smart devices like tablets and phones to tune in.
What does this mean for digital marketers in the post-Covid era? Simply put, there is so much potential in the use of podcasts to drive content marketing.
How you may ask:-
Podcasts can improve your SEO activities. Use of relevant keywords, link building, and engagement opportunities are some tactics.
Showcase your expertise by providing value around specific topics. It allows you to establish yourself as an authority and go-to source for information.
Podcasts humanize companies in a way text advertising can never achieve
The platform is a fantastic way to collect leads. There is an opportunity to walk the audience through the buyer's journey without appearing pushy.
It is an opportunity to reinforce brand messaging engagingly.
There is a lot to know about setting up, launching, and promoting your podcast. But, without a doubt, it is a trend that will only get bigger going forward.
2. Free-For-All Playing Field
It would be hard to find an industry that is not embracing digital marketing. Take the example of the music industry. There was a time when those with financial might dominated advertising space.
To get a breakthrough, artists needed established music promoters and producers to push their music. Now the landscape has leveled out, thanks to the digital space.
Previously unknown and emerging artists can take advantage of free online music advertising to get visibility. Independent artists can showcase their work to a large audience base without spending tons of cash.
What does it mean for the industry? Well, Celine Dion, Beyoncé, and an emerging artist can compete for a share of voice on one platform.
The music advertising platforms also bring together songwriters, producers, vocalists, and MCs. They can achieve levels of collaboration that were not possible in the earlier days. 
Also read: 3 Ways Technology is Changing the Game for Nonprofits
Post-Covid digital marketing will allow competition amongst industry giants, startups, and entrepreneurs in one very level, very open field. Digital marketers must therefore focus on offering the best online experiences.
3. Digital Marketing Must Embrace The Shift In Consumer Trends And Behavior
A shift in consumer trends and behavior will require digital marketers to pay a little more attention. Let's take another look at the music industry as an example. Social distancing has impacted face-to-face events like live concerts.
But, this has not stopped artists from performing. The industry is heralding virtual concerts as the next big thing. Live Streaming, video content consumption, and subscription services are at an all-time high. Listeners are now more open to discovering new artists instead of the usual-much-hyped ones.
Digital marketers must find a way to engage and retain audiences. With so much content, the competition for the share of voice is very high. Yet, the audience pool, which seems deceptively large, remains constant.
Digital marketing strategies must start from a place of understanding the post-Covid customer. They must then look for innovative ways to break above the clutter.
Take the example of parents needing more control over the kids' content while at home. Having filters or controls on smart speakers to weed out explicit lyrics can be a strong selling point.
4. Opportunity For Content Optimization For Greater Visibility
One of the best ways to achieve good rankings on search engines is content optimization. The fundamentals remain the same. Such include relevant and engaging content that responds to an identified need. But, there is more.
Post-Covid consumer behavior is showing a shift in the type of search queries. People are looking for DIY and skill-based content. They want to save money by taking on some projects themselves.
For others, skills like cooking, landscaping, home improvement, and beauty hacks have become more critical.
Marketers must focus on creating content around knowledge, inspiration, and ideas that make life at home better. Other areas include work from home, homeschooling, wellbeing, and online entertainment.
Let's say your company offers podcast and digital marketing services for emerging artists. Blog articles with titles like how podcasting can grow your fan base would generate a lot of interest. Budding entrepreneurs would be interested in topics like starting a podcast and rake in the big bucks.
5. Brand Loyalty Is No Longer A Guarantee
Companies operating in the post-Covid era have to shift their thinking. They can no longer hide behind messaging espousing product attributes. Do you want to know why? Well, the post-Covid period has resulted in less brand loyalty amongst customers.
Even very strong brands are seeing significant changes in consumption habits. People are now more curious about new brands and products. Private label brands, for example, are becoming more relevant.
Digital marketing provides exposure for people who may have never had a chance to get visibility using traditional advertising methods. Let's go back to the example of the music industry for a minute.
The challenge for emerging or budding artists was prohibitive creation, advertising, production, and distribution costs. The digitalization of music has been a significant game-changer.
With the laptop and internet connectivity, an artist can produce and release music into the market. They no longer have to go through production companies to do this.
For the consumers, they get a chance to sample new music and genres. Digital marketers have an opportunity to capture new customers. They must, however, be aware of the reasons and trends that characterize the brand migration.
Reinforcing relationships with existing customers is a key consideration. We can, therefore, expect higher spend in retention and loyalty marketing. The focus on performance or product-based marketing will no longer be the only way.
6. A Change In The Competitor Landscape
In the pre-Covid era, the conversation was about how to trump the competitors. But now, the focus is on how to give customers the best experience to remain relevant.
The modern tech-savvy consumer is discerning and very demanding. They have higher expectations of what they want or need from brands.
Companies must now position themselves behind great values, not necessarily products. This is not to say that the customer does not want quality.
Rather, factors like trust, sustainability, social responsibility, and ethical sourcing are becoming more important. Customers look at such factors when deciding to buy a product or service.
Digital conversations can also make or break a business in seconds. A bad customer review, for example, can do a lot of damage. It would only take minutes for thousands if not millions of customers to read it.
Modern companies must invest in digital strategies that offer better personalization. They should anticipate and respond to customer needs at the right time and touchpoints.
Data-driven insights will provide the basis for all decision-making around managing customer experiences across the buyer journey. Building trust and better relationships is now a driving force for marketers.
It goes back to our point of retention and loyalty marketing taking center stage. Capturing customer sentiments and responding accordingly will no longer be a choice.
Final Thoughts
Podcasting and digital marketing in the post-Covid era come with tons of challenges and opportunities. One positive aspect is that it has leveled the playing field.
Large and small companies can compete for a share of voice on many platforms. Multiple channels like podcasts, websites, and social media are available to all.
But, the post-Covid customer has undergone significant changes. Such clients are less loyal to brands and are willing to explore a bit more.
Yet, they are more demanding due to access to huge sources of information. They also place great value on additional factors when deciding to buy a product or service.
Brands will have to work harder to win them over. Building on factors like sustainability, environmental and social consciousness is crucial.
Digital marketers have the task of retaining existing customers and turning them into loyal customers. Personalization of services and experiences will go a long way in achieving that.
The marketing landscape post-Covid is truly exciting because it requires a total paradigm shift amongst the players. Over to you podcasters and digital marketers!