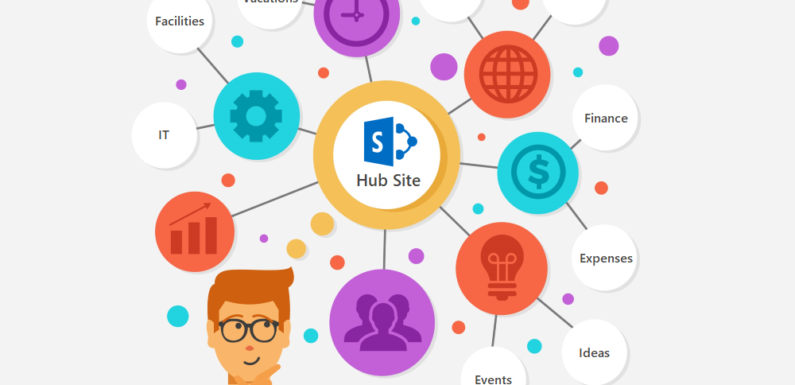 What are hub sites? According to Microsoft, they have come up with this site template within SharePoint for Office 365. Of course, the main objective behind creating a hub site is to help organizations add structure, aggregate news and search across sites, and organize what in a normal case would be a disconnected ecosystem of collaboration sites.
Are you seeking around for some help that can help you in connecting and organizing sites based on the project, department, division, region, etc? In general scenario, SharePoint hub sites make easier to:
Discover related content such as news and other site activities
Apply common navigation and branding across associated sites
Search across all associated sites
It may quite interest you to know that all sites can be created as separated site collections and when there is a natural association present with a hub, they can be attached.
SharePoint hub site features
The following features include:
#1 Persistent cross-site global navigation–
The feature made available and can be configured on the hub for all associated sites. This navigation, in particular, is revealed to be a shared header that can be applied on the consistent basis across all associated sites. Which actually means that any of the associated sites would share the same persistent navigation and one can end up creating a navigation experience across all previously disconnected sites.
#2 News roll-ups–
The feature is made available on the Hub for aggregating all associated site news created on sites within the hub. This is a great feature and has the potential to really change how companies communicate internally without the rigor and constraint of regular intranet homepage publishing. Apart from this, the feature has the ability to tune-out relatively noisy sites if you don't want their news to roll-up to the hub.
#3 Activity and site feed–
The feature being enabled on the hub to show what associated sites are attached. This is a great mechanism for showing the relationship of all the sites and for broadcasting changes that are happening from a collaboration standpoint without authoring a formal news announcement.
#4 A consistent logo and theme–
This feature can be applied to the hub and extended across all associated sites. This turns out to be extremely useful if you have a large enough business unit or program that comprises of its own identity and brand. It is very important for a site theme to be designed with this in mind and be flexible enough to accommodate.
Why use them?
Hub sites provide a simple way to organize your collections of team sites. In fact, it may quite interest you to know that such sites can be used to help organizations to not only manage the user experience in a better way across site collections. And it does not require having to enforce some unnatural hierarchy or organizational principles.
Hub sites are also known for providing a better navigation experience for end users. When configured properly, one can provide a 3-level persistent navigation mechanism to help end users see priority content or sites and quickly access it no matter what site they are on.
Hub sites create a new way for news to be authored and flow from the people that are closest to the work. Now that's what we call a major shift, they are used to have their internal communication carefully crafted by an internal communications team and posted on their intranet and related channels.
So that's all for now! For further information and details feel free to connect with a Sharepoint Development Company in town.