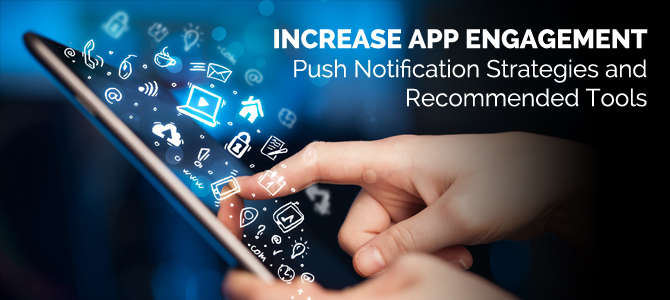 Many app developers spend years developing the perfect app to meet the needs and the demands of their targeted audience. However, some still lack the ability to develop other strategies that will increase app engagement. This can be very frustrating for many developers who lack solutions for these kinds of problems.
The development of push notification strategies and some key recommended tools can assist app developers in this area in ways that generate tremendous results for app users. Below is more information about what app developers can do to increase app engagement and push notification strategies.
Caution about Notification Frequency
Before we jump into push notification strategies, we have just a quick word of caution about the frequency of notifications. First of all, the use of the push notification strategy can be a reminder about and how users can benefit from it. But the ideal, however, is to be strategic in the delivery of notifications and not overdo it by sending notifications too frequently. This not only frustrates users but when they receive too many notifications too frequently, they will also miss or overlook those notifications that are of extreme urgency.
At the same time, it's also important not to send notifications too infrequently, because this is what causes users to not be as fully engaged as they could be. In cases like this, users can eventually move on to the next app if they lose interest in a previous one. Once this takes place, it is even more challenging to regain their trust and interest in your app.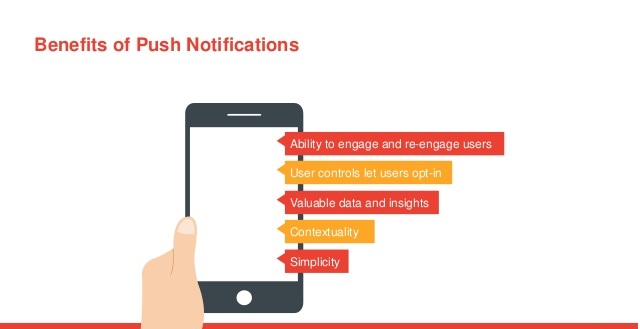 So when implementing the strategies indicated below, be sure to use the proper amount of frequency when sending notifications to your customers.
1. Capture Your User's Attention by Using Opt-In Features
Although standard features associated with apps have a limited amount of space that developers can use to communicate with their users, the use of a well-thought-out, strategically developed splash page can be used to say more to your audience about the app. Developers can add additional information such as the importance of opting in to receive future notifications on the splash page that they may not otherwise have the opportunity to do due to limited space. A tool formally referred to as "Push Pre-Permission" is a great way to tremendously increase this effort. In fact, previous users of this tool have seen opt-in increases by roughly 182%.
2. Remind Users Of Updates
Another way to increase app engagement is by letting your users know that you will be sending them ongoing updates on an as-needed basis. You can also remind them of the importance of turning on their automatic app updates so that they do not miss any important messages. This works well when competitors add new features to similar apps.  Once your audience learns of this, they will be expecting the same features to appear on your next version of the app.  You can use the notifications to provide your users with information about new and improved features that you will be adding to the app as well. This lets users know what's coming down the pipe and causes them to not only look forward to any new updates, but it also increases customer loyalty.
3. Create Limited Time Offers
When app developers create limited time offers whereby they will be offering something of extreme value to their users, this typically captures their attention normally resulting in them taking advantage of the offer. It should also be clear that the offer will expire soon while also creating a sense of urgency. This will also prompt users to respond in a timely fashion as well.
4. Increase Personalization
In a recent study, researchers have found that app developers who communicate with their users on a more personal level have experienced an increase in retention and overall engagement. To do this, it's important to create a solid market content strategy based on your various market segments. To be more specific, you can develop strategies based on your target audiences demographics, such as their gender, age or even geographically as well. Additionally, you can send messages to first-time users, or after the app has been used for the first time, thanking them for the download and requesting feedback. This makes customers feel important increases engagement engaged.
5. Reach Out to Former Customers
With the high amount competition in the app development industry, it is easy for developers to lose customers to their competitors. However, something as simple as letting customers know that you've missed them can go a long way. Especially if you remind them of what it was that they liked about your app in the first place. You can also let them know about any improvements that are scheduled to be taking place and how they can benefit by returning as one of your preferred customers. To that end, you can also offer rewards, discounts, or coupons whenever possible.
Strategies for Inactive Users
Generally speaking, push notifications is also a great way for app developers to detect when customers may be losing interest in their app. They can use it as a means to gauge and better monitor how active users are. With tools such as Netwrix, developers can see how active their customers are and send notifications to inactive users to remind them of the various components of the app that they are missing out on by being inactive.
Additionally, app developers who also respond to comments made by users who may have identified flaws in the app is also another great way to stay connected to your users. You can alert users of your intent to address the problem, which further increases user engagement.
To conclude: push notifications is a great way to increase over and grow your business. It can also be used as a way to change the way users view you, your brand and use your app.