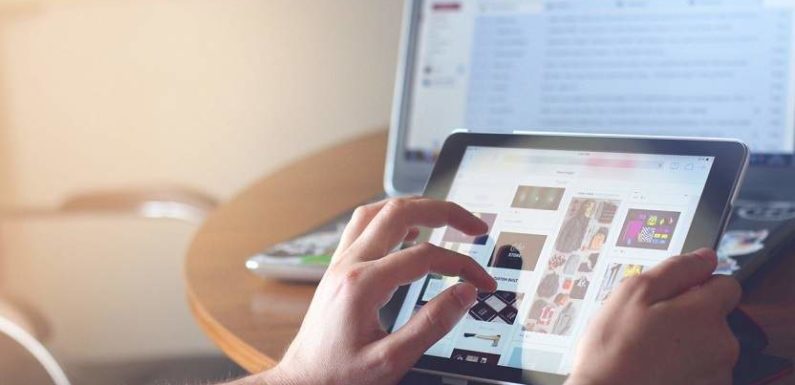 Things make the world go round. And when it comes to brands, 'things' mean big bucks. Think about it. What's your 'thing'? From Starbucks coffee cups to rocking our favourite film character t-shirts, we're all keen to represent our interests as visibly as possible – making us (often unknowingly) brand evangelists.

Anybody who sells online will understand the value and power of this kind of brand loyalty.
Think about it:
Some of the world's leading brands (and some of the world's leading little guys) don't just sell their core products.
They also sell apparel in the form of accessories, prints and extras. In many cases, these have become deeply iconic and popular. Soft drinks, motorcycle brands, bands, movie franchises, and – yes – online retailers.
You may be thinking – but I sell products, and I sell them well. Why would I need to bother with merchandise too?
But there's a method to this madness.
Offering a range of merchandise can not only help you gain but retain customers.

As consumers, our relationships with brands can be like a marriage! We want to know we can rely on our favourite brand…but we also occasionally want to be surprised by them too.

Whatever you're selling online, whatever your brand or audience – there's a good chance that custom merchandise represents a good opportunity for you. It can drive ancillary income, and give your audience a piece of your brand to have and hold, deepening their engagement with your brand.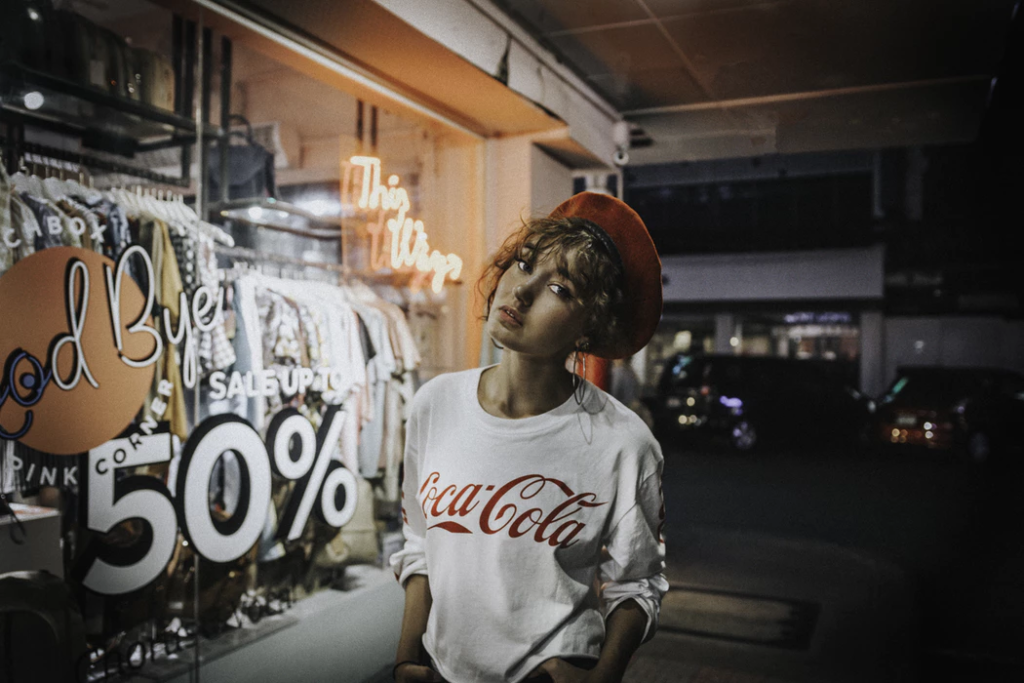 More merch, more problems
The problem is – setting up a merchandise operation has traditionally been very difficult for businesses. Smaller and medium sized eCommerce merchants are often attracted by the idea of merchandising.
But they are intimidated by the idea of setting it up, to the extent that they just continue to focus on their core business – and potentially miss out on a huge opportunity. Even big brands know the perils of e-commerce and traditional merchandising all too well. As a result, they are increasingly embracing the use of print-on-demand services and their benefits.
What is print-on-demand?
Print-on-demand (or POD) involves merchandise that is not printed in mass amounts but printed when (and only when) the company receives an order for that specific product or products. This allows for prints of singular or small quantities. Quite simply put, print on demand cuts out the middleman.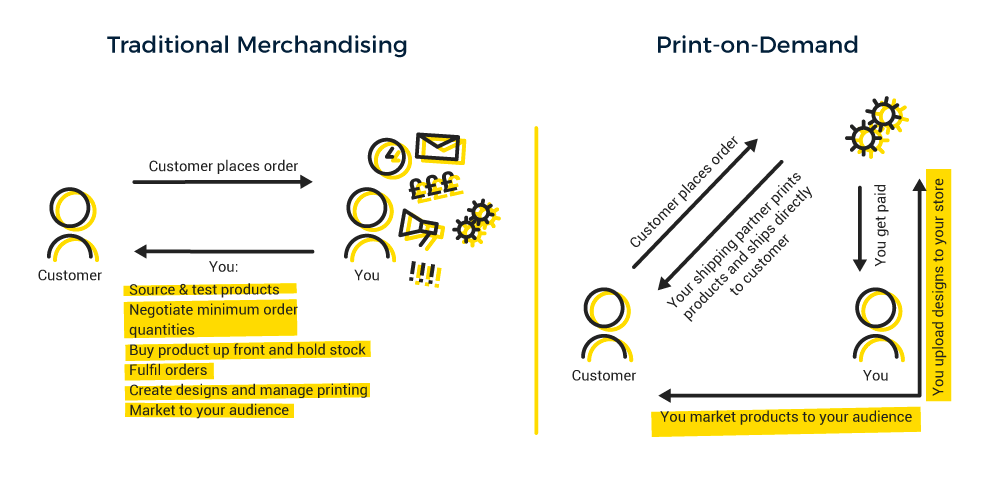 It works in the following way: your customers place an order, and that order is routed to the nearest print facility. Now here's the interesting bit. Rather than you personally having to deal with a laborious process of sourcing suppliers, shipping and handling etc at this point, the order is printed, packaged and dispatched directly to the customer's door on your behalf.
You're simply responsible for uploading your designs and marketing your product. You let the print on demand service do the rest, and you make a profit on each order.
Print-on-demand is increasingly popular among businesses for a number of reasons…
Increased Brand Loyalty
In order to understand how print-on-demand merch can build brand loyalty, we only need to consider the psychology of somebody wearing or using merch. Some of the best companies know the power of bringing brands and consumers together through immersive experiences.
Because these generate genuine positive emotions that in turn come to be associated with your brand. This is likely to inspire loyalty to your brand or products, as it gives consumers a sense that they are part of something bigger than themselves.
Offering More
Companies who demonstrate the best examples of customer loyalty and high-retention are those who actively offer something more to their customers. Sure, you have the big dogs like Google, Amazon and Netflix who are notoriously popular because of their ability to tap into their customers' needs. But there can often be a lot to learn from the little guys too, (the humble startups). These truly understand the value of making the customer experience personal.
The bottom line is that brands need to offer experiential marketing to be heard among the crowd. The way the customers feels when they interact with a brand is everything. And it makes the difference between them being a one-time purchaser to a full-time fan of your brand.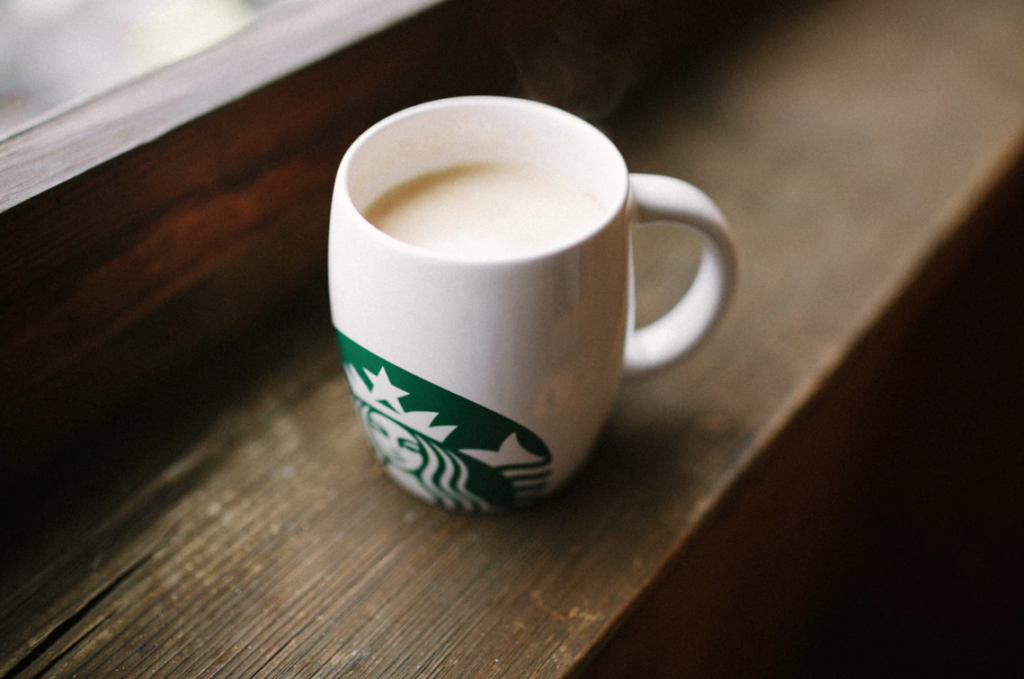 Revenue
eCommerce is incredibly competitive, incredibly cut-throat and any extra revenue streams you can secure are DEFINITELY worth consideration.

A merchandise range can do so much for your business in terms of increasing revenue streams, and because of the unique print-on-demand business model, it has a range of benefits over traditional merchandising that make it ideal for smaller businesses and individuals…
1) It saves time – Often a business' biggest gripe with traditional merchandising can be
worrying about a redundant stock, among other logistical nightmares, but with POD you're gaining time to focus on other aspects of the business.

2) It saves money – With POD you're only paying for what is sold. So each penny saved on the stock can instead be used towards your marketing budget, getting those all important leads to your site.

3) Low risk, high reward – POD takes the risk out of online selling, and the best part? – It abolishes any crippling upfront costs.
Getting Started
So, what next? It's time to set up an online store through which you can sell your products. It can seem like a minefield out there when it comes to eCommerce platforms. But a great place to start is with the names you'll be most familiar with including the likes of Shopify, Magento, WooCommerce, BigCommerce, Volusion and 3DCart.
We've created comprehensive guides to getting started with Kite on Shopify and BigCommerce.

So if your business is primarily product-focussed, it's definitely worth taking the time to consider the added value of merchandising as an extra (and lucrative) revenue stream.

Remember: things make the world go round – so ensure you're giving your customers more great things to buy!