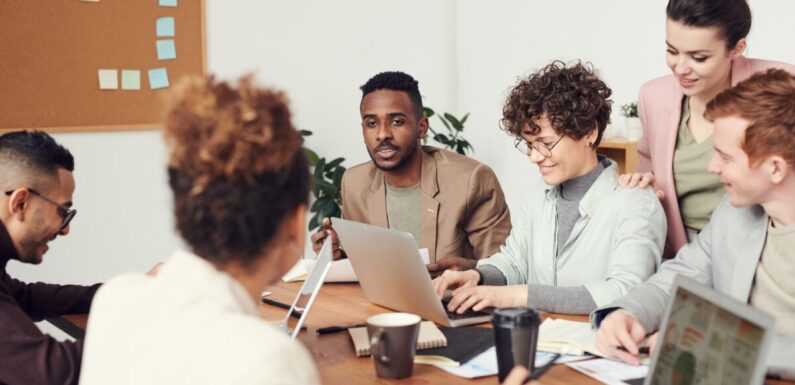 How do I open OLM files on Mac without Outlook? Is this question bother you? Don't worry, you are landed in the right place. In this article, we will describe the process to convert OLM to MBOX. But before that, you need to know some information about it.
OLM and MBOX are two file formats used by different email clients. Outlook for Mac uses OLM to store email messages, calendars, journals, and other types of application data. While the MBOX is an email mailbox that is used by many email clients to save email messages in a single text file. But do you know why there is a need to export the OLM file to MBOX and what its benefits are? Let's discuss this in detail.
Why Do Users Convert Mac OLM files to MBOX?
Now we will get to know why you should convert Outlook OLM to MBOX. There are various reasons why users choose to convert the OLM file. If you are also willing to know, just go through the article.
MBOX has a user-friendly interface that is easier to understand than the OLM file.
Only Outlook for Mac uses OLM files. But 25+ email clients support the MBOX file, including Thunderbird, Apple Mail, Opera Mail, etc.
To access the OLM file, users need Mac OS. While, MBOX files can open in Windows, Mac, and Linux.
Now, you can understand the necessity to convert OLM to MBOX. If you are willing to convert the files, move to the next section to learn the process of conversion.
How to Export OLM File to MBOX Manually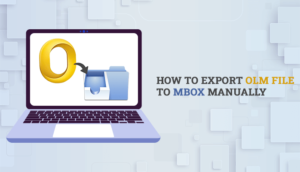 Here we will describe how to convert OLM files to MBOX manually. In the manual method, you can't convert the OLM file directly. So, first, we have to convert OLM to PST format. Then, we will convert PST to MBOX. To know the complete process, go through the given steps:
Open Gmail and log in to your account by entering the required credentials.
Open the Setting by clicking on the Gear icon.
Click on the Forwarding and POP/IMAP options.
Enable the IMAP and save the changes.
After that, Open Outlook for Mac and click the Tool menu.
Select Account, then go for Email.
Enter your account credentials and go through the IMAP server, then add your account.
Go to the emails and select the item.
Right-click on the selected item and move to the folder.
From your system, open the Control Panel and click on the Mail option.
Click on Open an Account and select the New button.
Choose the appropriate settings to set up the IMAP account with Microsoft Outlook.
Select the Import/Export option to save the OLM file to PST.
From the above-discussed method, you can transfer the OLM file to PST. Now, you need to export the PST file to MBOX with the help of the converter tool. The process is quite lengthy and it is one of its limitations. Make sure to read some other limitations before following the manual method.
Drawbacks to Convert OLM to MBOX Manually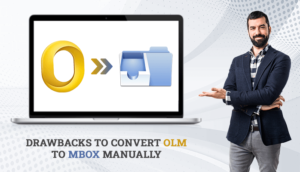 However, we have discussed the manual process to convert Outlook OLM to MBOX, but it has some limitations. Before following the method, you need to know its drawbacks. So you can aware of any possible losses. Have a look at the following:
This manual method is a very lengthy process. First, you need to convert the OLM file to PST and then it can import to the MBOX file.
It requires lots of technical knowledge and is not recommended for non-tech users.
This method needs a lot of attention and patience. If one step is missed, it may lead to data loss.
There are more possibilities for security breaches.
It does not facilitate the export of selective emails, you have to convert the entire folder.
There are high chances that it can disturb your email hierarchy.
It can make changes to the original data.
These are some limitations of the manual method that are not suitable for users. To avoid this issue, we have an automated solution too, which is far better than this. As per expert suggestion, OLM to MBOX converter is a perfect choice for data security. In the automate
d method, it becomes very easy to convert files and doesn't require any technical skills. The utility allows users to convert OLM to MBOX for the selected date range by applying the filter. It is embedded with many features that make it more reliable and safe to use.
Conclusion
In this blog, we have shared information about why you need to convert Mac OLM files to MBOX. Along with it, we have discussed the two ways to convert the files. Now, we came out to the conclusion that following the manual approach is too lengthy and is full of risk. At the same time, the OLM to MBOX converter is trusted and needs no effort. Hope this article resolves your query regarding the conversion of OLM to MBOX. Thanks for your precious time.