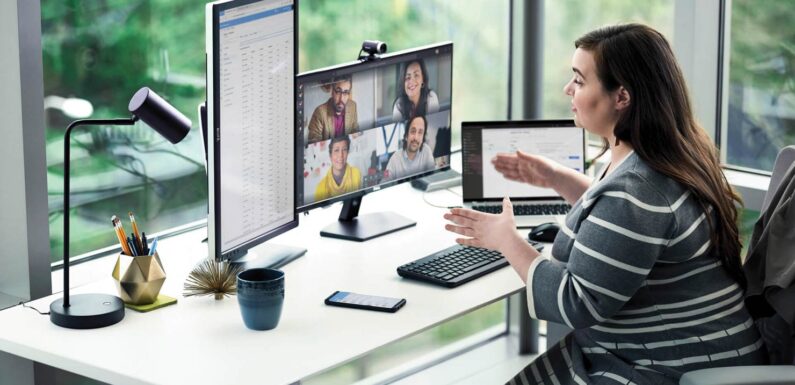 The Pandemic has driven an extraordinary rise in the development of the Video Conferencing Market. The market size for Video Chat Apps is projected to reach $6 billion by the year 2030. Moreover, the download rates of the popular video chat apps are hitting the highest spots since 2020.
The growth of Zoom App and the surge in demand for more video conferencing solutions are some of the compelling reasons for you to embark upon your own brand of Video Chat application. So if that interests you, from the business point of view, we will put across 9 easy steps that will make your online video chat app development journey easier, through this blog.
What Makes the Investments into Video Calling Apps so Optimistic?
The Video calling application market was valued at $5.77 billion in 2020, and it touched $6.28 billion in 2021. This is an impressive growth indicative of a $12.99 billion market by the end of 2028.
This growth has largely resulted from the fact that many companies benefited from introducing video-calling technology. The expenses decreased and teamwork got better. In the coming future, video chat technology will see a lot of improvements in terms of quality and use. To quote an example, sooner we may be able to see smartwatches allowing video call features; therefore, the demand for video call apps is going to be vast.
Since this market has a large opportunity, Zoom propelled a $100 million fund for development, to support the startups for raising extra tools on top of their platform. This surely, propels sales growth, new business opportunities, customer support, security, and much more in this arena.
Step 1: Make a Blueprint of your Ideas
Set your goals and put them down on paper so that your app does not go unnoticed in the stream of app store releases. Daily there are about 6000 app releases in the app store. Canvassing your goals will make your beginnings productive.
Having a coarse layout of what you want helps to set your first app impression in less time. This canvas should cover business constituents like perceived values, subdivisions, customer identification, returns, etc.
Step 2: Mark down the Important Features of your App
We are listing some very important video chat app features that should not be missed while building a mainstream app:
Recording
The recording is an important feature for team meetings. The live meetings can be recorded and saved to be watched and shared later. This helps document the images, audio, and videos for later use. For the record feature to be used in the application, developers need to incorporate a registration or name addition process before the users join a video call.
Contacts and Associations
This feature lets users find and connect with people by searching on the contact list of their mobile phone and application. The app should be able to search for people both by their real names and screen names.
Profile
The profile of the user usually includes information like name, email, password, phone number, payment details, subscription type, and more. To be able to manage this information is very important for the user, so profile management options must be there in the video chat application.
Audio/ Video Calls
Audio and video calls are a must-have facility for all the communication applications of this time. This lets people from different geographic locations fruitfully interact with each other seamlessly.
Text Messaging
It is not always possible to be able to get connected through a video call. At times users may want to leave written messages due to poor network or because of work, making text messaging convenient at such times. Even for a video chat app, text chat features improve the video chat experience.
Step 3: Wireframe, Prototypes, and Mock–up consummation
Wireframe, prototyping, and mock-ups are different stages of perfecting the design of your app. There is a need to invest a good deal of time at this stage as it decides the final look and plan of your app. Having a fair knowledge of your Wireframe, prototyping, and mock-ups supports in terms of clarity of app functions and market clearance.
Step 4: Put Together the Application User Interface Required for the app
Not all video calling apps guarantee interface satisfaction to the users. A good UI increases the capability of the application to be understood, learned, and used. An app designed based on user preference enhances its acceptance. A functionally clean and striking app becomes successful and the front-end development contributes to this. So, decide what to use in terms of the type of application, its native, hybrid, web, or mobile interface.
Step 5: Establish the Backend
A chat backend of an app delivers the tools needed to create and deploy a functional chat server. The backend server gives the infra for adding chat through video chat APIs. This is the non-user interface part of the application and covers the logical part of the application. It does the functions of planning business rules, invoking APIs to use, and storing data. Developers use it for mechanizing tasks like e.g. data backup.
Step 6: Landing Page
Landing pages can lead to the call to action from your mobile video chat apps. There are a number of benefits to derive from a landing page strategy for every growing business. Developers focus on landing pages because they can attract a target audience, provide the users with some valuable information, convert converting prospects, etc. They have the capability to build up a stronger brand.
Step 7: Test your Application
Evaluation is very important as the target is to get maximum downloads for your new video chat app. The download rate is high only when there are more satisfied users. Therefore, testing is crucial. A pleasantly functional app can also earn referrals, ultimately adding up to the number of users. Pass the application through these tests to ensure that the app is universally accepted.
Functional testing,
Compatibility Test,
UI test,
Performance test and
Usability tests
Step 8: Collect and work on Consumer Feedback
Feedback received after temporary publishing helps to lower the usability barriers and get wider acceptance. Introduce the app to the prospects for realistic feedback.
Step 9: Market your App
Since the competition among app developers is constantly on an increase. How will you establish your brand in the sea of other video applications? This is why some app developers start marketing their apps even at the nascent stages of app development. They are creating hype and attracting the attention of a potential user who is looking for what is being built. All the above hard work yields success through promotions. Plan promotions through video showcasing, social media, blogging, and presentations.
Final Words
The market is overwhelmed by a number of different products and thousands of contenders. Yet, this is the right time to hit this anticipated and optimistic market with the right product. Work upon your idea of a video chat app, and work through high-level specifications, to design your one-to-one video chat app.
Hoping that this blog has helped you with fair insights about video chat app development, the potential benefits, and a better development strategy. Stay connected with us to be updated about the most rampant video chat features and technologies.