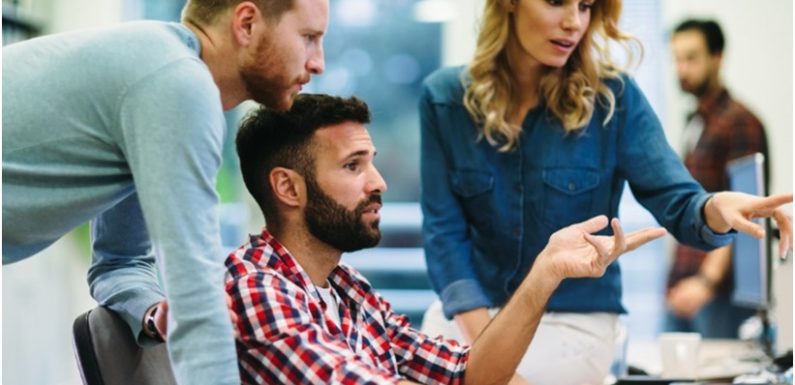 Accounting lies at the core of every business. A firm must have a seamless accounting process to ensure financial stability. Globalization, digitalization, and ever-increasing competition in the market are some of the most significant challenges faced by an accounting firm today.
Accountants and CPAs are continuously trying to look for solutions that will improve their productivity and help them to keep up with the changes.
In order to meet client needs, improve the accuracy in accounting, and better financial data management, companies are trying to adopt modern-day technologies like cloud computing.
According to a recent survey by Xero, firms that used the cloud for all of their accounting tasks saw over a 15% increase in their yearly revenue.
Cloud technology has helped businesses to adapt to rapid changes in the accounting industry.
Here are some issues faced during the accounting process and how the cloud can help solve them:
Lack of Communication
The accounting data needs to be transferred between accountants, CPAs, tax preparers, and other stakeholders on a regular basis. Emailing ordal faxing this data back and forth makes it a tedious task. Often, professionals need to collaborate on a single platform.
The accounting data has to be edited multiple times and saving it locally on different devices can cause duplicity and inaccuracy in accounting data. Also, sharing these files numerous times, take in much time.
Solution:
Cloud enables real-time collaboration on a single file with business partners, colleagues, employees, and clients. Clients can access their accounting data from any location on the cloud and provide their feedback accordingly.
It builds trust by promoting transparency in their data. The businesses established in multiple geographical locations and time-zones can improve their workflow by securely collaborating from any site through any internet-connected device.
Managing a Large Amount of Financial Data
It is essential for accountants and tax preparers to keep records of financial and tax data of their business. But, managing and storing this data can be a tedious task. Critical files can easily get lost in the pile of disorganized and out-dated documents.
One of the major causes of it is the limited storage availability of the local physical device. Storing a large amount of data on local devices not only causes inefficiency due to unorganized data but is also vulnerable to security threats to any confidential information.
Solution:
Cloud hosting providers offer options to scale up or down the resources to fit the specific needs of a business. It is quite convenient to increase or decrease the amount of storage needed.
Moreover, the cloud eliminates the chances of accidental data loss since all of the data is not stored locally on a single device. Cloud service providers provide regular backups of files and documents, which enables continuity of business even during any disaster.
Limited Access To The Accounting Data
Accountants need all-time access to the bookkeeping data as their work is not limited to the office desktop. The inability to access the accounting software and data remotely impact their ability to carry out urgent tasks.
Accountants have to use accounting software installed on the local office desktop. This consumes a lot of their time and even increases the travel cost.
Solution:
Hosting accounting software such as QuickBooks Enterprise on the cloud enables the professionals to access it from anywhere and at any time through any internet-connected device. Accountants and CPAs can work from the convenience of their homes, which increases employee satisfaction rate. It also helps them in serving their clients in a better way as they are not bound to a single device.
Need For Third-Party Integration
For seamless accounting and better customer experience, there is a need to integrate accounting software with third-party applications such as tax software, CRM software, payment portals, and more.
Accountants face many issues during the integration of these add-ons. Integrating several add-ons has an adverse effect on the performance of the software as there is a constant requirement for upscaling resources like RAM and storage space, which cannot be provided by on-premise local hardware.
Solution:
Cloud-based accounting solutions can support integrations with several third-party applications without affecting the performance of the software. Firms can accomplish all the financial, e-filing, and other tasks all under the same roof using cloud services. It reduces most of the manual work and improves efficiency.
Higher Infrastructure Expenses
Most of the accounting firms have to invest a large amount of money in IT infrastructure to cater to the client's needs. Businesses further have to hire an IT team to maintain the infrastructure. It also adds to the expenses of business operations. The requirements of an accounting firm keep on changing with time. It becomes a challenge for a business to control the operational budget.
Solution:
Cloud drastically minimizes the cost of purchasing and maintaining the hardware. Cloud vendors provide constant support for all IT-related issues. One of the main reasons which make cloud budget-friendly is that firms pay only for the services they're using. Cloud also encourages accountants and other professionals to bring their own devices for work, which significantly decreases the hardware cost.
Monitoring The Outsourced Services
Businesses (especially small firms) need to outsource most of their tasks. For example, during the busy tax season, the demand for tax professionals increases. Hence, companies prefer hiring interns or take outsourced services for that time period.
It is challenging for firms to manage and keep track of outside sources. Many a time, a business faces communication issues with these subcontractors. It further becomes hard to monitor their performance.
Solution:
Cloud delivers solutions for effective and safe outsourcing. It enables businesses to keep track of the tasks accomplished by providing effective monitoring services. One can easily audit trail, control the number of authorized users, and measure performance.
In Conclusion:
Today, most of the CPAs and accountants have adopted a cloud-based approach for all of their bookkeeping processes. It has simplified the work of professionals by manifolds and has increased the accuracy of the work.
Also, it has eliminated the lack of transparency within the system and increased the client satisfaction rate. Therefore, cloud computing is set to change the process of how an accounting industry works. An accounting industry should consider moving their accounting process to the cloud to stay ahead of the competition.