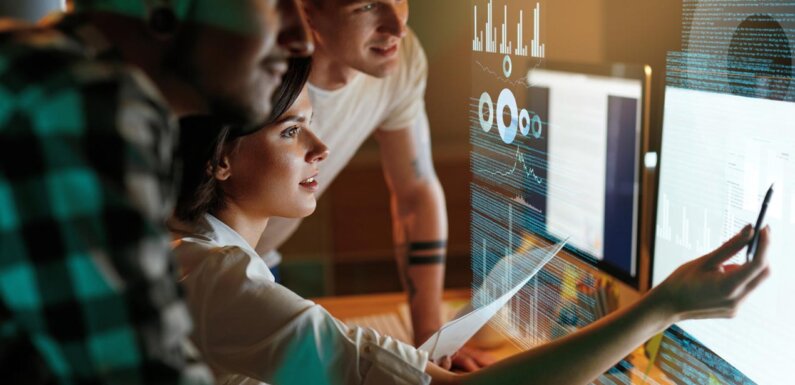 Artificial intelligence has pervaded nearly every sector and industry possible with its limitless possibilities for speed, accuracy, and consistency. And one area where it's truly shining is onboarding. In fact, according to a Deloitte survey, established brands such as Under Armour, HBO, FedEx, Goldman Sachs, Walmart, etc., have been using AI-fueled interviews.
Given that we're all in the thick of a global pandemic, enterprises are leveraging this intelligent technology to fast-track scalable and effective decision-making, especially when it comes to onboarding new talent virtually.
In this blog, we will look at the top-3 ways in which AI is paving the way for a seamless onboarding experience. Let's get started.
Top-3 Applications Of AI In Onboarding
1. Simplified And Streamlined Employee Onboarding
The importance of an effective (and useful) employee onboarding program cannot be emphasized enough. Research by Glassdoor indicates that enterprises with a robust onboarding process can leverage added benefits of hire-retention (82%) and increased productivity (70%).
That said, it's common knowledge that onboarding a new hire means dealing with mountains worth of paperwork. But what if we told you that you could automate the entire process of collecting and storing the paperwork? Additionally, an AI onboarding tool can:
Pre-screen candidates and set up interviews with the short-listed ones:
Provide a host of useful fundamental information at the click of a button, such as an overview of company policies, login information, salary and perks, work-from-home policies, etc.
Eliminate monotonous and repetitive manual tasks such as monitoring whether or not the document has the necessary information such as electronic signatures, whether (or not) it has been thoroughly read, etc.
Take over the time-consuming tasks like filing online forms allowing your HR team to focus on other more complex and creative demands of the job. Basically, these tools can be fed specific rules that they need to follow when filling forms.
Allocate required permissions and schedule meetings for the employee to understand the requirements of the job accurately and efficiently.
In addition to the tasks mentioned above, AI tools can be used to bring new hires up-to-speed and close the 'expectation' gap early on in the hiring process. Multinational brand, Honeywell, takes their onboarding process seriously by using virtual reality (VR) and augmented reality (AR) training tools to extract "lessons" from the experiences of the existing employees and pass them on to newer hires. This contemporary form of on-the-job training reportedly leads to an impressive 80% employee information retention even after three months:
Here's how it works:
– Employees carry out their daily tasks wearing AR headsets.
– This futuristic technology uses image recognition capabilities and records everything the employee does.
– New hires can playback the recordings and engage in an 'immersive experience' by using VR functionalities.
Key takeaway: A foolproof onboarding program allows potential hires to get a glimpse of the company's culture and its core values. From the HR employee's standpoint, it can 'take over' repetitive administrative tasks such as filling in important information and filing away the paperwork online.
2. Instant, Interactive, And Feedback-Driven Employee Onboarding
Ask any potential hire how their onboarding experience was, and nine times out of ten, they'll say it was 'rushed', 'unnecessarily lengthy,' or 'supremely uncomfortable.' This makes sense as most employees are quite apprehensive about asking questions related to leave or remote-work policies on the first day of their hire. Or when the onboarding program seems to stretch on for weeks, giving rise to situations such as information overload and frustrated employees. Enter: AI onboarding tools.
These automated tools can double up as an educative and informative knowledge base and be fed with all the necessary information that may be essential for a new hire. That's not all. Organizations can gamify the onboarding process to make it fun, engaging, and interactive! Take, for example, the Pymetrics use case, which uses a short series of games to assess a candidate's cognitive and emotional traits. The company aims to get a more holistic and unbiased evaluation of the potential hire by strategically avoiding data points relating to gender, socioeconomic status, or race:
Furthermore, some tools also allow you to capture employee feedback in real-time so that you can make changes to the onboarding experience and enhance it based on the employee's inputs. The more you capture and execute employee feedback, the more valued (and heard) your employees are going to feel, thereby boosting employee satisfaction and reducing attrition rates.
Key takeaway: AI-powered automated tools can make the onboarding experience less stressful and more interactive for employees, ensuring that every employee who jumps onboard has a better understanding of the company and its culture.
3. The Role Of Chatbots In Improving Customer Experience
AI-powered 24×7 chatbots allow onboarding to happen at the customer's convenience – even outside of office hours and in a virtual capacity. Since these chatbots work round-the-clock addressing questions on-the-go, they offer unparalleled convenience, personalization, and guidance throughout the onboarding journey. Take the use case of Saxo Bank, which reduced its customer onboarding program to an hour using machine learning and robotic process automation. The result? The company's onboarding journey reduced from five days to less than one hour, with the brand being able to onboard over 18,000 customers in the month of April, instead of the average of 1,500 a month. Richard Douglas, Global COO of group IT at Saxo Bank, explains:
"So we achieved 12x scalability in terms of being able to onboard clients without adding one additional headcount into the onboarding team."
Additionally, automation allows customers to self-serve and get all the information they need without the need to attend endless meetings and calls. As you can imagine, it greatly enhances the customer experience and allows them to connect with the brand more organically.
Key takeaway: Customers today expect the onboarding experience to be personalized, quick, and seamless – all of which are the specialties of automated onboarding chatbots. These bots can offer information on-demand and answer your customer's queries instantly.
Wrapping Up: Onboarding And AI Go Hand-In-Hand
Onboarding is one of the most critical elements for enterprises – whether they're customer-facing or employee-focused. This is why it makes business as well as logical sense to leverage the capabilities of automated tools to ease and accelerate the onboarding process while augmenting the expertise of your HR employees and retaining the human side of onboarding – or your organization runs the risk of looking too robotic and uncaring. Thoughts?