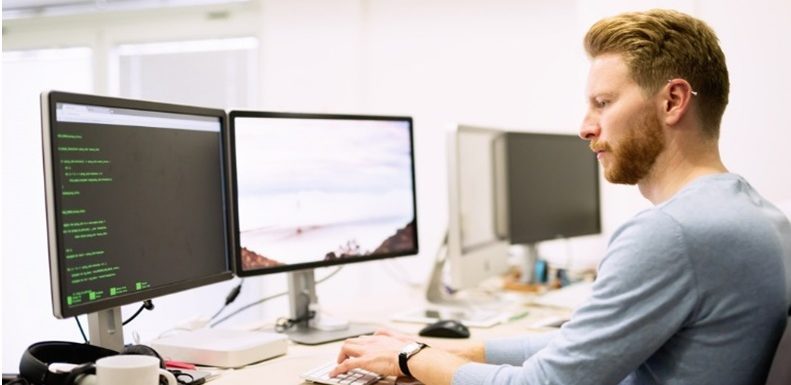 Lots of people in the tech world, including plenty of startup CEOs, swear that a bachelor's in computer science isn't worth it. But what if they're wrong? Technology is the only STEM field in which employer demand matches graduation rates, meaning your job prospects will be strong once you've completed your studies, and the fact of the matter is that a computer science degree can earn you a starting salary of $57,000 to $65,000, depending on who you ask.
If you want to work in IT, or are already working in IT, it can be hard to see the value of a computer science degree when you can learn so much of your trade on the job. In a quickly-evolving industry, it's important to stay on top of the day-to-day changes that take place in hardware and software development.
However, a degree in computer science is valuable because it gives you a foundational understanding of the theories and concepts behind the tools you'll use every day. You'll know not just what to use, but why you're using it – and which tools are best for which jobs.
Avoid the Dreaded Plateau
Many programmers and software developers, especially younger professionals without much formal training in computer science, fear to reach a plateau, at which they find that they've "topped out" their skills and can't progress any further. When this happens, it's usually because the professional didn't take the time to learn the fundamentals of computer science before embarking on a technology career. Programming and software development involves making computers do things; computer science is the study of how they do things.
Studying computer science will give you the base of knowledge you'll participate at the highest levels of discourse in your industry. Your in-depth understanding of how computers work, and the concepts underlying how different types of software tools work, will allow you to make educated decisions about your work, such as, "Is a real-time fault-tolerant distributed streaming platform the right tool to use to send messages between these two applications?"
If your ORM statement looks valid, but the database query is still running slowly, you'll be better equipped to solve the problem yourself, rather than passing it on to someone with more experience.
A computer science degree gives you a lot more than just a knowledge of the programming languages and tools that are popular right now. You'll be able to reach higher levels of intellectual abstraction, in order to visualize complex systems, choose the right tools to solve a problem, evaluate and analyze distributed systems, match patterns from one tool to the next to understand how they work similarly and differently and finally, critically assess any tool or system that crosses your path.
You won't have to worry about your skills becoming obsolete someday because you'll be learning how to learn new technology tools, programming languages and systems, and learning is the one skill that will not be needed.
Earn Your Degree While Working Full-Time
If you want to get into the tech industry, a computer science degree might be right for you. If you're already working full-time as a software developer, programmer, information systems expert or other IT field, you may worry that taking time away from your career to go to school will set you back, financially and professionally. Will the same tools and programming languages be as popular in four years' time?
No matter where you are in life, the best solution may be to earn a bachelors in computer science online. If you're already a working professional, you can earn your degree online on your own schedule while still fulfilling your responsibilities to your company.
Your company may even be willing to pay for your degree by offering you tuition reimbursement. This is a great way to update your skills while minimizing your student loan debt, and it can also help you continue to take care of your family, pay your bills and earn that paycheck while you attend school. If you're worried about how to pay back your loan, you can consider automatic loan repayments as well.
While lots of tech gurus might claim that a computer science degree isn't worth earning, it's actually a credential with plenty of value. Employers want candidates with strong technology backgrounds, so with an education in computer science, you'll enjoy numerous opportunities, a high salary and great prospects for the length of your career.