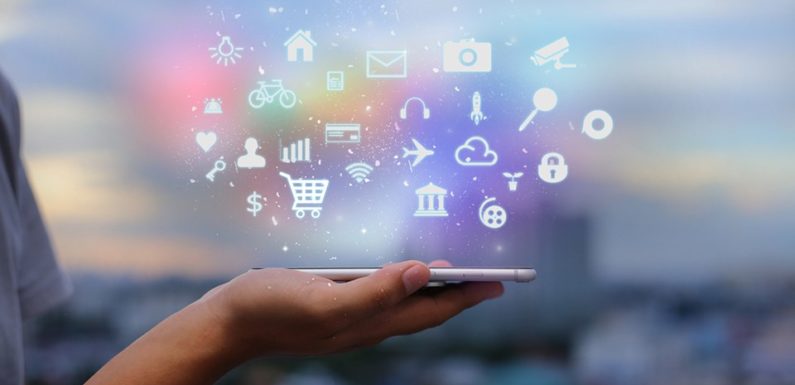 When I first heard about this topic I (personally) feel 'What a joke topic I created'!
I mean 'How it is possible to grow business 10X with the mobile app?'
But, when I research practically, I surprised, it is true to grow any business at (10X) with underlying points! Then I think maybe this topic gives me more traffic!
If you have a business and addressing customer's with an approach to deliver quality services in any case, you need to do tough work, I mean serious tough work.
In the real world, there are many business outlets for delivering better mobile app development services. As technology seems to set out on the stars where only stars can reach and It's Hard Grow business with mobile app, you need to be perfect in all cases.
Get a deep practical idea from this blog!
Mobile Apps
Talking about mobile applications, the statistics result said to me that, in the case study year (2018) the mobile app industry hit the revenue approximately '190 billion' in US currency!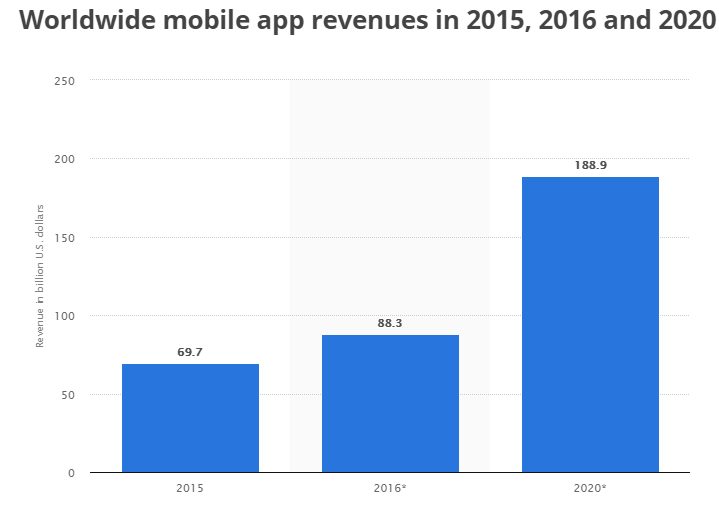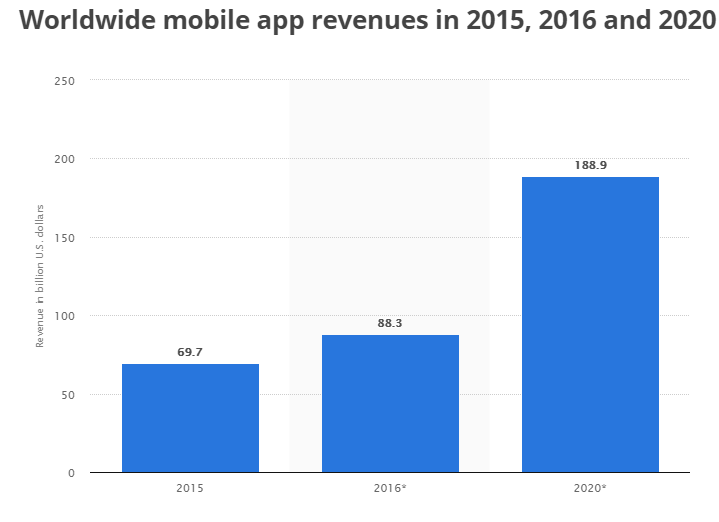 Source: www.statista.com/statistics/269025/worldwide-mobile-app-revenue-forecast/
The outcomes (I predict) are well matched with the result, the start-ups or existing enterprises need to be more virtues in the field to stay in the competition to earn constant revenue.
This is not a joke, (you understand well)!
Whether, I want to develop a hybrid application, native application or website application, all have quite a competition. Your business should attend diverted scenario towards mobile application development. If you clients demand (more) to develop a native application, you should analyze the ratio 'why most of the clients demand that'! This is another way to double your profit margin.
In case, you don't familiar with the types of mobile application (scroll down)…!
Native Apps
What are Native Apps? Why opt native for app development? Is native best among all?
All, your patience of questions will be revealed in this blog! (Continue to read)
Native Applications are like individuals or independent, means this type of application is developed for specific platforms like Android and iOS.
The native apps have a huge demand in the market (as you can feel), the reason why developers use native or its framework to build native application due to its reliable and advance combat features. It allows developers to build one specific application for a specific platform.
But one thing its limit making to decrease is that the maintenance and testing become hard.
Read more – 7 Reasons Why React Native Development is a Good Choice for Long-Term [Mobile Application]
Hybrid Apps
What is a Hybrid Application? Is it differing from Native and Web application? (Please tell me)!
I am sure you are likely to ask these questions! Yes…there is a minor (but) cognitive difference between hybrid and other stuff!
Let bring the difference on…!
The hybrid app is built with JAVA, HTML, and CSS which run in web view mode. Developers have a relief sign here is that they don't want to build an app for specific platforms, one app can work on the different platform too.
So, with these great feature lots of rational customers, users or whatever is likely to use hybrid application.
But this is not a valid reason to proof hybrid is the best…! There is one more to discuss.
Read more – 13 amazing facts about Hybrid Mobile App Frameworks in 2018
Web Apps
The web apps or web application is generally related to the term computer. According to the 'Web.AppStrom' says any website that possesses the component that performs some functions for the user qualities is termed as Web apps.
Do you know?
Web apps sometimes clash with native apps, an application which is developed for specific platforms or devices. However, the two are not mutually same or exclusive.
Read more – Say Hello to Progressive Web Application
Well, we discussed native, hybrid and web apps. But which is most suitable for app development, is the basic question arises here!
Let! Conclude to know which is best among all…!
Native Apps v/s Hybrid Apps v/s Web Apps
If I say the Native app is liked by the customers at 60%, Hybrid app at 55%, and web apps at 30%! Does it OK to say, that I will go for native application development?
Tell me, guys…!
What you will Opt?
[My opinion] Seriously it may be difficult to judge by percentage (%), let discuss with the basic measurements.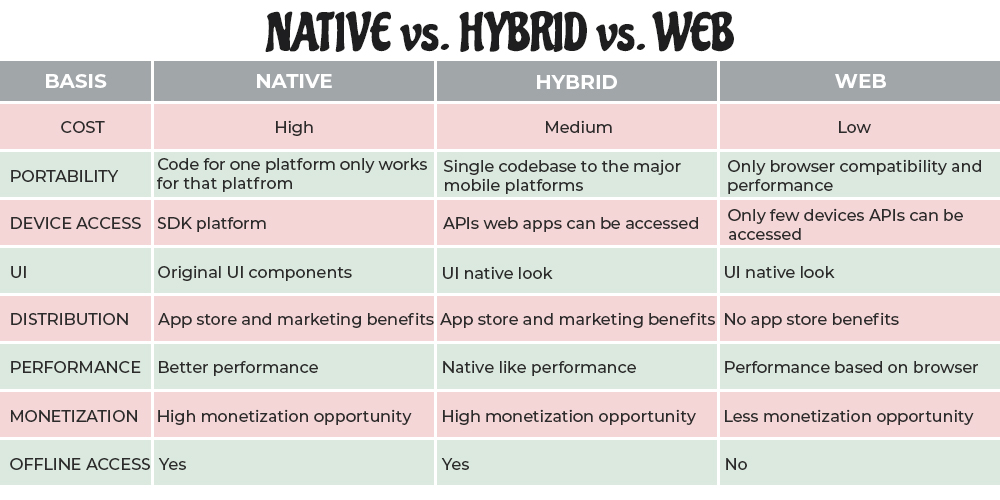 Don't you think developing a native application will be more effective than any other?
But the final decision is yours…!
After, going through 'big measurement' let jump to the features of the mobile application is quite a diverse manner!
Mobile App Features
Mobile apps come with dozens of advantages either for business, consumers or middle Corporators.
Talking to business, the mobile app has great (great) advantages leverage to the firms that help to grow with mobile apps.
Let' get to know in details: –
1. Social Integration
Businesses have rigorous benefits when they interact with social platforms. Integrating social media sharing has listed as a necessity for every mobile application. The million (plus) crows over the social platforms have the passionate consistency which delivers business as a profit earning platforms. So, if you're in STP mode, social media is the best option for targeting and growing potential consumers for your business.
2. Allow Customization
It is important to make sure that the users feel safe and quite free by using your application. To proof your best, mobile apps can really help your business to customize your audiences. Allow them to customize the app with the way they want to do!
This proofs your convenience rate towards your customers, so keep growing it by featuring mobile app.
3. Include Analytics
Mobile app features like checking analytics in order to track and identify user's geography are the best features of a mobile app for business. Tracking and evaluating users experiencing ratio is more important for your business nowadays rather than a payoff.
4. Eliminate Clicks
You wonder how it is possible. Once you have the user on your application, make sure you don't count them in turnaround time, be keen eliminating every unnecessary click or tap from your application. I mean to say, don't panic your customer for rigid, ask a minimum amount of information from the users.
5. Feedback System
The most curious way from which business can change their current shapes to a define position is only possible through a feedback system. The feedback system of mobile apps helps enterprises to change the taste of application as customers demand in the market.
So, (yeah) if you have a mobile app development company, please look at what your customer wants from your application.
Every business whether it is operating in large funding area or in the small congested area, mobile app and its magnificent features help business in to grow more vastly than any other tools.
Here guessing what features your business need for competitive mobile app development, here from this blog you can gather free of cost idea in minutes of time!
It is million dollar question; I am going to ask from you peoples!
What framework would you go to select for your app development?
Hmm! Guess!
Ok! Let me make it simple for you guys!
According to the statistics 'Node js' is the leading mobile app development framework in 2018 scenario (among) all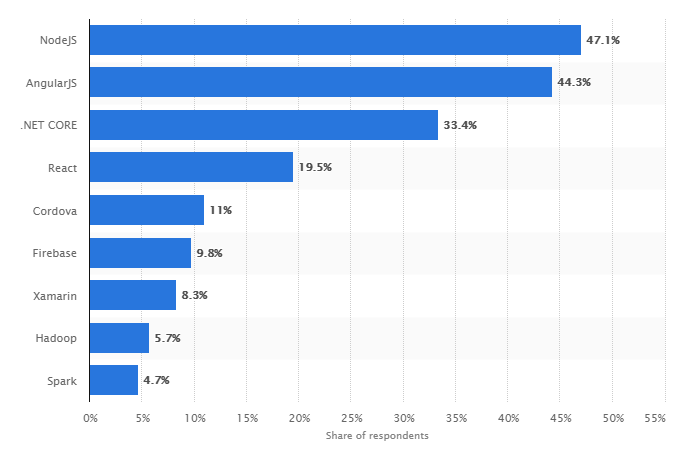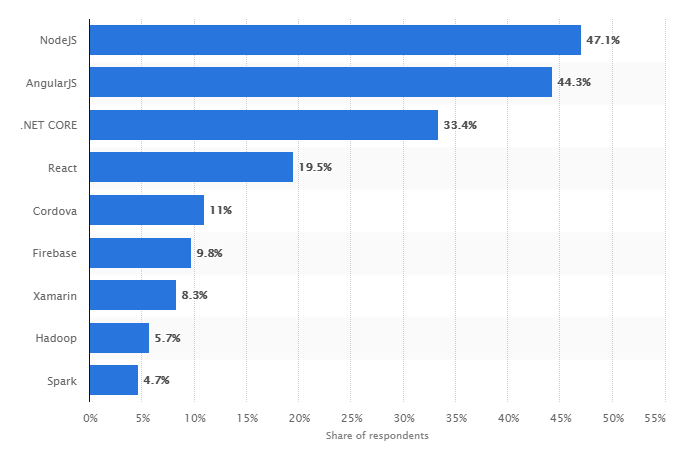 Source: https://www.statista.com/statistics/793840/worldwide-developer-survey-most-used-frameworks/
No waste of time! Look at the most invincible mobile app framework to be considered in 2018?
Mobile App Framework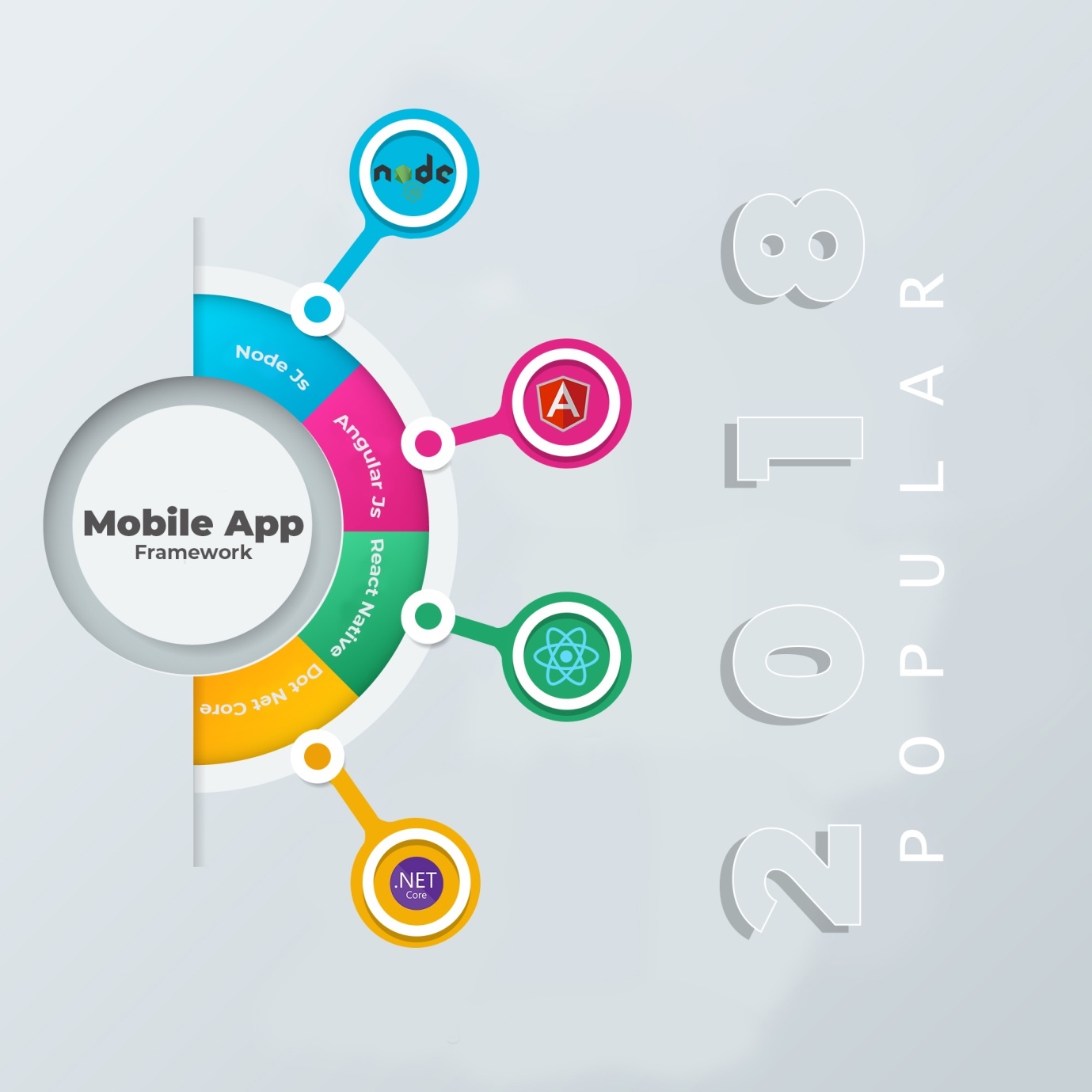 1. Node Js
Node.Js is the result of one such endeavor…!
The Node.js developers are making the JavaScript run-time fast and simple in an easy way, which is stimulating more and more businesses and enterprises to choose Node js development for app project.
2. Angular Js
Angular UI was released in the market in 2010, with the aim to get the best framework to build high and dynamic hybrid application in less time period.
To experience the smooth and native with full of integration, this framework plays best in all class role.
3. React Native
React native development framework have been increasingly fascinating the developers so much, due to its seamless and time-saving functionality, 'React Native is that we want from the last couple of years' developers say.
It is an open source SDK that adds magnificent design and writes code of the application in a smart way.
4. .NET CORE
The (dot) NET CORE is awesome, free and open source software development framework consist of a majority of CoreCLR programs just-in-time. Due to its offer fewer features and functionality you can build apps with ingredient taste as you want to add.
What type of development process your businesses have? It is 'Agile' or 'Simple'?
Does it matter for your business, opt for any kind of mobile app development process?
Mobile App Development Process
Don't be suck here?
(Speak your word)…!
It is important to go with the trend! It will leverage you with a lot of opportunities.  
Mobile app development process will give you crucial benefits (like) mention below: –
I bet you this is (exclusive) never go to find elsewhere…!
• Helps you in systematic work.
• Deciding in advance what to do, when to do, and how it will be done.
• No wastage of resources.
• Increases the managerial as well as developers efficiency.
• Helps in avoiding limitless activity.
• Helps in achieving goals at individual and group level.
• A step towards successful app development.
• Agile methodology is the future of app development.
• Develop an application with effortless tries.
• Scoop to look what application will be developed.
Apps for Business
The application has crossed the limit of downloads and achievement! It is true to say that the general and natural life will be turned into technologies around mobile applications.
The application plays an important role for individual, groups or corporate. It gives various heights of achievements; whether I talk about business applications, consumer's application or corporate application, each one has different advantages and taste to satisfy the individual needs.
Apps for business is must essential these days, where your customers screaming in the market for the matching product.
Through, business apps like sales apps, purchase app, P&L app have a great impact on sales and revenue. 
Let discuss!
Why Mobile Apps for Business?
Mobile application in combination with business is wider term!
More and more small size and midsize enterprises are following and reaching the mobile trends, and understanding the requirements of mobile-friendly applications.
Today, here I will disclose why mobile apps for business are important!

How To Grow [10X] Income With Mobile Apps? [Surprising Answer]

There is no doubt (mobile applications) directly or indirectly contributing in to boost mobile app development in to touch the (unthoughtable) success! Here are some useful ways I have mentioned which literally help your business in to grow 10X.
1. Think 100 Times
Start with the thinking will help you in to find (some) to earn the extra level of opportunity. But, it should be unique and competitive.
2. Do Well With Research
Marketing says, first study your target market and then start positioning of your product to earn great advantageous benefits.
3. Develop Strategic Planning
Do some top-level planning so, your competitor can't imagine your strategy to compete from you or else.
4. Give Everything
One popular slogan 'Give everything, to earn something' so implement your all inside and outside resources well in your business.
5. Manage With Proper Management
Effective management always ensure business with the greatest success! Just you need to do effective business management (which is not an easy task).
6. Boost Your Brand As Much As Possible
Give rocket boost in the market with transparent brand marketing, will literally help you to generate more income than before.
7. Stay Inside In the Competition
Live with the trend, know the trend, and stay with the trend is what your market competition saying to your business. Do exact in a similar manner.
8. Steal Your Competitor Ideas
'Stealing is not good, but for good, we have to do' check your competitor's platforms and position in the market to steal their next big level of idea.
9. Stay up All Time with Customers
Customers are the kingpin in the market (since tradition theories changed), focus on your product with customers needs and wants.
10. Improve Your Customer Services
Focus on pre-purchase, encounter, and post-purchase behavior, to know the exact behavior to lead your services in an improved manner.
11. Provide Value-Added Services
Delivering standard product is (OK), but constantly delivering that is not useful, mix some value-added services to increase in customer's number.
12. Bound Your Customers
Bound your customers into your offering by applying some 'sales promotion' techniques to attract and trap customer with you.
13. Build and Maintain Loyalty
Bring your loyalty in-front of the customers which likely generate more trust, mutual feelings and enhance brand image.
14. Generate 10X Income
[Wow] you can generate 10X income by (seriously) considering these top points (you just read) right now.
Conclusion
This is isn't over yet! I mean for mobile applications it is never going to end here only; there is wide scope open for mobile application development. These mentioned heads will help you in several regions. So, please don't overlook!
The main motive of my blog generates enough level of information (with 100%) correct data!
In this blog, you will know how mobile apps help business to earn the significant opportunity, and with some little extra efforts, you can earn [10X] income.
So, read this useful guide!
You like this blog please like and share…!