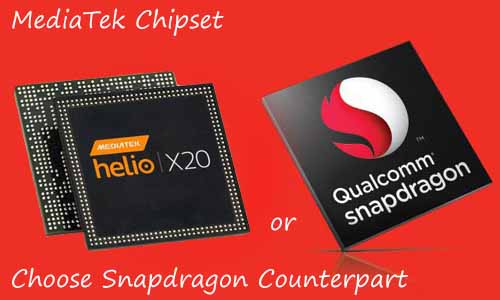 From years there has been a discussion between these two chipset brands. Snapdragon which is originated from the factories of Qualcomm is said to be one of the best chipsets in the industry. When it comes to MediaTek, they are far behind in technology from Qualcomm and is still struggling to make its reputation in various fields. First, let us get a brief knowledge about each company then we will discuss which is the best chipset out in the market.
MediaTek
MediaTek is a semiconductor based company, which churns out more than 1.5 billion products for the different targeted customer from its plant. The company along with their other products does manufacture System on Chip which we in short call as SoC. Today we are going to talk about MediaTek for the SoC part only; because that is the main chipset we get on any Mobile device.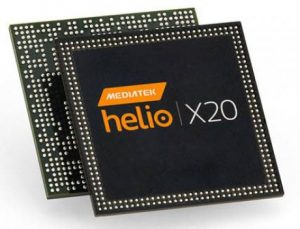 MediaTek currently has its chipsets classified into five different sub-brands, which are MediaTek Helio X Series, Helio P Series, Mid Range 4G, Entry Range 4G, 3G chipsets. Their top of the line chipset is the Helio X-series one. The Helio X-series comes with around six different chipsets as of now while the Helio X30 is the top of the line best chipset from the company.
Helio P-series is the target to users who need the good performance from their phone on a budget, while the rest of the chips are for the regular customers focused on specific features such as just calling and occasional Whatsapp. MediaTek has made only the Helio lineup of SoC to have features of the dual camera, and other features which make the device a bit fancy.
Qualcomm
This is the chipset company which we see powering most of the top of the line handsets but first, let us know a brief about the chipset company. Snapdragon is a series of System on chip semiconductor products which are designed and marketed by Qualcomm. Snapdragon is made for Mobile devices. Most of the SoC manufactured till now by Qualcomm used to be based on the ARM RISC instruction sets, but now even Qualcomm has got their instruction sets other them ARM and are using those in the future set of products.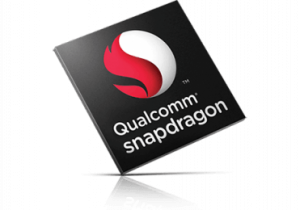 Qualcomm introduced its Krait micro architecture back in 2011, which made each core to adjust its clock according to the need of the mobile phone. Back in 2015, Qualcomm introduced the Kryo architecture which had a maximum clock of 2.45 GHz back then and was manufactured at a minimum of 10nm scale.
Qualcomm categories its chips in 4 different sub brands under the Snapdragon branding. The branding goes as 200-series Snapdragon chips for start of the line handsets; Snapdragon 400-series for entry-level to mid-segment devices; 600 –series for Mid-level devices to high-end devices while their top of the line 800-series devices is the target for high-end devices only.
Talking about the best Processor to go
Both Snapdragon and Qualcomm have quite a lot different types of SoC's manufactured till now, and most of the devices in the world currently use chips from these two manufacturers. Even though Samsung and Xiaomi have their plants and their own branded chipsets, but the majority of their devices tool use the chips from these brands.
It is for sure that these brand have some high-level of back-end research teams involved when it comes to SoC. This results to be a reason why they are currently the industry best segment leaders. People believe in these brands for long term usage.
Talking about Snapdragon, they always opt for optimizing their chipsets for a better performance and an excellent battery life. Snapdragon Chipsets even the basic entry level one such as Snapdragon 400-series of chips does a fairly well job and satisfy the need of the customer well. High-end chips are great and do provide extra features for the price we pay for those chips.
MediaTek has always been behind the number games, if we recalled back in 2015, we used to get true octa-core CPU from MediaTek where all the cores of the device used to run continuously, and it used to result in extra battery usage. Currently, MediaTek is the house for the 10-Core CPU in Mobile Industry with the Helio X20 & Helio X30.
Both the chipset manufacturers use the Same ARM Cortex core architecture which even others such as Exynos and Kirin from Huawei use.
Why Companies go with MediaTek when Qualcomm is a better bet?
From starting MediaTek chipsets have a love-point for devices which comes at a budget point. Mostly the devices which come with a budget price segment does not have much R&D from the company you are purchasing. These devices are re-branded devices from the bulk manufacturers in China.
So, for example, say if you get a 4G device for 5,000 INR, then the actual cost of the instrument would have been around 2500 – 3000 INR which is low, and that is why we see devices from Micromax, Lava, Intex, Karbonn being powered by MediaTek SoC.
Apart from this reason; these companies need to deliver the best price to performance ratio because their flagship handsets cost at a maximum of 15,000 – 20,000 INR. Hence they need the best SoC which will suffice their margins and will give the best performance to the users.
Should one opt-for MediaTek devices instead of Qualcomm?
The answer to this question is a No. Usually, MediaTek devices do not have an extensive R&D behind it, and even MediaTek devices do not support the large amount of 3rd party development, which every Snapdragon device does support. If we are getting a MediaTek device for x amount of price and a Snapdragon device with a bit scaled down specs at the same price, then we must opt in for the Snapdragon based handset. The Snapdragon based handset will have a better optimization and will give you a better long time performance instead of MediaTek which tends to throttle under load.
Hope this made you aware of the facts with which MediaTek and Qualcomm are targeting and marketing to the customers. So we do hope you can decide which is better for you.