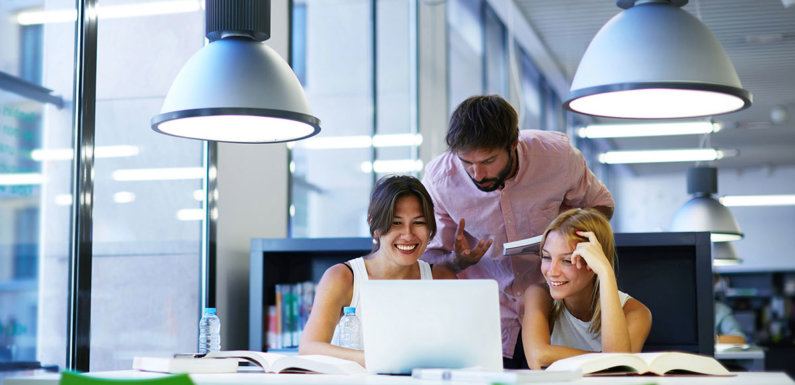 People who have never dealt with online business always worry about SEO. They are sure that the process of optimization is complicated and too technical. That's why newbies prefer to keep away from SEO.
It goes without saying that a simple lack of time doesn't give us a chance to discover how to do an SEO in detail. Probably, you don't even need to have in-depth knowledge of this. However, you must be familiar with the basics.
Why is it crucial to know this?
It will help you do the basics of optimization by yourself and never get ripped off with hiring some SEO expert for your website.
This guide is an excellent opportunity for everyone to understand SEO and succeed in getting organic traffic for your website.
Let's start!
What Does Your Target Audience Search For?
If you put aside all technical stuff regarding SEO, you will see that it gives you a clear vision of what your target audience search on the web and what they care about.
Don't get me wrong, SEO is not the way to understand your audience's psychology. SEO includes a bunch of strategies that help your website fit (and meet) your audience's needs. You can see what people want from your website considering the comments they leave. Furthermore, emails from your customers can tell you a lot as well.
Focus on what people tell, what phrases and terms they use.
I will provide you with an example to give you a clear idea of how it works.
Let's presume that you need to make some SEO improvements for a hotel in Paris. How do you think, what inquiries will be used by your potential customers?
I believe people will put queries like:
'Hotels in Paris'

'Place to stay in Paris'

'Paris accommodation'

'Accommodation in Paris'

'Place to stay in Paris'
It looks like our common sense helped us to identify what people are going to ask on search engines. Now it is time to see how people discuss this topic.
How Do People Discuss Your Topic?
I suggested a couple of terms that might be theoretically used by people. It is time to see what information about these keywords Ahrefs Keywords Explorer tool will give me. Will check this out with a keyword 'hotels in Paris'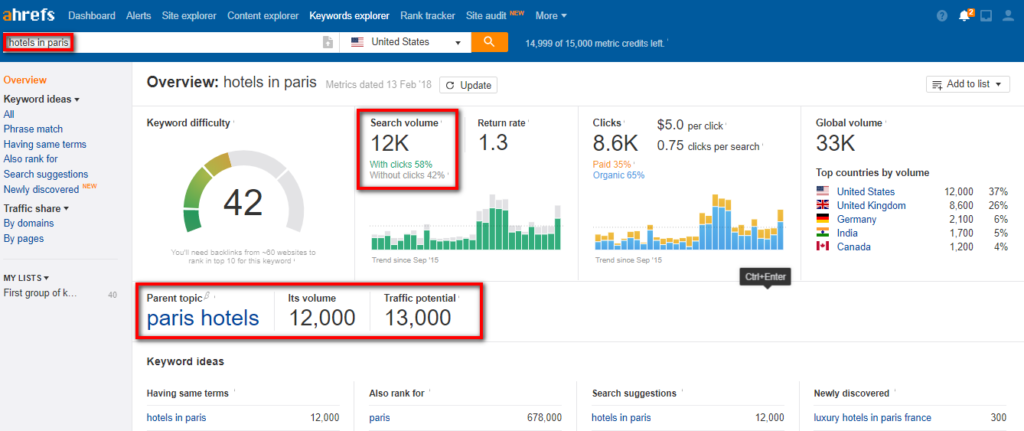 You can see that 'hotels in Paris' has a pretty solid search volume in the U.S and the United Kingdom. Furthermore, a keyword 'hotels in Paris' has a direct relation to a wider topic 'Paris hotels' that has a substantial search volume as well.
If you want to get other related keyword ideas, I recommend you to play with keyword generator tool. It suggests you a list of keywords that you can use for your content.
See what search suggestions you will get on Google
Search engines can give you a hint what queries are used by people most of the time. Just start typing your inquiry and wait a bit. Google will suggest you what might spark your interest.

You will see that adding a particular letter will give you more precise search variations.
If you don't want to spend your time on search engines looking for keyword ideas, you can stick to 'search suggestions' at Ahrefs. What's more important, Keywords Explorer provides you with such metrics as the number of searchers, keyword difficulty estimation, cost per click value, and others.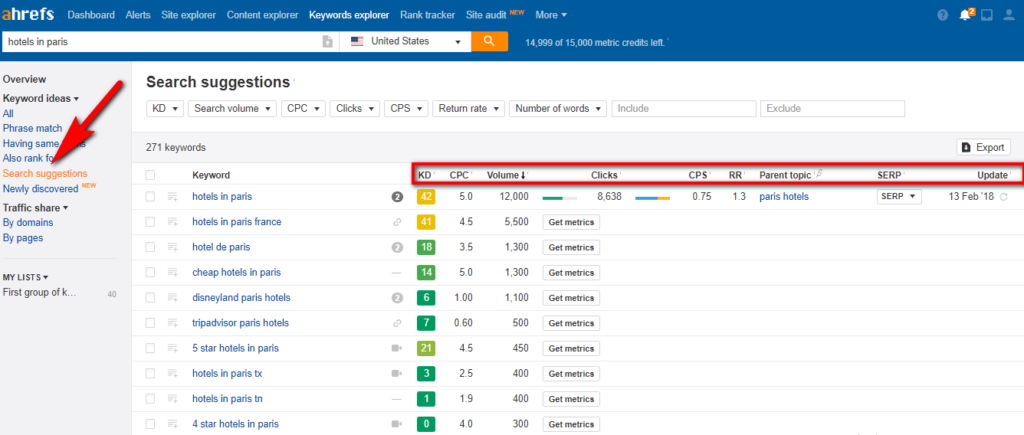 Check out related searches
By the way, another good way to search for relevant keywords is to look at the 'related searches' section at the bottom of your search engine. Now let's see what Google gives us.

How do your potential customers talk about your topic?
Yes, in-depth research on search engines is an excellent way to see what your target audience looks for. But it is still not enough to succeed in SEO. You can understand what people are talking about in the niche you're operating by talking to your customers personally. However, it is time-consuming and not always resultative.
Fortunately, you can save your time and get the results you need by using Content Explorer tool from Ahrefs.
I want to see the most popular content for 'France travel' for the past year.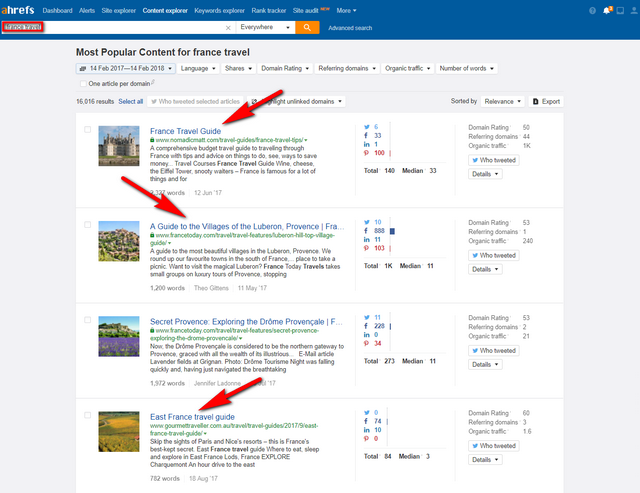 I can see that travel guides are popular. Thus, it is reasonable to write content that covers this topic.
You can go further and run through social media channels, communities, and forums. What is the benefit from this? You will be able to get the information first of all.
Social media channels can provide you with a variety of groups related to your topic. For example, go to Facebook and type your query. In our case, it will be 'travel Paris'.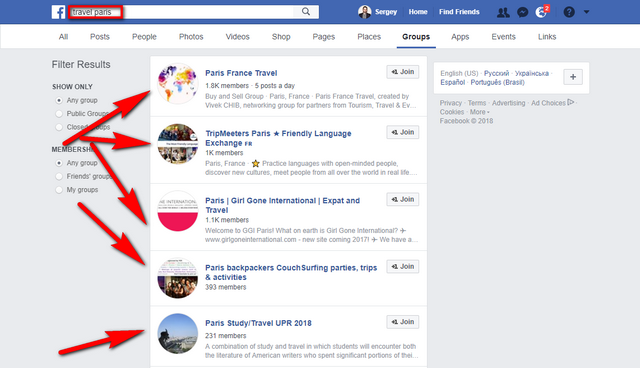 There are lots of people who are obsessed with this topic. So, start brainstorming the ideas for your content and fill up a blog.
You can find the same useful information on Quora – a Q&A platform.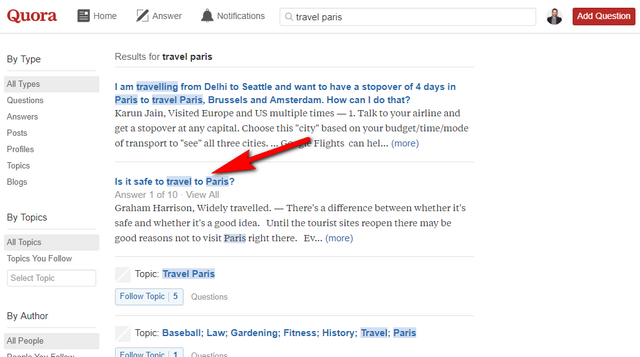 It's a good idea to write a post dedicated to the question from the list "Is it safe to travel to Paris?", isn't it?
And you can find lots of communities that highlight your subject, like Rick Steves Travel Forum.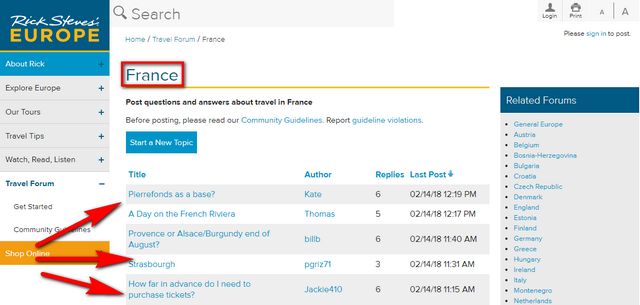 Keyword intent
There are three types of searches:
Informational

(people are looking for the information on a specific query, like 'places to visit in Paris')

Navigational

(people are looking for a specific site, like 'Paris airport')

Transactional

(people want to purchase something, like 'rent a car in Paris')
However, here is the thing. You must understand the intent behind the terms people use. This intent is based on user behavior. The algorithm of a search engine pays attention to the words people use during their search sessions and provides them with the results that satisfy the users the best. Let me give you an example.
If we type 'Paris guide,' Google will give us content from different travel websites.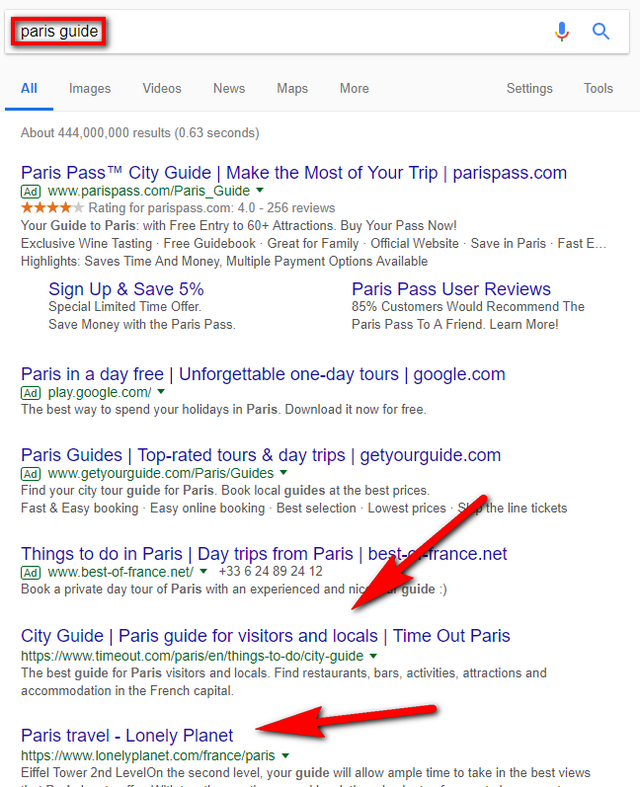 When I change my query to 'stay in Paris', I see a list of different hotels and other places where to stay for a night.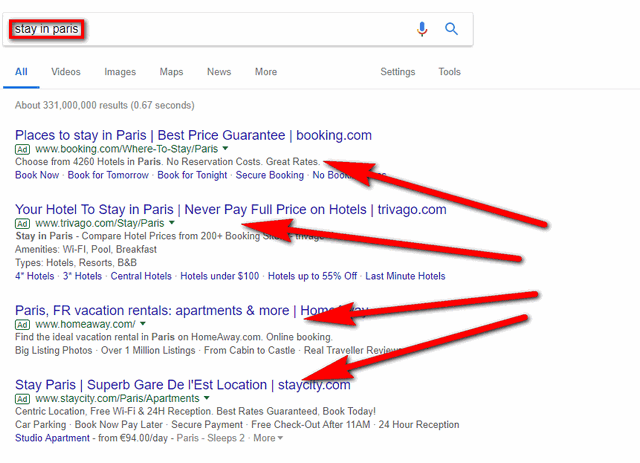 How to Optimize Pages for Search
Finally, we've got to the question 'how can we optimize pages for search?'
The first position we're going to start with is on-page optimization. On-page optimization is all about optimizing the pages of your website. So, let's consider each element of the on-page SEO one by one.
#1 Content
:
Content is king, and it forms the significant part of information load on the pages. Thus, without high-quality content, you can do nothing to succeed in SEO. There are debates about content length – does it affect its quality? Well, this assumption is not, actually, correct. Remember, your primary goal is to focus on your readers. It means you should create useful content. Stick to writing the content including 2, 000+ words.
#2 URL
:
The name of your web address must reflect the main idea of the information that is located on the particular page. The thing you should remember about is including a keyword you want to rank for. For instance, a Paris travel guide would go under the following URL 'domain.com/paris-guide.'
Also read: Clicks but No Conversions? Consider Auditing Your Google AdWords PPC Account
#3 Meta properties
:
Any web page has a couple of features that could be identified by search engines. These features are called 'meta title' and 'meta description.' A title tag is a good opportunity for you to include both a keyword you want a page to rank for + it is compelling to incline users to click on it. Talking about a meta description, I can say that you should not forget to include a target keyword as well. Google highlights the term you've mentioned in every search result.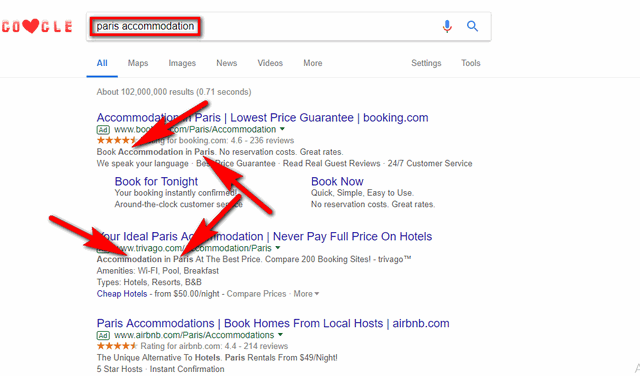 #4 Headers and subheaders:
It is very important to help search engines understand the structure of pages on your website. And it is easy to do this with the help of HTML format for headers.
H1 is an on-page title of the content and should contain the main keyword you want to rank for. There should be only one H1 per page.
H2 is used for the titles of the main sections of the page. Here you can (and should) add the keywords you are targeting and use additional long-tail keywords if it is possible.
Now let's run through the structure and see the sequence of each header.
H1: A Step-By-Step Guide to Paris

H2: Places to Visit

H3: Eiffel Tower

H3: The Louvre

H3: Notre-Dame de Paris

H2: Accommodations

H3: Hotel 1

H3: Hotel 2

H3: Hotel 3

H2: Restaurants & Bars

H3: Restaurant 1

H3: Restaurant 2

H3: Bar 1

H3: Bar 2

H2: Conclusion
This structure helps search engines categorize your content, and it makes easier for readers to navigate through the text.
#5 Internal linking:
Internal linking is a good practice for improving the speed at which search engines crawl your website. Furthermore, it makes more convenient for users to jump over pages on your site. Here is an example of the internal linking that you can create on your website dedicated to traveling around Paris. Create a page that targets 'Guide to Paris' and links to separate pages, like 'Paris Accommodations', 'Paris Restaurants.'

#6 Images:
Using visual elements on your website is a great way to attract more visitors. But how do search engines deal with images? You must realize that search engine crawlers can't understand the entire information about the images without your help. So, you should use alt tags to explain crawlers what your image is all about. Plus, you should include a target keyword in alt tag description.
Make Your Site Accessible to Search Engines and People
SEO implies doing a job that would satisfy both sides – humans and search engine crawlers. If human behavior is understandable, it is pretty tricky to understand the nature of crawlers.
Yes, the best way to cope with crawlers is to hire a professional technical SEO expert who would be able to deal with this side of SEO. Nevertheless, there are still some technical aspects that you must learn by yourself.
Let's take a look at these elements.
Who likes to wait for something in our life? I believe no one does. The same happens when we talk about website's loading speed. Did you know that up to 40% of Internet users leave websites that need more than 3 seconds to load?
As you already guessed you must pay attention to this aspect of website optimization without any doubts. I advise you to use Google's PageSpeed Insights tool that will help to see the actual speed of your website and prompt how to improve it.
Take care of a sitemap and a robots. txt file
A sitemap is a file that helps search engines stroll about all pages that are located on your website and see how they are connected. It doesn't affect rankings; it just helps to find new pages and index them.
Robots.txt file points out crawlers to those pages of the site that they should and should not index. The other reason why it is preferable to have robots.txt file is that search engines distribute a crawl budget, which has a particular amount of pages that could be visited per day.
Link-Building
This is the last paragraph of the post that will introduce you another crucial aspect of SEO that is called link-building. Link-building is a strategy that entails different tactics aimed at generating links to your content, and there are digital marketing agencies who offer link building service for their clients.
Nevertheless, you should analyze what techniques your competitors use. What link-building tactics would be more actionable in your niche? Afterwards, try to implement the strategy you believe will bring you tons of links.
I would like to cover two proven methods of link-building here.
Email outreach is the process of building business relationships between people. As a rule, these relationships are built on a win-win basis.
Also read: It's Time to Have a Mobile-First PPC Strategy for Effective PPC Management
And here is a quick overview of how to do it in detail.
The first step is to write a piece of content you would like to promote. Afterwards, try to find authoritative websites that would be a nice fit to get a link back to your written material. Type a keyword you would like to rank for in Google and check out the search results.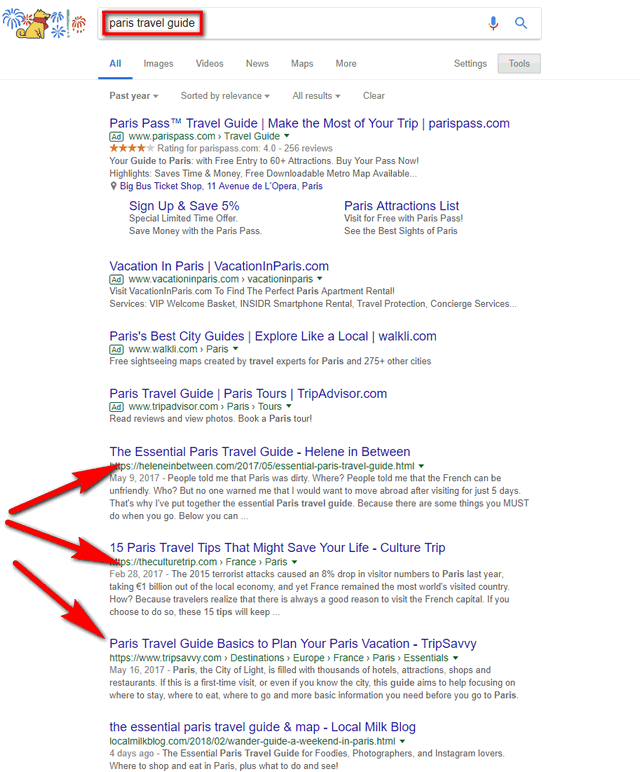 Then choose the page you would like to explore regarding backlinks with the help of Site Explorer tool.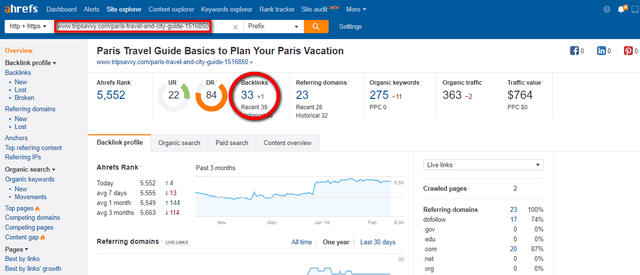 Despite the fact that there are only 33 backlinks, you can choose whatever backlink you are interested in the most and contact the author of the post.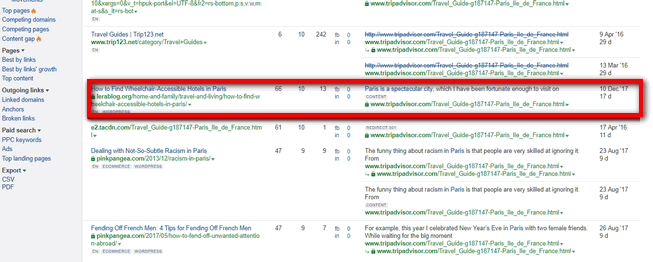 What else do you need for a successful outreach? Email address of the target you want to reach out and a super-personalized email template.
Guest posting is the safest way to build links. You offer high-quality and useful content asking for a reward as a backlink to your website. If you want to succeed in guest posting, make sure you follow these three rules.
Your priority must be authoritative websites that generate lots of traffic

Write high-quality and useful content only

Add relevant links to other resources
When all these conditions are met, your guest blogging will bring you benefit.
To Sum Up
Obviously, SEO is the only solution when it comes to driving traffic to your website. Yes, it might seem difficult or scary at first glance. But when you start to delve into search engine optimization, you realize that it is not as hard as you thought at first.
The main rule here is don't forget these four options:
Don't forget about keyword difficulty, search intent, and search volume when you do a keyword research

Keep an eye on website's loading speed and its structure

Do a link-building getting links from the high-authority sites

Optimize pages to rank for a target keyword
That's all. Now you are ready to optimize your website properly.
If you found this article worthy, please, comment on it and share throughout your social media channels.