Best Junk Cleaner App – Clean Cache Files 
Isn't it annoying when an app on your Android device suddenly stops working? You may have tried relaunching it, but didn't help. Well, now consider cleaning its cached data. Worked… Right? Well, other than managing misbehaving apps, deleting your android phones cache files frees up a lot of storage space and helps your device maintain its original factory speed.
Falcon Mobi Cleaner is one of the most trusted junk cleaner designed to remove cache files, release disk space and to optimize the performance of your Android device. It offers one of the best interfaces that is easy-to-use and looks good. It scrapes off every bit of unnecessary data to reclaim your storage space.
As bonus, the app also detects duplicate pictures that has been clogging up your device memory and helps you remove them. Falcon Mobi Cleaner is also a one-stop solution to optimize your device and extend its battery life. Apart from deleting all junk, the app also kills heavy background processes to boosts its performance.
Clean Junk Files From Android Device: Step By Step
Let's help you understand how to use this light yet powerful cache file cleaner with the simple steps below:
Step 1: Go to the apps menu on your device. The icon is located on the lower right corner of the screen for most Android phones. Select the Google Play Store icon to launch the application.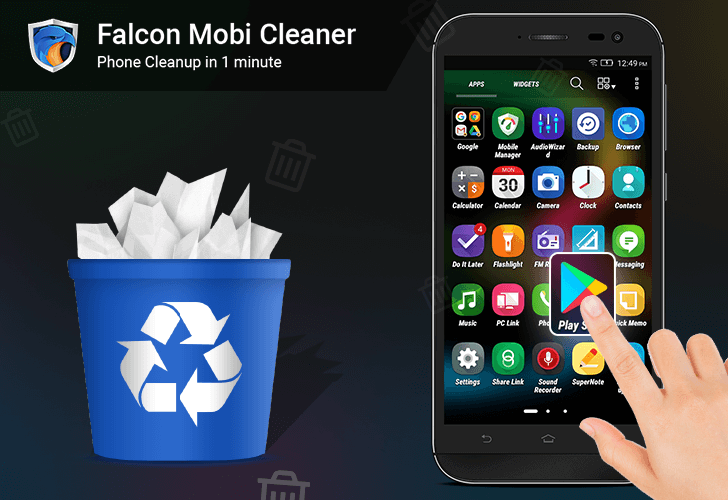 Step 2: On the search bar, type 'Falcon Mobi Cleaner' at the top of the screen to download the latest version of the junk cleaner.  The app looks like a Flacon behind a protective shield.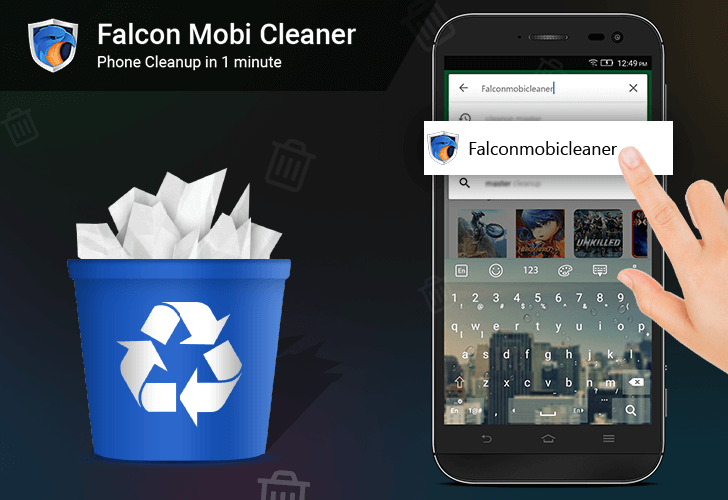 Step 3: Tap 'Install' to download and install the app. It won't take more than a few seconds.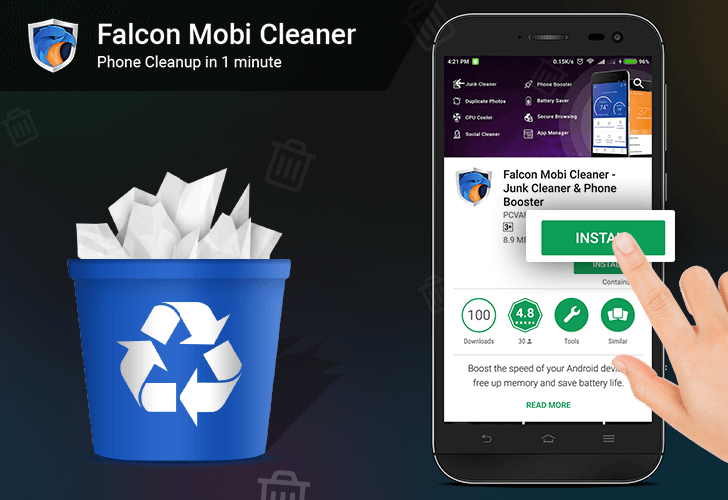 Step 4: When the installation process is complete, the application will create a shortcut on your home screen. Tap on the icon to launch the app.
The application offers six different modules viz. , junk cleaner, Phone Boost, Social Cleaning, Battery Saver, Duplicate Photos and App Manager to maximize your phone storage and boosts its speed.
Step 5: Tap on 'Junk Cleaner' located on the mid-left of the screen.
Step 6: The app will ask permission to access photos, media and files on your device. 'Allow' it proceed.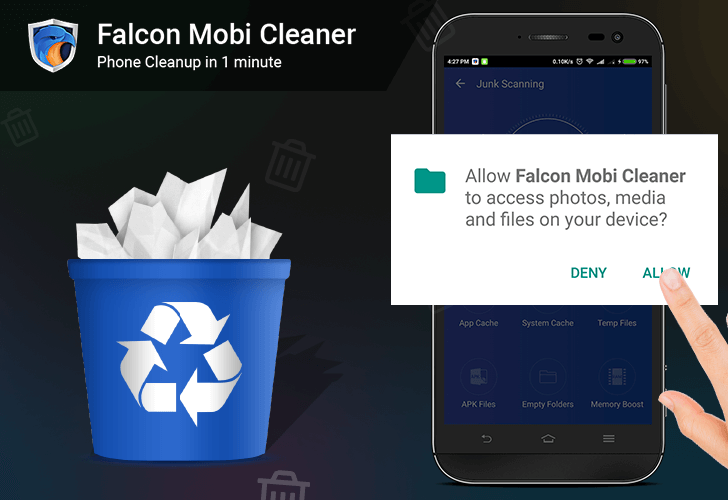 Step 7: It will analyze the amount of junk cluttering your smartphone. The app processes recoverable space from App Cache, System Cache, Temp Files, APK Files and Empty Folders you would like to clean.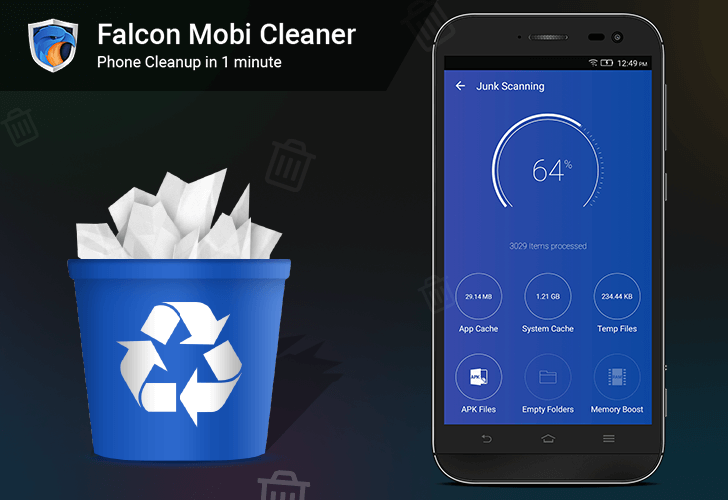 Step 8: After counting the junk files, it will display the amount of space you can recover. Tap on the 'Clean junk with size' button that appears at the bottom of the screen.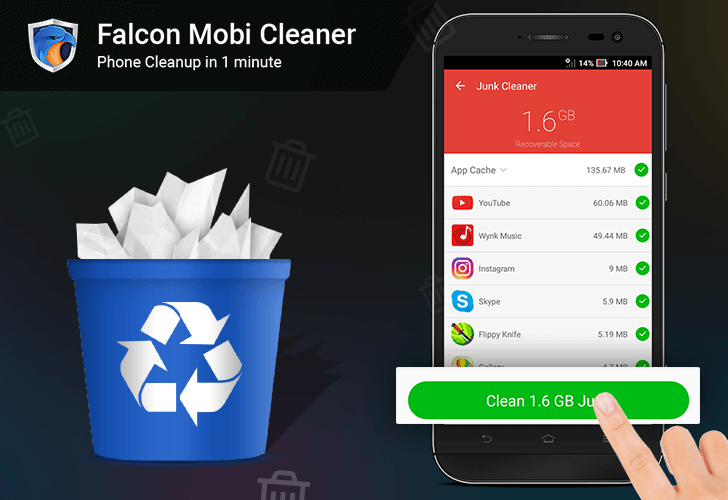 Step 9: Junk Cleaning is completed. The app will update that space has been recovered. The whole process takes only about a few seconds.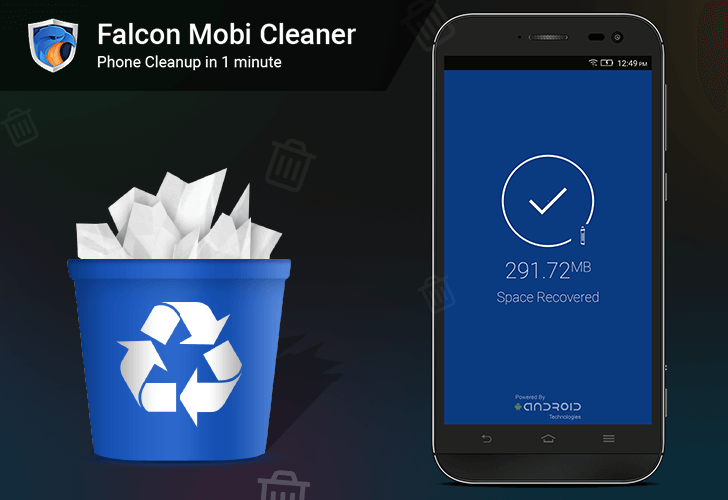 Step 10: If you liked the app, do not forget to rate us. We would love to view feedback on your experience while using the app.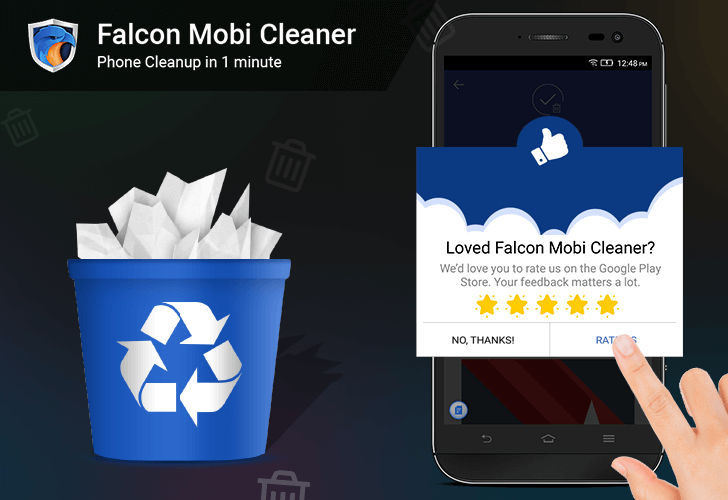 Step 11: Rate us on Google Play Store. Your honest feedback will help us get better.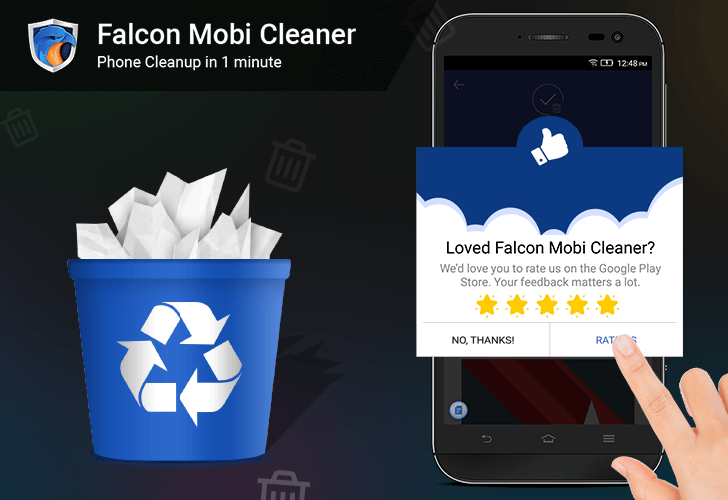 Step 12: Let us know if you have any suggestions. We value your feedback and wish to read
about your experience with our Best Junk Cleaner App.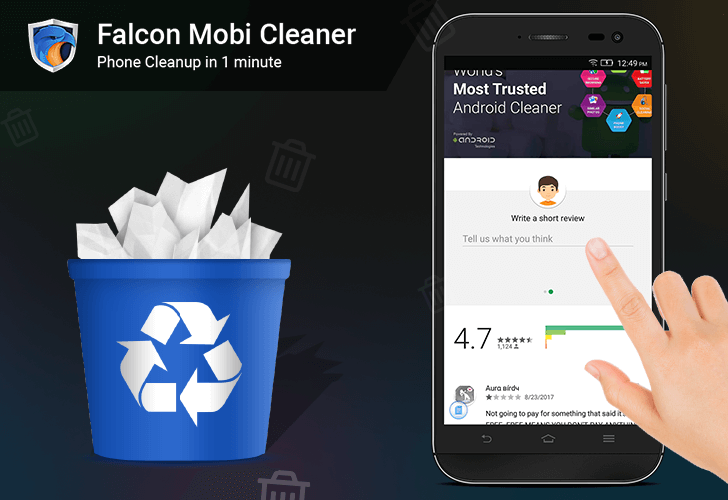 Falcon Mobi Cleaner is compatible with all Android devices. Try it for free today!