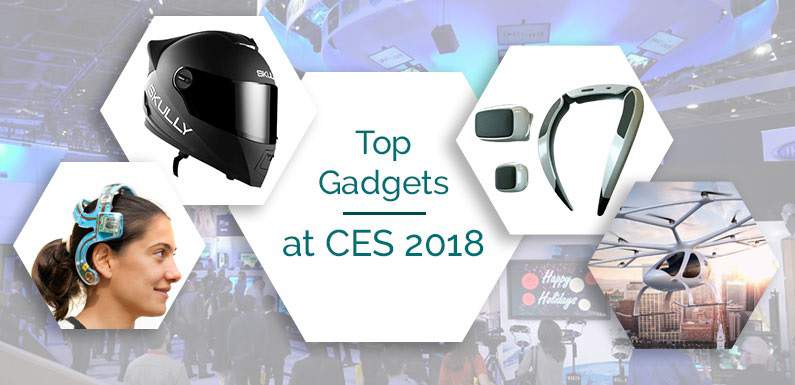 Consumer Electronics Show – something that every geek and gadget lover waits for, throughout a year – conducted its 2018 event in the month January, and succeeded yet again to mesmerize tech enthusiasts all over the world. More than 184,000 people joined the event to hear from more than 1200 speakers from leading companies around the world. Just like any other year, CES 2018was bold in showcasing the best, jaw-dropping range of gadgets, duly capable of mobilizing daily activities and routine tasks.
There were gadgets everywhere and then there were some which we may not even need, at least not in the present. Can't wait to hear about the best ones? We won't make you wait either.
So, here is a look at the top gadgets that stole the show at CES 2018:
Say Goodbye to Earphones, but not to Music
One of the pioneering technology trend setters, Samsung is back with something that focuses on wiping out the headphones. Yes, headphones are going to be ousted if the Samsung S-ray does what it says. As per the smartphone& electronics manufacturer cum Mobile App Development Company, Samsung Sound Ray, also called S-Ray, allows a user to hear sound or music through sound beams that cannot be heard by anyone else.
Samsung displayed prototypes of its range of hardware which consists of a mini speaker, a larger handy speaker, and a neck band which one can put around their neck to listen to music through sound beams directed to their ears.
Is that a human? Is that a Robot? It's a Walker
What good is a robot without arms? After getting a preview of what the Ubtech Walker is capable of, we would say "a lot"!
At a glance, the most noticeable thing about the Walker built by Chinese Robotics Companyis that it can truly walk, unlike the usual biped robots that keep falling over to showcase disaster, more than their capacity.As the company claims, Walker could be the 'compete home butler' by keeping an eye out for trespassers through its camera, keep up with your schedule via your calendar, and even act as a personal assistant.
Fenix AR – Much more than a Helmet
What if your helmet could do more than just protect your head? And to be precise, we are talking about a helmet that could entertain and assist you while you are riding. Well, we can safely lay off the 'what if' part because Fenix AR is here, which is actually a revamped edition of the Skully helmet, the launch of which was called off in 2015.
Fenix AR helmet comes with a heads-up display that includes rear-view, 180 degree front view, and an embedded turn-by-turn navigation system. The rider can also listen to music or make calls with voice commands, which makes it by far the most advanced helmet ever made.
IMEC EEG Headset
You must have heard of motion detection and you might have seen a gadget with motion detection as well.How about experiencing an emotion detector now? Yes, we have reached to that side of technology where we have devices that can control our emotions, straighten out our mood, and even manipulate our mood for all good reasons, and the IMEC EEG Headset does exactly that.
A product of neuro research combined with VR technology, IMEC EEG Head Band helps you to calm down by playing the right kind of music fine-tuned to suit your mood. The underlying technology of this EEG device is its sensors that can assess your mood with your brain signals coming in from the frontal lobe.
Touchscreen with Embedded Fingerprint Sensor is a real thing now!
Chinese phonemaker Vivo created ripples during the CES 2018 when it unveiled its untitled phone sporting a fingerprint embedded right on the touchscreen itself. Embedded fingerprint sensor has always been an idea anticipated by tech-lovers all over the world, it has just been a matter of who will be the first one to devise this technology.
The mysterious phone that Vivo showcased, exhibits a virtual home button, which also acts as a fingerprint sensor. And with what Vivo seems to be promising, we are expecting Mobile App Development Companies to grab this opportunity to build compatible apps very soon.
Intel Volocopter
Intel is, somehow, always involved in the biggest technologies embedded in laptops, smartphones, and other common electronic devices. But this time, Intel has got something of its own to flaunt; a volocopter. Yes, a volocopter that has been only a thing of imagination until now.
As Intel likes to call it, 'the flying car', unveiled by CEO Brian Krzanich, is basically a passenger drone developed by a German company 'Volocopter'. And as for something that flies with passengers on-board, the Volocopter is incredibly quiet, thanks to its 18 rotor fans that operate at a narrow frequency band, out of the range of human hearing.
Not very surprising for many, the Volocopter is safe and runs on electric energy to operate. Now this might be too big for a gadget, but going by the definition, Volocopter could be one of the most fascinating gadgets of 2018.