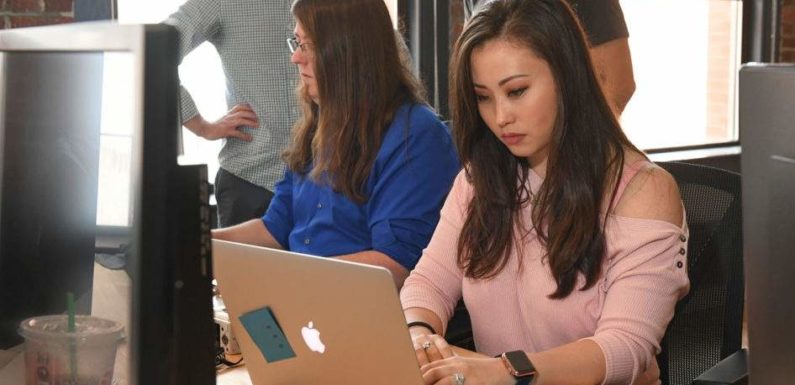 The powerful antivirus software for Mac offers comprehensive security to keep your system & data safe. These smart security solutions offer tons of useful features to keep your security & privacy intact. While there are numerous security solutions available for Mac, here we have discussed the top 5 best antivirus software for Mac you should use in 2019.
Best Antivirus Software for Mac
Systweak Anti-Malware for Mac
Use this best virus protection tool for Mac to protect your Mac from viruses, adware, spyware, Trojan, and other malware threats. It offers one-click scanning feature where it works on powerful scan engines to find & remove all security threats effectively. Using this top antivirus for Mac, you can easily quarantine your system storage. For all-around malware protection, it offers tons of features to you. This easy to set up tool makes virus protection seamless for you.
Features of Systweak Anti-Malware for Mac
It helps you scan startup items to detect vulnerabilities in login items, cron jobs, and startup scripts.
Using this tool, you can scan browser plugins to find and remove malicious addOns & plugins.
It keeps on updating its malware database to provide you security against all current & emerging threats.
It offers multiple scan options including deep scan, quick scan, startup scan, schedule scan, and more.
Using its schedule scan option, you can simply set date & time to run the automatic scan.
It also generates logs for malicious content on your system. Here, you can export these logs for further analysis.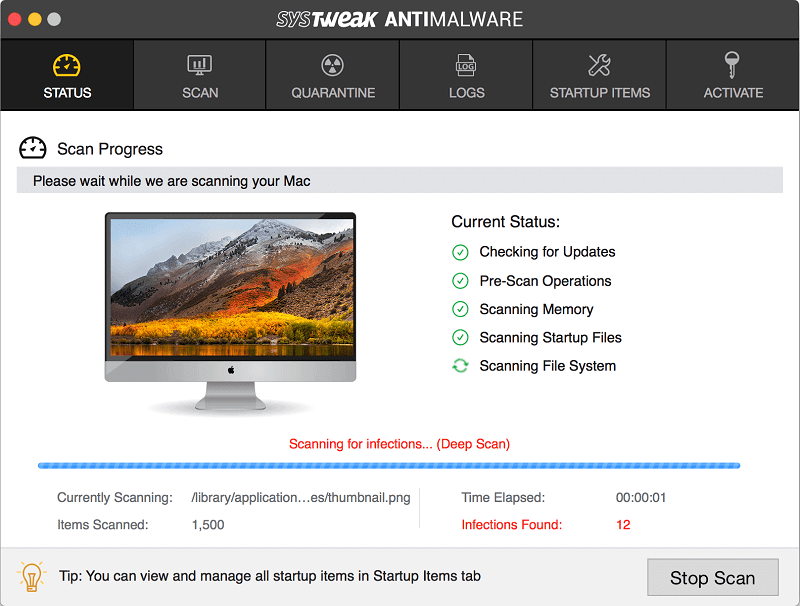 Comodo Antivirus for Mac
Use this one of the best antivirus software for Mac for complete protection against malware, viruses, Trojans, Worms, and more. The tool is built on advanced algorithms where it protects your system and keeps your data safe from numerous threats. It works on easy and user-friendly interface to offer enhanced user experience. It keeps you safe from all present and emerging threats with an up-to-date database of viruses.
Features of Comodo Antivirus for Mac
It offers on-access scanning to scan, check and block all files or apps that are identified as threats.
Offers one-click scanning to run on-demand scanning. Here, it cleans your system with a single click.
Using instant scanning feature, you can scan individual files or folders easily.
It allows you to schedule scan process as per your convenience.
Use Comodo Antivirus to quarantine system to isolate suspicious files.
To change your system security level, you can use a unique slider for instant results.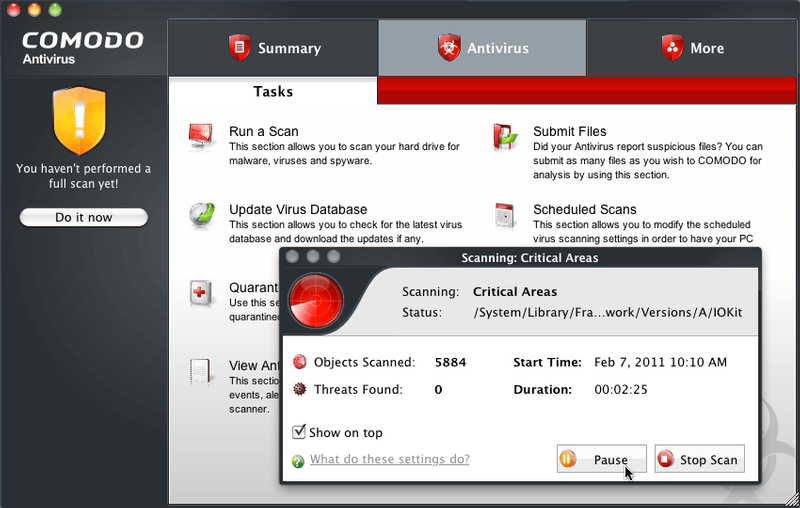 Bitdefender Antivirus for Mac
Use this best virus scanner for mac to find remove all types of threats on your Mac. It comes loaded with advanced cybersecurity technologies to keep your Mac safe in an effortless manner. You can use this tool to optimize system performance and for best cross-platform performance. It keeps your online privacy and personal information intact.
Features of Bitdefender Antivirus for Mac
It offers advanced multi-layer protection against ransomware threat.
It finds, blocks, and removes adware and other malicious content.
It offers secure online protection in an effortless manner.
24/7 cloud-based guard protection for better results.
Automatic upgrades to keep you safe from all emerging threats.
Cross-device functionality and works well with the browser.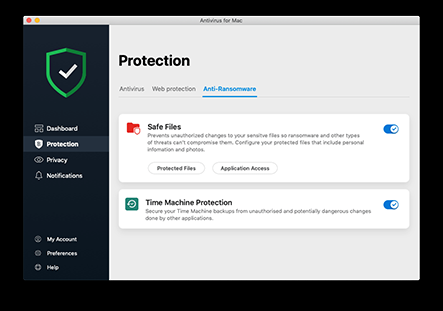 Avast Security for Mac
Avast Security for Mac allows you to think differently when it comes to your system security. It protects your system on 3 fronts. Here, it protects your system and data against malicious websites, vulnerable Wi-Fi networks and protects you against malware threats.
Features of Avast Security for Mac
It offers anti-malware security where it keeps you safe from all malware variants.
Under web & email shield, it protects your email account and alerts you about malicious websites. Here, it also blocks unsafe downloads, prevents intrusive web tracking, and blocks harmful email attachments.
In Wi-Fi security scan feature, it keeps your network safe from various vulnerabilities & threats.
It alerts you when someone tries to break your Wi-Fi security and tries to join your Wi-Fi network illegally.
It also protects you from ransomware threat.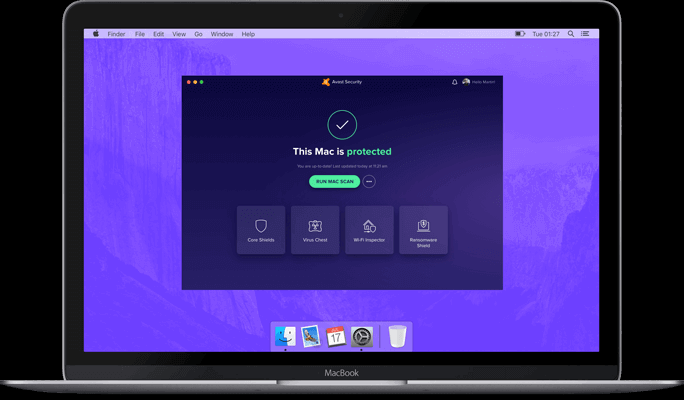 Avira Free Antivirus for Mac
This ultra-light and powerful antivirus for Mac offers ultra-effective results working on smart algorithms. Its powerful scan engines deep scan your system storage to find and quarantine all threats.
Features of Avira Free Antivirus for Mac
Works well with cross-platform devices including Mac, Windows, Android, and iOS.
It offers real-time scanner to help you scan files & data for possible threats.
Its system scanner helps you find & clean all known viruses and malware.
Easy quarantine management to manage suspicious files.
Browser tracking blocker to block companies from monitoring your online activities.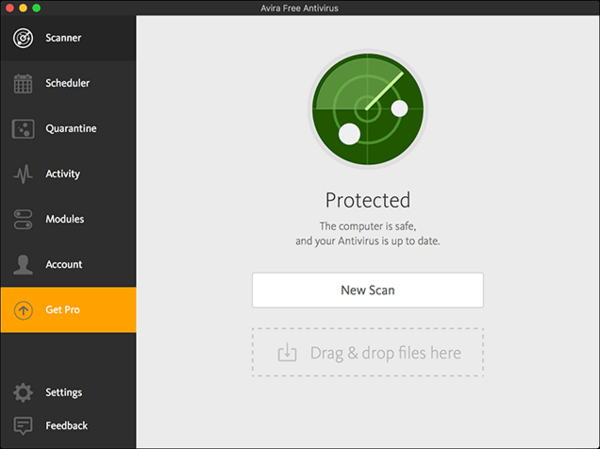 So, these were the top 5 best Mac antivirus software you should try in 2019. In addition to these software solutions, if you know more such tools, then feel free to share your experience.